Friday 4th February 2011

A unique gig, hoping to become an annual event, is being organised in Chesterfield in order to raise money for a leading cancer charity.

Spirefest, due to take place on April 9th at the Winding Wheel, aims to benefit Cancer Research UK.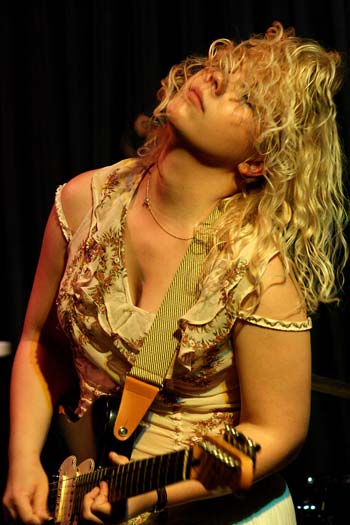 Visitors are expected to come from all over the UK to the event - an all day Guitar Fest with a Guitar Show, Battle of the Bands competition and live gig from leading rock/blues star Chantel McGregor (pictured left).

The Chesterfield Post spoke to Brian Bannister and daughter Amy, herself an accomplished performer on the guitar scene, who are behind the event.

Brian told us that there is a very personal reason why Cancer Research is their chosen charity, "1 in 3 people are affected by cancer. I lost my dad to cancer a few years ago, my father-in-law has had 3 different types but beaten them all and that's down to Cancer Research. It is the leading light in helping people with cancer and anything we can do to help, we want to."

Over 300 people are expected at the event, which will be broken down into 3 parts as Brian explains, "There'll be a Guitar Show, which we believe will be the first in Chesterfield. Manufacturers will come along and visitors can look at the guitars, get advice from the experts, be able to play on them and learn about them. All guitars, amps, effects pedals and accessories will be for sale on the day.

"An afternoon 'Battle of the Bands' will follow, featuring 3 bands; Mutz Nutz, IndigoChild and The Great Escape Artists, who will compete for a chance to be the support act for Chantel [McGregor].

"Buckets for donations will be passed around the audience during each performance and the band raising the most cash will get the gig.

"This will all be followed by the live performance by Chantel McGregor, recently featured on Radio 2."

There is also a Charity Auction, with drum sticks from Roger Taylor (Queen) and hopefully signed goods from 10cc. Tickets and a signed DVD have also been donated by Martin Turner's Wishbone Ash.

Amy Bannister, who's 10, is also behind the event. She is already a veteran of various gigs and radio shows. She has 7 guitars and has been warned by mum that there are no more being bought at the show!

Her reasons for putting on the show, "We're raising money for the charity. It's a worthy cause and make you feel really happy to know that if they find a cure for cancer you may have a little part in that. It's all come about from us just talking. I want to have a career in music - it's my life, I want to be a musician when I'm older, and this is good experience".

Tickets are on sale from the Winding Wheel and are priced for individual events or at a special rate for he whole day. Children under 14 must be accompanied by an adult.

Guitar Show, plus Battle of the Bands - £5, Children Free

Chantel McGregor concert plus support - £12, Children £6

All day - £15, children £6

Sponsorship deals are available for the event. Please email Brian at info@spirefest.co.uk


Links to the various sites associated with the event are featured below -

www.chantelmcgregor.com
www.myspace.com/thegreatescapeartists1
www.myspace.com/indigochildrock
RECENT STORIES
CAN YOU SAVE THIS DOG? -
A Staffordshire Bull Cross, picked up as stray by the council's dog wardens, will be put to sleep tomorrow (Friday 4th March at 5pm) if a new home can't be found for him. More...
GREAVESY'S WILD ABOUT CHOCOLATE -
Jimmy Greaves is supporting a new brand of chocolates, made in Chesterfield, helping to do its bit to save tigers from extinction. More...
COMING TO A POOL NEAR YOU -
Local residents are being invited to 'jump in' and swim to help raise cash for a leading cancer charity. More...
CHARITY BEGINS AT ... ALFRETON -
The first charity to benefit from the Alfreton Sunday League's Grand 40th Reunion has been announced. More...
ASHGATE HOSPICE MIDNIGHT WALK FOR LADIES ONLY! -
Our 4th annual Midnight Walk is on Sat/Sun 25th/26th June 2011 and is expected to be one of the biggest events in our calendar this year! More...
HAIR OF THE DOG -
Bella is a year old Shar-pei and has been at the RSPCA kennels for a long time - 10 weeks in total. More...
NOW MAN'S BEST FRIEND CAN HELP TOO! -
Ashgate Hospice is very excited to bring you a new event this year, especially for man's best friend! You and your dog are invited for sponsored "walkies" in Linacre Woods to help raise vital funds. More...
B2NET BUCKETS BRING HELP TO CHILDREN'S HOSPICE -
Generous fans visiting the B2Net have donated £400 to a Children's Hospice through a bucket collection... More...
LEFT OUTSIDE ALONE-
Animal Welfare Workers are investigating after two young cats were found abandoned outside the rescue centre in freezing temperatures. More...
EVERY LITTLE HELPS -
A Primary School in Chesterfield is celebrating after being awarded £800 by a Supermarket Charity Trust. More...
Brrrrr RABBIT! -
The RSPCA has issued an URGENT appeal for homes for 22 rabbits that have been brought to their kennels in Spital this week. More...
STAVELEY MWFC'S GENEROUS GESTURE FOR SCOUTS CANADA TRIP -
A local company has made a generous donation towards a local scout group's Canada trip after reading about the fundraising efforts in The Chesterfield Post. More...
ARE YOU UP FOR A CHALLENGE? -
Fairplay is a registered charity, dedicated to helping children with additional needs and their families. More...
LOVE LIGHTS UP HOSPICE -
Ashgate Hospice would like to say a huge THANK YOU to everyone who dedicated a light in this year's Lights of Love switch on More...
LOCAL CHILDREN AND B&Q MAKE XMAS SPARKLE FOR ASHGATE -
A Primary School in Chesterfield has helped to spread a little Christmas joy after a tree they decorated took pride of place at Ashgate Hospice. More...
RSPCA APPEAL -
The RSPCA is appealing for what it calls a 'special home for a very special pup' - a near-blind rottweiler called 'Mac' and his best friend - a kitten called 'Boyd'. More...
YOUR VOTE COUNTS -
The Football League would like your help to help them decide which charity The League should select to be its Official Charity Partner for Season 2010/11. More...
WILL YOU SHINE A LIGHT OF LOVE THIS CHRISTMAS THIS YEAR -
Will you be remembering someone special this Christmas? It was that time of year again, another summer had flown by and there was more than a nip in the air. More...
CAN YOU OFFER THESE HENS AN
EGG-CITING NEW
LIFE? -
The RSPCA in Chesterfield is urging people to consider buying Free range eggs after accepting 60 ex-battery hens into their kennels at Spital. More...
"BACK OF THE NET!" KICKING CASH FOR CHARITY -
Students from Chesterfield College gave a local charity a boost as they took part in a penalty shoot out to raise cash for Ashgate Hospice.More...
BEING CRUEL TO BE KIND? -
Chesterfield RSPCA are investigating the circumstances behind one of the most bizarre they've seen in 10 years at the Charity. More...
WIRKSWORTH ROTARY 5k SANTA FUN RUN -
The Rotary Club Of Wirksworth are staging a 5k 'Santa' fun-Run for the Rainbows and Ashgate Hospice Charities on Sunday 5th December 2010 at Carsington Water More...
A LONELY GOAT
HERD -
If you're an experienced goat owner (or a Military Regiment looking for your Regimental Mascot), with land to spare, then Chesterfield RSPCA is asking you to consider helping them. More...
PUPPY LOVE UPDATE -
The RSPCA in Chesterfield confirms that a woman claiming to be the owner of the pups has contacted them and after checks, they have been reunited. More...
PUPPY LOVE -
RSPCA bosses are appealing for help in tracing the people who dumped Barnaby and Benji last week in a Chesterfield field. More...
REMEMBER THEM -
The Chesterfield branch of the Royal British Legion is asking residents to do just that and buy a poppy as the town launched it's annual Poppy Appeal Saturday. More...
BARGAIN HUNT BONANZA -
There was everything to pay for as the Mayor and Mayoress took part in a charity Bargain Hunt on Chesterfield's very own flea market on Thursday, More...
WHY YOU REALLY SHOULD "GO TO SPECSAVERS" THIS WEEKEND -
Have you ever looked at the 'Mr Men' characters and thought, what about one called Mr ??? More...
ASHGATE WINTER BALL, 27/11/10 -
Ashgate Hospice are holding their 'WINTER BALL' on Saturday 27th November, 7pm for 7:30 until 1am at The Winding Wheel in Chesterfield. More...
MARIE CURIE CANCER CARE LOOKING FOR SUPPORTERS HELP -
Derbyshire Fundraiser, Laura Read is inviting anyone who is interested to come along to an informal meeting. More...
DROP IN CENTRE OPENS IT'S DOORS -
The Nenna Kind centre is situated in Room 5 on the 2nd floor of the Market Hall and offers support and advice in a welcoming environment for anyone affected by cancer. More...
HOPE FOR AFRICA -
As children in Chesterfield prepare to return to school this week one charity is promoting the message that 'In Africa, education is a privilege not a right'. More...