Saturday 19th May 2012



Simon Davidson (below) is one of the most familiar faces in town, if people don't know him, they'll undoubtedly know the shop he owns, 'The Cheese Factory' underneath the Market Hall.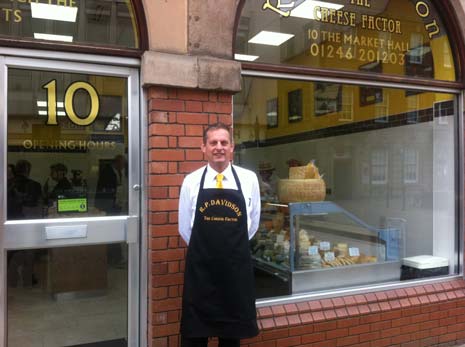 A fixture for 32 years, the shop, and his dad, have, over the years, become synonymous with the phrase 'pound a bag', and until his death late last year Simon's dad could often be seen in his fur hat, selling outside the shop whatever the weather.

Yesterday however, after three decades, Simon and his staff have moved. Not far - just a couple of doors up and into bigger and fresh premises (below).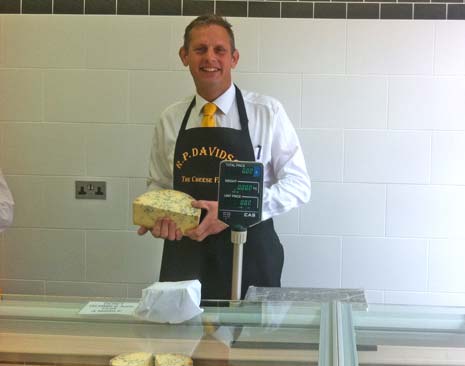 Opened by the Mayor and Mayoress of Chesterfield, the new shop, at number 10, will offer all the old favourites but also offer Simon room to grow.

An undoubtedly mixed day for Simon, who is possibly one of the best 'on the ground' ambassadors the town has, as he left behind a shop full of memories, but, he admits it's an exciting time for him and he's looking forward to the future.

His dad wasn't far away from anyone's thoughts though, and we lost count of the number of people who told Simon how proud he would have been today.

We spoke to Simon at the opening and he told us of his pride today and his plans for his future in cheese.


A proud day today?
"I'm very proud, it's great and I wouldn't say it was an ambition but something that happened. My father (Roy, left) - who passed away last year - and I, spoke about moving it before he died and he was very much behind it, so to come to today and the shop be open in all its glory - were all so pleased with it, and people have came in and said so many things about it, how inviting and bright it is and the cheese counter looks fantastic. So yes, a proud day."

You're an established name, and have moved from 2 doors away, why move up here?
"It's all part of the refurbishment of the Market Hall, it is still going ahead - the Council have guaranteed that, it's just been delayed because the contractors were over budget, the Council couldn't afford that so, for the good of the people, the Council have gone back to find another contractor that can come in under budget. They've been told that that's the budget and that's what it should be.

"We've moved up here - we had to move as I ordered some new fridges - £20,000 worth - back in December when we were going to redevelop in February, so come December they delayed it. My fridges turned up in February so I was like 'what do I do with these blinkin' fridges?'

"I talked to the council, they were very helpful and we've moved early and I'm very proud of it. We're a bit nearer the centre of town and it's just what we needed to do. We've been in the other shop for 32 years and it's something we needed to do, bring ourselves into the 21st century and move on."

It's much bigger, more space isn't there?
"Yes we wanted to have more light, all state of the art LED lights. We want to sell local beer and do wholesale. I get a lot of people asking about supplying them but we didn't have the space in the other shop for storage. This gives us the space to do it but there's a lot of hard work ahead - I realise that."

You're a local lad, a familiar face in the town, it's lovely to see a local business grow in these difficult times?
"We're hanging in there, I see Chesterfield as a fantastic town. In my early years I was away from Chesterfield for a while, in the Army and I always thought Chesterfield was a dingy, back end town, but you realise really it's not, it's a fantastic place to be - you come back and think 'wow! what a town we've got here!' It's expanding all the time and there's something to be proud of, The Crooked Spire and the Market Hall and it's something, that in the future, with the developments that are coming, we're going to do well."

And there were a few surprises weren't there during the renovation?
"Yes, myself and my electrical air conditioning bloke Geoff Parker gutted the shop ourselves, we actually manned the pick axes and sledgehammers and we got to work. We took the walls back to the brickwork, back to he electric fuse box.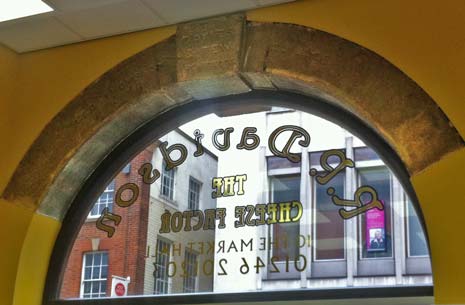 "The ceilings were lower and when we actually pulled the ceiling down, there was a board over the front of the shop. Under that was a headstone (above), we realised then this was one of the windows to the Market Hall originally and the headstone says 'Geo Thompson - builder'and it is engraved 'Davies and Tew Architects'. That was a fantastic find and we've made the heritage people aware of that - a great centre piece for the shop."

And there are plans for the future, as Simon revealed, "For many years, I've been thinking of things to do and last year, I had word on the cheese grapevine that there was to be a new dairy starting at Hartington, a sort of 'phoenix from the ashes' from the old Creamery.

"I knew one of the gentlemen who was part of it and I was very lucky, as I got a call in January from him and I knew what it was about and my heart was racing!

"Five people had gone into business together to build this creamery and then one of these had pulled out, so would I like to go in and that would benefit them.

"I had a look and they have loads of equipment. So, at the moment we are really busy literally building it. I'm up there 3 days a week, making tea and coffee and sweeping the floor and mixing concrete - all things I've never done before. We've got two full time builders there and me and the other Directors are up there doing what we can. We're a couple of months away, hopefully at the end of July we hope to start producing.

"At the end of September we hope to be selling our own Blue Stilton. We are also going to do other cheeses too, a Pike Hall Blue and a Pike Hall White as it's Pike Hall where the dairy is."
RECENT STORIES
LOVE YOUR LOCAL MARKET THIS HALLOWEEN -
People are urged not to miss a trick - or treat - at North East Derbyshire's markets this Halloween! More...
MARKET HALL 'MEET THE BUYER' EVENT FOR LOCAL SUPPLIERS -
Contractor for the Market Hall refurbishment, G F Tomlinson, hold a 'Meet the Buyer' event in September 2012. More...
GRAB A BARGAIN AT CHESTERFIELD'S MARKETS -
We in Chesterfield often take it for granted but just about everything's available at the town's outdoor and indoor markets. More...
TOWN STEPS BACK IN TIME FOR MEDIEVAL MARKET -
The footfall on Chesterfield's famous cobbles could probably have been measured in the tens of thousands today as people packed the town to take part in the famous medieval market event. More...
GREEN LIGHT FOR MARKET HALL REFURBISHMENT -
Chesterfield Borough Council today announced the appointment of local construction company GF Tomlinson, to undertake the refurbishment of the Market Hall More...
ERIC PICKLES LAUNCHES NATIONAL MARKET DAY -
Communities Secretary Eric Pickles is calling on people to show their support for high street shopping by visiting their local market on National Market Day (23rd June). More...
SHOPPERS ROLL-UP TO CIRCUS THEMED MARKETS -
Shoppers have flocked to North East Derbyshire's markets to enjoy circus-themed family fun day. More...
CHESTERFIELD TAKES PART IN LOVE YOUR LOCAL MARKET CAMPAIGN -
Chesterfield is one of over 300 markets taking part in the national 'Love Your Local Market' campaign inspired by Mary Portas More...
CHESTERFIELD MARKETS GIVE A WARM WELCOME -
There's a new look in town today, as Chesterfield's outdoor market stall canopies have been given a fresh new look that reflects the 'Destination Chesterfield' branding. More...
COUNCIL ISSUES NEW TENDER FOR THE MARKET HALL REDEVELOPMENT -
Chesterfield Borough Council announces it is seeking a new construction partner for the refurb of the Market Hall, after deciding not to proceed with Wates Construction. More...
MARKET TRADERS SPEAK ABOUT RENT FREEZE -
After news that Chesterfield Borough Council decided to freeze market stall rents next financial year, traders say they welcome the decision. More...
FESTIVE FUN IN NE DERBYSHIRE MARKETS -
Street entertainment, kids' activities, prizes and a range of stalls are on offer at a series of festive-themed market events which are designed to boost the local economy. More...
N E DERBYSHIRE SETS OUT IT'S STALL FOR CHRISTMAS -
Shoppers are invited to join in some festive fun - while supporting local businesses - at a series of festive-themed markets More...
FRESH NEW LOOK
FOR CHESTERFIELD MARKET -
Chesterfield Borough Council, in partnership with Destination Chesterfield, is to give a whole new look to the town's famous outdoor market stalls. More...
ICONIC MARKET HALL ALL SET FOR UPGRADE -
Chesterfield's iconic Market Hall is now one step closer to its planned refurbishment after Chesterfield Borough Council's approved the planning and listed building application. More...
ALL THINGS GREEN AND WONDERFUL IN CHESTERFIELD -
Chesterfield Market will be staging its first Green Fair on Saturday 24th September from 10am until 4pm. More...
GET DANCING IN CHESTERFIELD THIS SEPTEMBER -
It's strictly all for fun as Saturday 10th September sees Chesterfield's New Square Arena explode with an amazing display of dance at the annual 'Day of Dance'. More...
IN LOVING MEMORY OF CHESTERFIELD LEGEND -
Roy 'Pound A Bag Man' Davidson, one of Chesterfield and the Market's most famous faces (and voices) will be laid to rest tomorrow. More...
MARKET HALL FUNDING APPROVED -
Chesterfield Borough Council's cabinet has this week approved the funding for the £4million refurbishment of the town's Market Hall. More...
'MARKETING THE MARKETS' SUCCESS -
Events organised to boost the local economy and promote the markets have been a success after crowds descended on Eckington, Clay Cross and Killamarsh events. More...
MARKET FUN DAYS IN N E DERBYSHIRE -
Street entertainment, kids' activities, free raffles and a range of stalls will be on offer at a series of market events being held in North East Derbyshire this month. More...
AND THE VOTES ARE IN... -
The shoppers of Chesterfield have voted, and, in a closely fought contest, have crowned their Market Retailer of the Year. More...
CHESTERFIELD MARKET CLEANS UP -
Chesterfield market traders have signed a new agreement with Chesterfield Borough Council to work together in keeping the town's market clean and tidy. More...
MARKET RATES FROZEN -
Chesterfield Borough Council has today announced that, in recognition of their value to the town, there is to be no rent increase for the town's market stalls. More...
YOUNG PEOPLE SHOW THEIR ENTERPRISE SKILLS AT MARKET -
Despite the current financial climate, young people in Chesterfield proved that the spirit of enterprise is alive and well... More...
YOUNG ENTERPRISE TRADE FAIR AT CHESTERFIELD MARKET -
Students from local schools are preparing to take part in the North Derbyshire Young Enterprise Trade Fair on Thursday 3rd March. More...
MARKET FUN DAY A SUCCESS -
A family fun day took place at Clay Cross, one of a series of events aimed at getting local residents to love their local market. More...
LOVE YOUR LOCAL MARKET -
"They're Valuable Assets", says Cllr Pat Kerry from NE Derbyshire District Council as she encourages local people to shop at local markets in the region. More...
THE 'M' FACTOR -
Chesterfield residents are being asked to support Chesterfield in trying to prove it has the 'M' factor and in giving a boost to local traders and shoppers too More...
SUPPORT LOCAL RETAILERS THIS CHRISTMAS -
Christmas shoppers in Chesterfield are being asked to shop locally and support market and local retail traders with news that we can all enjoy additional markets throughout December. More...
NE DERBYS SETS IT'S STALL OUT FOR CHRISTMAS -
Shoppers are invited to join in some festive fun while supporting local businesses, at a series of Christmas Markets being held in NE Derbyshire this year. More...
ARTS & CRAFTS MARKET ADDS BRIGHTNESS TO SWITCH ON -
A new Arts and Craft market is setting up for this year's Christmas lights switch-on event in Chesterfield. More...
LAST DAY FOR 'COTTON FOR COTTON' AT CHESTERFIELD MARKET -
Look out any old items of clothing which you no longer want and take them along to the market to be swapped for a cotton bag to encourage recycling and shopping locally and raise funds for Ashgate Hospice. More...
COUNTDOWN TO ARTS AND MARKET FESTIVAL -
Chesterfield is preparing to stage its biggest and best ever Arts and Market Festival. More...
"IT'S THE HEART OF THE TOWN!" -
That's Markets Manager Andy Bond on the Market held in Chesterfield four days a week. More...
DAY OF DANCE -
A Day Of Dance descended on Chesterfield Market on Saturday 11th September, and we have some pictures for you. More...
FOOTBALL FEVER -
Chesterfield Market Traders donned their football boots for charity and raised £250 for CLIC Sargent Cancer Charity. More...
MARKET FACES, DON HOLLINGWORTH -
To all of us living in Chesterfield Donald Hollingwood is a familiar face and voice. Ayres fruit stall would simply not be the same place without him. More...
One of the more fun events the Mayor and Mayoress have taken part in recently was the Medieval Market. The weather was great and the Town was filled with not only... More...
The open air market is at the heart of Chesterfield town centre. Taking place every Monday, Thursday, Friday and Saturday, it's one of the biggest in the UK with over 200 stalls to fill. More...