Wednesday 3rd October 2012


Dust off those blue suede shoes because this 1950s rock 'n' roll band really knows how to party! They play chart hits alongside their own tracks to produce a big beat vibe brimming with retro glamour.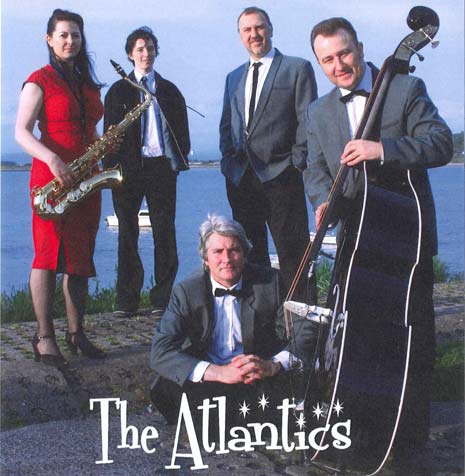 The Atlantics are a Devonshire five-piece rock 'n' roll and rhythm 'n' blues band who write and play their own original tracks alongside classic hits. They formed in 2008 and over the past few years, they have played all over the UK and are beginning to play internationally.

'Rock Around The Clock', 'Great Balls of Fire', 'Blue Suede Shoes', 'Be Bop a Lula'… the hits just keep on coming, and are mixed in with the band's own original tracks.
With guitar, double bass, sax, piano, drums and four vocalists, The Atlantics create a fabulously authentic 1950s sound, a terrific atmosphere and a big beat vibe that keeps people dancing all night. You won't be able to sit still for long!

Saturday 13th October, 8pm (doors open at 7pm).

Tickets £8.50 - adult advance, (£9.50 - on the door),
£6 - U16s,
£25 - family (2 adults, 2 U16s)

Tickets are now available from:
Whitwell Community Centre - 01909 723490
or Wayne - 01909 721648
or Tracey - 01909 720351
or Colin - 01909 721691
and from other Whitwell Forward members
Or you can e mail us through the website www.whitwell4ward.org.uk
For more information visit www.atlanticsrocknroll.com and www.liveandlocal.org.uk
Presented and promoted by Whitwell Forward Community Group and Live and Local.

Supported by Arts Council England, Derbyshire County Council and Bolsover District Council.
For more information about Whitwell Forward Community Group please contact Wayne Hatton, Chair on 01246 593064 (W) or 01909 721648 (H) or email him at whatty010@aol.com
RELATED STORIES
LAH-DI-DAH LADIES VOCAL HARMONY GROUP LOOK FOR ANOTHER 'LAH'! -
'Lah Di Dah' are a Ladies Vocal Harmony group who perform regularly around Chesterfield and The Peak District, often doing a great job fundraising for Charities. More...
AWARD WINNING FOLK ARTIST TO HEADLINE IN HIS HOME TOWN -
Captivating folk artist Blair Dunlop, who won the prestigious Radio 2 'Horizon Award' earlier this year, is heading back to his home town next month More...
HOT FINGERS POINT TO A GREAT NIGHT AT WHITWELL CENTRE -
Word has it on the streets that April 26th will see Whitwell Centre turned into Fat Sam's Speakeasy and the Hot Fingers band will show up More...
BALTIC CROSSING. IN DEMAND AND IN CHESTERFIELD. TWICE! -
Baltic Crossing are 5 young traditional musicians from Finland, Denmark and the UK - and they are appearing twice in Chesterfield in the space of a few days! More...
CHESTERFIELD JAZZ CLUB'S SEASON CONTINUES -
Following a sell-out launch night in May and an average of over 100 attendees a gig, the Chesterfield Jazz Club is proving to be a great success, and tomorrow continues with a gig by Jazz band Interplay More...
TICKET COMPETITION FOR ELVIS AT NONNAS THIS SUNDAY -
Elvis isn't down at the local chip shop after all - but he is about to hit the stage at a Chesterfield venue this weekend and we have 2 free tickets for you to win! More...
LOCAL STARS TO LAUNCH CHRISTMAS AT VICAR LANE SHOPPING CENTRE -
Britain's Got Talent entrant and X-factor finalist Chelsea Redfern will be performing alongside Directions Theatre Arts on Sunday 25th Nov in Vicar Lane, Chesterfield. More...
LOCAL SINGER DIDIER ROCHARD SINGS AT READING FESTIVAL WITH ALT-J -
Former Barlow resident Didier Rochard of London Contemporary Voices, recently collaborated with Mercury Prize nominees Alt-J, for their set at Reading Festival More...
WIN TICKETS FOR THE NEURYTHMICS AT THE PROACT -
We have two tickets to see Eurythmics tribute act - The Neurythmics - at the PROACT stadium on Friday 28th September. More...
BANDSTAND MARATHON COMES TO QUEEN'S PARK THIS WEEKEND -
Come along, watch and listen to a jam-packed musical programme at Chesterfield's Queen's Park as part of the London 2012 Festival closing celebrations. More...
CHESTERFIELD JAZZ CLUB - 2012 DIARY DATES -
Chesterfield Jazz Club meets on the third Thursday of every month at Club Chesterfield on Chester Street More...
DALEDIVA TAKE CENTRE STAGE FOR CHARITY CONCERT -
People are being invited to enjoy an evening of entertainment when the stars of local chorus, DaleDiva, take to the stage for a charity concert in Ashover. More...
WALTON & WEST COMMUNITY FORUM HOPE YOU'LL 'STAND IN LINE' -
One local Community Forum has decided to try and bring live, top class entertainment to the local area - at an affordable price. More...
LOCAL MUSICIANS TAKE TO THE BANDSTAND -
Local musicians will have a once-in-a-lifetime opportunity to take part in the largest closing cultural event of London 2012 on 9th September, thanks to Chesterfield Borough Council. More...
TAKE THE 7 PLAY THE WELLINGTON, NEW WHITTINGTON -
Take The Seven play at the Wellington, High Street, New Whittington, Chesterfield on Saturday 16th from 9pm More...
I'M STILL STANDING AFTER SIR ELTON ROCKS 'CHEZ VEGAS' -
It was THE event of the year in Chesterfield, over 12 months in the making and the result of much planning, preparation and purpose. More...
THE 'ROCKET MAN' PREPARES TO LAND -
The stage is set and, in less than 48 hours, Chesterfield will witness the biggest show to come to the town in years. More...
FINAL TICKETS RELEASED FOR ELTON JOHN AT THE B2NET -
With just over two weeks until the first ever show at the B2net Stadium, the final few tickets for Elton John have been released for sale to the general public. More...
COULD ELTON BE A SECRET SPIREITE -
Well-known football fan Sir Elton John will be taking two pieces of Chesterfield back with him when he performs at the b2net shortly. More...
MUSIC FESTIVAL CELEBRATES A DERBYSHIRE HERO -
Love, Life and Liberty: A celebration of Chesterfield's unique role in inspiring better places for people and the life of Raymond Unwin More...
2CELLOS TO SUPPORT ELTON JOHN AT THE B2NET -
Sir Elton John has announced that very special guests 2CELLOS will join him for his forthcoming live show this summer. More...
SUCH SWEET THUNDER -
Steve Steinhaus, the charismatic singer with the big personality who fronts both his Swing Band and the Dr Teeth Big Band, returns to Whitwell with his brand new show More...
MAGNETS ATTRACTED TO CHESTERFIELD -
They've performed with Blondie and at private parties for the likes of Hugh Grant and Elle McPherson - and now The Magnets are coming to Chesterfield. More...
ELTON JOHN PLAYS CHESTERFIELD FC'S B2NET! -
Superstar Elton John will be the first ever artist to perform at the B2net when he plays there in Summer 2012. More...

600 FOLLOW FEROCIOUS DOG AT MUSIC FESTIVAL! -
Whitwell Forward Community Group and 4Ward Promotions have extended Whitwell Festival Of Music 2011 and attracted 23 top quality bands More...
DO YOU HAVE TALENT? -
For the third year running, the Mayor of Chesterfield will once again be hosting 'Chesterfield's Got Talent' and is looking for talented acts from across the Borough. More...
ON SONG FOR TOWN, CARL NEWTON -
A day of firsts at the B2net on Saturday - first home game of the season and the first unfurling of the Champions Flag - also the first time the new 'Town song' rang out across the terraces More...
A STAR IS BORN... AND SHE'S FROM CHESTERFIELD -
One young girl from Chesterfield says she has to pinch herself every single day after hitting the big time and with her band preparing to launch its first single, next month. More...
HARLEY HANSON PLAYS HARLEY'S BAR-
Harley Hanson, International Singer and Songwriter returns to his home town of Chesterfield to launch his music video's and CD "When My Guitar Crys" and to film for his new video. More...

Music Event Diary -
Here is the place to find the latest Live Music Gigs from around Chesterfield. More...