Tuesday 22nd February 2011

NOTTINGHAM BOOTS CORSAIRS (1st XV) 25 - 7 PANTHERS (1st XV)

Visiting the current league leaders the Panthers team put up a valiant fight but it was not to be against a team that look destined for promotion at the end of the season.


PANTHERS (2nd XV) 19 - 0 SHEFFIELD OAKS (2nd XV)

Despite applying most of the pressure in the first half the only reward that the Panthers had to show was a penalty try converted by Scott Widdowson which gave them a 7 - 0 lead at the break.

Stepping up the pressure in the second half Jamie Barnett and Matt White both crossed the line to give Panthers a comfortable win.

Man of the match was Barry Lane.


LICHFIELD LADIES 38 - 15 PANTHERS LADIES

A victory was not to be for the Panthers Ladies in this table top clash with Lichfield.

It does not however mean that the Championship is not out of site as with four games left to play, only two points separate the teams at the top of the league.


WEST BRIDGEFORD (U17's) 8 - 29 PANTHERS (U17's)

AWAY WIN BRINGS NLD SEMI FINAL FOR U17's

Facing table toppers West Bridgford the Panthers team produced their best yet and came away with an emphatic victory.

West Bridgford took the game to Chesterfield from the kick off but the Panthers defence held fast and slowly the visitors gained control of the game.

George Crane became the first scorer when he touched down in the corner and then Michael White battered his way over the line for the first of two tries. A Sam Curry conversion gave Panthers a 12 - 3 lead at the break.

The second half saw Chesterfield up their work-rate and take the game to West Bridgford, and two quick tries from Jack Heath and Michael White ended the game as a contest.

Full credit to the home side who kept striving for the points when they touched down for a well earned try but a try by Jordan Marriot and a further conversion by Curry put the cap on a convincing performance.

Man of the match was Michael White.

PANTHERS (U16's B) 20 - 5 MOSBOROUGH (U16's)

In a very even game Chesterfield took the lead after some strong forward play allowed Connor Decosta to touch down.

Despite continued pressure the Mosborough defence held solid and they came back hard at Chesterfield to score a try and level the score at 5 - 5 just before half time.


The second half was all Panthers with a series of good phases of play. Danny Drew found a gap on the wing to score in the corner and Liam Stoddart, playing only his second game back after a bad hand injury found a gap in the backs defence to run through and score under the posts.

A second Stoddart try in the corner rounded off 
a really good game, played by both sides in the right spirit.

Man of the match award went jointly to Ollie Thomas and Liam Stoddart.

PANTHERS (U14's) 32 - 20 ASHBY (U14's)

The Panthers side showed their strength in depth by playing a development side but still ran out comfortable winners against Ashby.

First half tries from Matt Lamin (2), Nick Foan and Joe Early plus a Foan conversion gave the Chesterfield team a 22 - 10 lead at half time.

In the second half both sides rang the changes and the new players on both sides kept up the standards set in the first half.

Ashby scored two tries in this period but James Marshall replied with two trademark scores, one from distance and one from up close, to consolidate his position as top try scorer for Chesterfield to complete a comfortable victory.

Man of the match was Dan Burrows.

PANTHERS (U13's) 20 - 17 SPALDING (U13's)

PANTHERS JUNIORS BOOK SEMI FINAL SPOT NUMBER THREE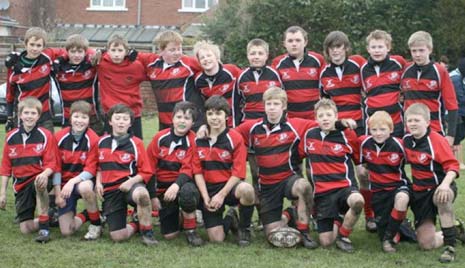 Panthers' Under 13's booked a semi final place in the NLD Shield with a well deserved win over Spalding

Chesterfield played with determination to produce a third NLD Shield victory, thereby topping their group and earning a place in the semi finals, the third squad from the Junior section of the Club to do so.

After an early Spalding try the Chesterfield forwards applied pressure and a try scoring opportunity was presented to scrum half Guy Bassett who pounced on a lose ball from the ruck and crossed the line at the corner flag.

Before half time Chesterfield played some of their best rugby and took the lead when Matt White touched down.

The second half saw Chesterfield defending for most of the time as Spalding applied pressure which was rewarded with a converted try.

Continued pressure saw Spalding go over for another try leaving Chesterfield needing 2 tries to win.

All credit to Chesterfield they did not drop their heads but turned the game and took it to Spalding.

Joe Heath powered down the line and was rewarded with a try and then in the last phase of the game Chesterfield's man of the match Matt White crossed the line to secure a well deserved win and a semi final place.

SHEFFIELD (U11's) 10 - 0 PANTHERS (U11's)
SHEFFIELD TIGERS (U11's) 35 - 0 PANTHERS (U11's)


The opposition proved just a little too strong for the Stonegravels players in this triangular tournament.

In spite of this, some spirited defensive work from Ashley Macefield and George Taylor kept the scores down.

Man of the match went to Hayden Bailey who gave a creditable performance at hooker against two strong scrummaging teams.

SHEFFIELD (U10's) 5 - 10 PANTHERS (U10's)
SHEFFIELD TIGERS (U10's) 0 - 25 PANTHERS (U10's)


Travelling to Sheffield for this three-way competition the Panthers Under 10's continued their winning ways with victories over both of the big city clubs.
Tries came from Tom Hawkins and Harvey Fletcher in the first game and Jacob Layton, Jacob Brailsford, Harvey Fletcher and Oliver Jenkins in the second.

OTHER RUGBY NEWS


Everyone at Panthers was delighted to hear of the selection of two former Junior players in the Three Counties Under 20's Squad to play against Staffordshire in the RFU Under 20's competition last Wednesday night.

Tom Arnold and Richard Cook, both members of the current first team at the Club, played on either wing and made a strong contribution to a comfortable
62 -17 victory.

Next up is a more difficult tie against the North Midlands, but on the showing of last week, both players will enter the game with confidence.
The Club is actively seeking to strengthen the Ladies squad. Any Ladies wishing to join the squad for training and matches can get more information via the Club's website at www.chesterfieldrugby.co.uk or by phoning 01246 857480.
RECENT STORIES
NIBE SUPPORT FOR CHESTERFIELD PANTHERS RUFC -
Panthers have recently benefited from a major sponsorship agreement with a leading local manufacturer NIBE Energy Systems Ltd More...
MATCH REPORTS,
9th - 10th APRIL 2011 -
With traffic delaying the Panthers arrival until 10 mins before ko, the game began with Nottinghamians taking the play to their visitors. More...
COUNCIL PRESENTS £750 CHEQUE TO PANTHERS -
The Panthers are delighted to have been the recipients of a grant of £750 from the DCC Leadership Fund More...
PANTHERS HOST ANNUAL TAG RUGBY FESTIVAL -
Chesterfield Panthers hosted the Annual Tag Rugby Festival for Junior schools from throughout the Borough at Stonegravels. More...
NEWS & MATCH REPORTS, 2nd - 3rd APR 2011 -
After a shaky start from both sides Panthers gained the upper hand and a forwards try from James Marshall gave them the lead More...
MATCH REPORTS,
26th - 27th MAR 2011 -
A strong first half performance and then some solid defensive work in the second period saw the Panthers win through More...
MATCH REPORTS,
12th - 13th MAR 2011 -
A decisive win by 6 tries to 1 over favourites Ashfield has put Chesterfield U14's into the Three Counties' Shield final. More...
MATCH REPORTS,
26th - 27th FEB 2011 -
Panthers 1st XV returned to winning ways with a comfortable league victory over Leesbrook. More...
MATCH REPORTS,
5th - 6th FEB 2011 -
For the second week in a row, the Under 10's produced a feast of tries to beat a spirited Tupton team that never gave up trying. More...
MATCH REPORTS, 22nd - 23rd JAN 2011 -
Strong forward work through the 2nd half gradually broke Ilkeston's defence and on 70 mins, Fergus Wish scooped up a pass to crash over the line More...
MATCH REPORTS, 15th - 16th JAN 2011 -
After the long enforced break, the Panthers Ladies finally got back into action with this away trip to Oxford... More...
MATCH REPORTS, 20th - 21st NOV 2010 -
Panthers took arguably the youngest side in the league to third placed East Leake and pulled off a great win. More...
LAST MINUTE TRY SEALS CUP WIN -
After a six week lay off due to bad weather both teams were desperate to play rugby and on a morning ideal for rugby a cracking game ensued. More...
RUGBY STARS RETURN TO WHERE IT STARTED -
Chesterfield Panthers RUFC played host last week to a group of players, all local lads, who had started their careers at Stonegravels More...
MATCH REPORTS, 13th - 14th NOV 2010 -
The game began with both sides exchanging attacks and neither really getting the upper hand until Panthers managed to work some space... More...
MATCH REPORTS, 6th - 7th NOV 2010 -Chesterfield made the long journey to Grantham for their latest league encounter and put in a creditable performance, although the score-line doesn't reflect their dominance. More...
MATCH REPORT -
U14's v ASHBY
31st OCTOBER -
There were no Halloween horrors as an excellent team performance from the Panthers brought a well-deserved victory. More...
WORK BEGINS ON NEW RUGBY GROUND -
Work has begun on the Chesterfield Panthers RUFC's new ground at Dunston after a "First Sod Turning" ceremony was held last week More...
MATCH REPORTS, 16th - 17th OCT 2010 -
With the long journey to the West Midlands for this National Vase game, the Panthers team took to the field without time to warm up, reflecting in their first half performance. More...
MATCH REPORTS, 9th - 10th Oct 2010 -
Panthers played host to a good, well organized side from Boston and a high scoring game ensued. More...
MATCH REPORTS, 2nd - 3rd OCT 2010 -
Panthers lost to Belper in this away league game with the players and spectators wondering how? More...
MATCH REPORTS, 25th - 26th SEPT 2010 -
Panther's second team manager Mark Blair was delighted to have a squad of 26 players for this home game with Hope Valley. More...
A WHIZZ-BANG FRIDAY NIGHT PROMISED-
Friday evening (1st Oct) will see the Club putting on a firework display that will light up the sky in the neighbourhood... More...
MATCH REPORTS, 18th - 19th SEPT 2010 -
Panthers lost to their local rivals Tupton much to the obvious delight of the opposition supporters. More...
MATCH REPORTS, 11th - 12th SEPT 2010 -
Panthers travelled to the seaside for their first league game of the season and ran out comfortable winners in a high scoring game. More...
LAND BOUGHT FOR NEW FACILITIES -
Chesterfield Panthers Rugby Union Football Club is pleased to announce the acquisition of land at Dunston... More...