Saturday 16th November 2013



The Friends of Chesterfield Theatres have presented a framed photograph of Derek Coleman, which will be hung in the bar of the Pomegranate Theatre in memory of him.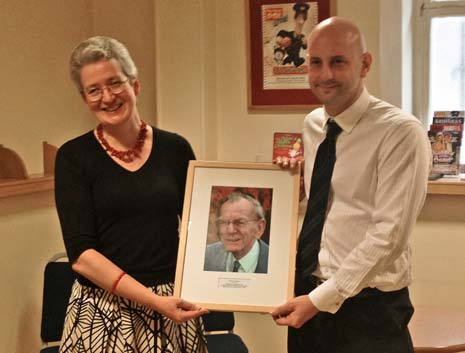 Former Theatre Manager Liz Woodall and Cllr Ken Huckle with the commemorative photograph of beloved Theatre Manager, Derek Coleman

Councillor Ken Huckle, Chesterfield Borough Council's Assistant Executive Member for Culture, Leisure and Tourism, who received the framed photograph on behalf of Chesterfield Borough Council, commented: "Derek Coleman was a key part of Chesterfield's theatres for many years and it is only fitting that we should honour him in this way.

"I'd like to send my thanks to the Friends of Chesterfield Theatres who have donated the framed photograph.

"I am particularly pleased that Derek's daughters and grand-daughters, are able to attend the presentation."

Derek died in December 2006 at the age of 77 and had managed the theatres for more than 30 years until his retirement in 1994.

He began his management career at Manchester's Library Theatre, where he saw many young actors and actresses who went on to form successful careers on stage and television.

He also had spells in Newcastle and Oldham before becoming manager of Chesterfield Civic Theatre, later renamed the Pomegranate Theatre, in 1963.

Derek is fondly remembered by theatre staff for his meticulous managing of the theatre's finances and for being a largely 'hands off' Manager, leaving staff to do their jobs but always available to sort out difficulties and offering support in times of personal trouble.

The Pomegranate Theatre and the Winding Wheel are owned and run by Chesterfield Borough Council.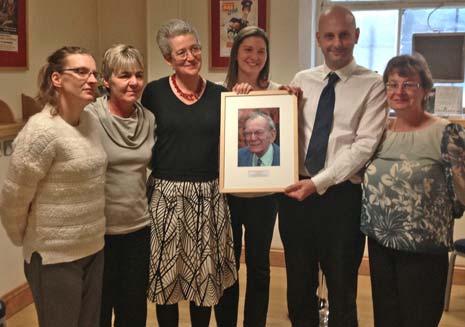 Derek's daughters Bev (far right) and Lynn (2nd left) with his grand-daughters and former Manager Liz Woodall (3rd left) and Cllr Ken Huckle.

Derek's daughter's Beverley and Lynn were at the event, (above) along with his grand-daughers, and told The Chesterield Post that they were touched by the event and the honouring of their dad in this way, "We're very proud that dad was remembered and that he's as dear to other people as to us. The theatre was dad's life - he was a brilliant father but he loved his job and he loved the people around him."

Bev added, "It did become a big family here. A lot of the staff stayed and people built relationships. This is like coming home for us today - we're very proud!"

Former Theatre Manger Liz Woodall, also spoke to us about Derek and her memories, "Derek was a really lovely man! Very quiet and he really cared about the theatre and his staff. He didn't make a fuss about things but if anyone had any personal problems, he was always there for them!

"He trusted people! He let you know if you'd done something wrong but he supported you. We're standing now in his old office - that's why we chose to do the presentation here. He really liked to be part of the creative process - he loved the 'Rep' as it was in those days."

The presentation itself had been made possible by a group of people working tirelessly, voluntarily, on behalf of the theatre behind the scenes as Liz explained, "The Chesterfield Theatre Friends, was set up in 2007 in prepare for the celebration of 60 years of civic theatre in the country. This was the first civic theatre, as until 1947, Councils were not allowed to spend ratepayers money on entertainment, so this was the first council to run a civic theatre. A lot of people for many years still called it the civic theatre rather than the Pomegranate.

"The theatre friends raised lots of money to refurnish the bar and they remain - though their main focus is now the archive - they now catalogue everything that we had.

"Theatre is enormously important to Chesterfield. Live entertainment has more of a community feel. Everyone should feel welcome in theatre, it should be about people feeling at home and I think that it's something that the Civic - and then the Pomegranate - has always done."
RECENT STORIES
FROM PUMPKIN TO STAGECOACH - BUS FIRM SPONSORS CINDERS! -
It's behind you! Stagecoach in Chesterfield is 'Strictly' showing its support for the town's theatre by getting behind a panto production More...
POMEGRANATE THEATRE'S ART HOUSE SCREENINGS - REVIEWS -
Chesterfield's Pomegranate Theatre has marked the completion of their £750,000 renovation with a packed weekend of exclusive screenings. 2 are reviewd here by Adam Morris More...
PANTO COMES TO CHESTERFIELD -
'OH YES IT DOES!' -
People of a nervous disposition may want to stop reading now as Dames in brightly coloured dresses, a Prince, Princess and 'Buttons' crossing the road in Chesterfield yesterday afternoon can only mean one thing... More & Audio...
'BOYCIE' OFFICIALLY OPENS REDEVELOPED CHESTERFIELD THEATRES -
Actor John Challis - who played Boycie in Only Fools and Horses - has officially re-opened two Chesterfield theatres following a £700,000 refurbishment.
More & Audio...
CHESTERFIELD'S POMEGRANATE THEATRE WINS TRIPADVISOR AWARD-
Chesterfield's Pomegranate Theatre has won a prestigious award from the online review site, TripAdvisor. More...
GINNY DAVIES APPEARS IN 'SOMETHING FISHY' AT HOLLINGWOOD HUB -
After her wonderful performance of 'Double Booked' last year, the Chesterfield Canal Trust is delighted to welcome Ginny Davis back to the Hollingwood Hub. More...
DÉDA LAUNCHES SEARCH FOR YOUNG DANCE STARS -
A Chesterfield-based youth contemporary dance company is holding auditions next month to give talented local youngsters the chance to develop their performance skills. More...
WIN A PAIR OF TICKETS TO ISLA ST CLAIR'S 'EYES FRONT' SHOW -
We have two tickets to give away to a wonderful 'Live and Local' event , organised by two local councillors - Shirley Niblock and Howard Borrell More...
PANTO SEASON BECKONS IN CHESTERFIELD...
OH YES IT DOES! -
The children may have just gone back to school but thoughts are turning to the festive season already - and that means Panto! More...
GET WED AT THE WINDING WHEEL! -
One of Chesterfield's premier venues is now licensed to hold wedding and civil partnership ceremonies. More...
ARE YOU A YOUNG DANCING HOPEFUL? READ ON... -
Derby-based Déda has teamed up with Chesterfield Borough Council and Dance4's (CAT), to launch a 2nd auditioned youth dance company - giving local young people the chance to develop their talents. More...
CHESTERFIELD'S YOUNG DANCERS SOUGHT FOR DANCE PROGRAMME -
Talented young dancers in Derby and Derbyshire are being urged to come forward for a chance to perform in a professional venue in front of 100s of people. More...
'BOUNCERS' AT THE POMEGRANATE - A NIGHT OUT, BUT NOT AS YOU KNOW IT!
We were promised laughter from start to finish on opening night - and we were not disappointed. More...
WIN 2 TICKETS FOR THE VAGINA MONOLOGUES -
A great, free competition to win 2 tickets to see the world famous show 'The Vagina Monologues', by Eve Ensler - at the Pomegranate Theatre on Friday 28th September More...
STARS OF SCREEN COME TO TOWN WITH RENOWNED SHOW -
The Vagina Monologues - Britain's funniest and sexiest show - comes to The Pomegranate, Chesterfield on 28th September at 7.30pm for ONE night only! More...
GROUNDFORCE FAIRY CHARLIE TO TACKLE FLESHCREEP -
There'll be a 'ground force' to be reckoned with on stage this Christmas when the nation's favourite gardener swaps her spade for a magical wand More...
JOSEPH DREAMS IN CHESTERFIELD -
In what's seen as a huge coup for Chesterfield, Keith and his company will be the first West End production show to perform at the town's Winding Wheel More...
CHOIR WARMS UP FOR CHESTERFIELD'S BIG PRODUCTION -
The final choir has now been selected for the hit show Joseph, which comes to the Winding Wheel in Chesterfield in May. More...
TRIBUTE TO POMEGRANATE THEATRE DIRECTOR -
A tribute to one of Chesterfield's most well known and loved artistic producers and directors, Colin McIntyre, took place on 9th March at the Pomegranate Theatre in Chesterfield. More...
CHESTERFIELD VEHICLE FIRM GIVES LYCEUM A THEATRE ON THE GO -
A mini mobile theatre project may soon be a star turn in Sheffield thanks to a local firm. More...
TICKET SALES BOOST FOR WEST END'S JOSEPH -
It's been announced that The West End production of Joseph, due to come to Chesterfield in May, is already proving popular - and that there is now local interest in the production too. More...
JOSEPH TRAVELS TO THE WINDING WHEEL -
The West End production of Joseph and the Amazing Technicolour Dreamcoat is coming to Chesterfield in May 2012 More...
PRICE INCREASE FOR CHESTERFIELD VENUES -
We've been informed that Chesterfield Borough Council has agreed to a small increase in ticket prices at the Pomegranate Theatre and the Winding Wheel. More...
ARKWRIGHT'S STORY RELIVED -
The unique history of this North East Derbyshire village has been brought to life as part of a community art and drama project. More...