Saturday 5th October 2013




East Midlands Ambulance Service (EMAS) will feature in a Channel 4 documentary series which airs Monday 7th October at 9pm, which has the potential to attract three million viewers.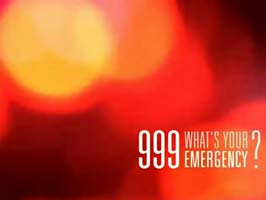 999: What's Your Emergency? follows incidents from the moment the initial 999 calls are received, as ambulances are dispatched and the ambulance crew arrive on the scene.

But it also goes beyond to explore why the call was made and find out what happened after the medics left.

The six part series follows ambulance staff who know every call they race to could involve a person's life being at risk.

Each week there will be a specific theme: Young People, Alcohol, Mental Health, Life & Death, Older people and Birth & Childhood.

In the first episode, 'Young People', Glenn Radford and Isabel Langon are called to help a student who has taken an overdose of anti-depressants and has drunk hair bleach. The teenager is fortunate to go home after two days in hospital though there are worries that she may be pregnant after missing her period.

Glenn Radford, Nottinghamshire paramedic said: "I genuinely hope the series shows people the very varied, strange, emotional and exciting job that my colleagues and I do. I hope they now see the fantastic people who continually do an excellent job in what is often very challenging circumstances."

He continued: "It's very challenging trying to be everything for everyone: social worker, psychologist, cardiologist, GP. The public expect so much now but I love helping people and trying to make a difference - and every now and again, that I get to be part of a team of professionals who save a person's life."

Dave Winter, Nottinghamshire South Locality Manager, said: "Initially we had a small group of volunteers for the series which steadily grew over time. As filming progressed the staff really got into it the spirit of things and enjoyed showcasing their skills. We hope the documentary will offer real insight into our service to the public."

Last year, Channel 4's first series of 999: What's Your Emergency? followed the police, fire and ambulance staff in Blackpool to highlight the work of the emergency services.

This year the series will directly focus on three of England's ambulance services: East Midlands, London and East of England.

The Twitter hashtag #999whatsyouremergency allows the loyal following from the last series to engage with issues as they watch.
RECENT STORIES
DLRAA ATTENDS RTA AND PICKS UP 69 YEAR OLD FALL VICTIM -
On Saturday, a 27-year old female was airlifted by the Derbyshire, Leicestershire & Rutland Air Ambulance to hospital following a road traffic collision in Baslow, Derbyshire. More...
AIR AMBULANCE (DLRAA) CALLED TO AID OF CLAY CROSS MAN -
Derbys, Leics & Rutland Air Ambulance (DLRAA) were called out to an incident in Clay Cross, Derbyshire on the evening of Thursday 26th September. More...
IOSH STAFF GAMES RAISE CASH FOR AIR AMBULANCE -
Staff at a Leicestershire-based health and safety organisation have been competing in a week of sporting activities to raise cash for a life-saving charity. More...
RECOGNISING THE BEST IN THE SERVICE AT EMAS AWARDS -
East Midlands Ambulance Service hosted Awards where 9 winners were crowned in a ceremony which aimed to recognise ambulance service staff and volunteers who are the pride of the NHS. More...

£120k AMBULANCE SERVICE INVESTMENT IN LIFE-SAVING MACHINES -
Thousands of pounds have been invested by East Midlands Ambulance Service to purchase and install life-saving machines in the community to help save lives. More...
EMAS BRINGS IN MORE STAFF AND VEHICLES TO IMPROVE CARE -
Patients needing an ambulance to deal with their emergency will soon benefit from more frontline staff and vehicles being introduced by EMAS More...
EMAS SIGN JOINT LEARNING AGREEMENT -
The signing of a Joint Learning Agreement shows a commitment between EMAS, Unison, GMB and the RCN to support staff with their continued learning and development. More...
EMAS 'SNOWED' UNDER WITH CALLS DUE TO WEATHER -
Freezing conditions over the weekend have seen East Midlands Ambulance Service NHS Trust (EMAS) deal with 900 more calls than during the same period last year More...
NEW YEAR CELEBRATIONS CRITICAL FOR EMAS -
As predicted, the New Year brought a challenging time for East Midlands Ambulance Service, who were busy responding to people who needed help More...
EMAS WARNS 'DON'T START 2013 IN AN AMBULANCE' -
East Midlands Ambulance Service NHS Trust (EMAS) is preparing for New Year's Eve with a plea to those celebrating to start 2013 safe and well. More...
LEARN HOW TO SAVE A LIFE THIS SEPTEMBER -
St John Ambulance, the nation's leading first aid charity, is again running its 'Save a Life September'. More...
CHERYLES MARATHON FUNDRAISER FOR ST JOHN AMBULANCE -
Clay Cross woman Cheryle Berry has completed this year's London Marathon in aid of St John Ambulance - and hopes to raise at least £2,000. More...
BOLSOVER CADETS WIN ROYAL RECOGNITION -
Two Bolsover St John Ambulance Cadets have won royal recognition for their achievements during an official reception at Buckingham Palace.
More...
LESSONS IN LIFE SAVING THANKS TO £500 AWARD -
Young first aiders in Clay Cross will be able to learn vital life-saving techniques thanks to a £500 award from the Mansfield Building Society's Community Support Scheme. More...
CAROL CLOCKS UP 25 YEARS WITH BOLSOVER BADGERS -
Cadet Carol Owen was just 19 when St John Ambulance launched its Badger movement for the under 10s - and this week she led the group's 25th anniversary celebrations. More...
ST JOHN AMBULANCE PREPARES FOR WINTER -
St John Ambulance staff and volunteers in Derbyshire are now busy making preparations to support the emergency services More...
YOUNG FIRST AIDERS HONOURED IN COUNTY'S INAUGURAL AWARDS -
Nine-year-old Emily Salmon didn't panic when her mum fainted in the bathroom, she put her in the recovery position and raised the alarm. More...
CHESTERFIELD VOLUNTEER RECEIVES TOP HONOUR -
Ken Cook, a leading influence within St John Ambulance Derbyshire over the past decade, has been honoured with investiture as a Commander of the Order of St John More...
FIRST AIDER'S LIFE SAVING SUPPORT FOR CHARITY -
A routine 'First Aid At Work' course proved to be a life-changer for Chesterfield banker Ian Boston who became a volunteer for St John Ambulance More...
LIFE SAVERS TAKE TO THE STREETS -
Chesterfield's new 'street pastors' will be equipped with life-saving skills when they take to the town centre next month - thanks to St John Ambulance. More...
PUTTING THEIR SKILLS TO THE TEST -
St John Ambulance members from across Derbyshire put their skills to the test last weekend in a bid to become county champions. More...
FESTIVE SAFETY
TIPS -
With the Big day nearly upon us, St John Ambulance in Derbyshire has issued some festive tips to help people enjoy an injury-free Christmas and New Year. More...
MOVING ON... -
After three years in post, one of the St John's Ambulance most respected members has retired from his role as Chair of Council. More...
DRUMMING UP SUPPORT FOR LOCAL BAND -
Local musician Claire Atack is drumming up support and trying to secure the future of one of the area's longest-established brass bands. More...
VOLUNTEERS RAISE £600 - Derbyshire volunteers who staged a six-hour sponsored first aid marathon raised £600 for the charity that taught them. More...
Volunteers at a Charity's Chesterfield HQ took part in a six hour fundraiser today.
St John's Ambulance members in the town held a sponsored resuscitation event to raise cash for the branch. More...
DO YOU KNOW HOW TO SAVE A LIFE -
Now, if you're planning to visit any of the shows, matches or carnivals around in Chesterfield this summer you may come across the St John's Ambulance Service there... More...