Wednesday 4th January 2012
by TERRY DAMMS



Staveley MWFC are pleased to confirm that they have now launched a Video Gallery on the Staveley MWFC website, www.staveleyfc.co.uk. On the left hand side under "Video Gallery" you can now see video highlights from games hopefully on a weekly basis - apologies from the amateur cameraman!!!


NCEL Premier Division: Staveley MWFC 4 - 0 Long Eaton Utd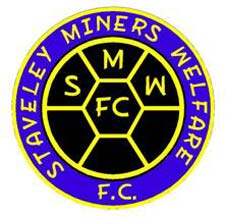 Long Eaton Utd arrived at Inkersall Road with 2 straight away wins and 2 clean sheets, with a 14 points tally from 8-games away from home, scoring in every game and 12-goals thus far but also conceding just 10-goals in those 8-away games.

Long Eaton left Inkersall Road well beaten 4-0 and although questions asked about Staveley MWFC's inconsistency still remain, perhaps the smallest of answers has been offered up by the Staveley players whose work rate was excellent.

In goal was Michael Dewberry, otherwise it was the same line up that failed so badly at Armthorpe last Monday.

The first chance fell to Jordan Eagers after some good work by Andrew Fox but the effort went above the cross bar on 5 minutes.

On 7 minutes there was a build up to a goal that was worth the entrance money alone, with no fewer than a dozen passes and 8 players being involved.

Michael Staley won the ball and fed it close to Richard Patterson who helped the ball along to Joe Thornton just inside his own half. He played it back to Patterson who squared it to Tom Jones who passed back to Michael Staley down the right. After playing it into Jordan Eagers, the ball came back to Michael Staley who linked neatly with Simon Barraclough, who turned the ball inside to Fox, helping the ball run along with Eagers stepping over the ball, letting it run to Ryan Damms who split the defence with a superb pass to Joe Thornton, after making a great run through, he took the ball on and round the keeper who managed an initial block but Thornton was bright enough to follow in and make it 1-0 with a superb opener.

Long Eaton responded with the first corner but an infringement gave Staveley the free kick in the 6 yard box for a push on Michael Staley.

Long Eaton did have a break away on 12 minutes when Staveley lost the ball but Martin Dewberry positioned himself well and managed to block the shot and gather the ball at the second attempt.

Staveley responded immediately, Ryan Damms chesting the ball down to Andrew Fox who picked out Jordan Eagers, but his shot went by the far post.

Staveley won a free kick just on 22 yards but Joe Thornton's effort went narrowly past the post again.

Ryan Damms had a chance to increase the lead on 20-minutes but his shot lacked power and the keeper saved his effort.

Andrew Fox was the first player to go into the referee's notepad after he lost control and impeded the breakaway, but the free kick from 25 yards out went to waste.

On 28 minutes, Staveley went 2 up. Ryan Damms won the ball when working back and passed it back to Tom Jones who put a long ball over the right back for Joe Thornton. He won the oncoming challenge and ran on putting in a superb cross for Simon Barraclough, who had made up great ground, splitting the centre halves, he reached the ball for a superb headed goal.

Richard Patterson was then denied after a good block by the Long Eaton keeper followed by a series of well defended corners by the visitors.

Staveley did get the ball into the net after Tom Jones' challenge on the keeper, but the Staveley skipper was harshly judged to have fouled the keeper with Ryan Damms tapping in from close range on 35 minutes as Staveley threatened to put the game beyond doubt.

There was a dubious challenge by the Long Eaton centre half, not attempting to get off the floor but leading with his arm while jumping, but the referee was well placed and no infringement was given.

Martin Dewberry showed a safe pair of hands gathering a free kick after Tom Jones had been penalised, but Staveley had been excellent value for their 2-0 half time lead.

The second half started with Staveley enjoying the vast majority of possession.

Long Eaton did break away down the right and when Tom Jones stopped the attack, it was adjudged a foul and the referee cautioned him for persistent fouling, but the in-swinging corner was cleared by Jones as Staveley were defending really well, albeit with the adventurous 3-5-2 formation.

On the hour, a brilliant piece of individual work by Andrew Fox converted the pressure that Staveley had been building. Down the left, he cut inside then outside, beating 3 defenders and then rifling an unstoppable shot into the roof of the net to give Staveley a thoroughly deserved and commanding 3-0 lead.

On 64 minutes, Gavin Smith came on for Joe Thornton and Manager Billy Fox reverted to a 4-4 2 in an attempt to try and nullify the game. However, Staveley continued to push forward with some purpose and had the final ball been a little more accurate, then perhaps the Long Eaton defence could have had an even worse afternoon.

Some more exhilarating football by Staveley carved Long Eaton open apart.

Shifting the ball from right to left, Andrew Fox made the full back dizzy twisting and turning, crossed superbly to set up Simon Barraclough whose effort beat the keeper but hit the woodwork with Staveley dominating.

Any opportunity of Long Eaton getting back into the game was snuffed out by some terrific defending and Chris Fawcus showing determination and energy was outstanding all afternoon. Any second ball in the middle seemed to being picked up by the tireless work of Richard Patterson.

Time after time, Staveley were pushing forward but, to be fair, Long Eaton never gave up although they were limited to long range efforts where Martin Dewberry was able to deal with everything in a very thorough manner.

On 74 minutes, Andrew Fox who had had a superb game, was replaced by Jason Bentley and Ben Ferguson replaced Ryan Damms as Manager Billy Fox went to a 4-5-1 formation.

Undeterred, Staveley kept going at Long Eaton, working hard and challenging, Simon Barraclough became the 3rd Staveley player to be cautioned but perhaps that was to be expected, with the players being a little eager to show they have the necessary 'off the ball spirit' to complement their obvious on the ball talents.

On 80 minutes, Staveley went further in front. The two substitutions Ben Ferguson and Jason Bentley won a throw-in down the left. Chris Fawcus threw the ball inside to Ben Ferguson who controlled it and played it up to Simon Barraclough, a deft flick inside to the on-running Jason Bentley who looked up and saw Aymen Tahar bursting through with Tahar burying the chance, making it 4-0.

Rarely would you see goals of such a standard on 4 separate occasions but the Staveley players consistently produced a clinical end product to their dominant play.

However, that was not as pleasing as the work rate and effort put in by the players against the side put in front of them.

The question is, no doubt, whether or not they can now maintain that desire and commitment and stop the 'Jekyll and Hyde' performances that have blighted the season so far.
Next week is a trip to Maltby Main FC who demolished the Armthorpe WFC side that beat Staveley MWFC so convincingly on Boxing Day.
TEAM:
Dewberry, Staley, Fawcus, Jones, Patterson, Tahar, Eagers, Fox, Damms, Barraclough, Thornton
Subs: Smith, Linacre, Houghton, Ferguson, Bentley

Goals: Thornton (8mins), Barraclough (27mins), Fox (60mins), Tahar (81mins)



Don't forget - you can now see videos of the games in the Video Gallery on the Staveley MWFC website, www.staveleyfc.co.uk under "Video Gallery".
RECENT STORIES
THORNTON'S DOUBLE DELIGHT AS STAVELEY REACH QUARTER FINALS -
A Joe Thornton double moved Staveley into the Quarter Finals of the FA Vase where they'll face either St Ives Town of Cambridgeshire, or fellow Derbyshire club Gresley FC. More...
INAUGURAL CHARITY DINNER RAISES THOUSANDS -
Staveley Miners Welfare FC raised over £3,000 at their first-ever sporting dinner, which was held in the clubhouse at the Inkersall Road ground last week. More...
STAVELEY THROUGH TO NCEL CUP QUARTER FINALS -
Teversal FC put up a spirited performance and ran Staveley MWFC close in the last 16 of the NCEL Cup More...
SMWFC JUNIOR RESULTS: 29th JAN -
Staveley MWFC's Under 15's lost to Nether Green 5-3. More...
4 WINS ON THE BOUNCE FOR STAVELEY -
On a thoroughly horrid playing surface and a game which in all probability should not have been played, Staveley MWFC made it 4 wins on the bounce More...
STAVELEY MWFC TO HOST INAUGURAL SPORTING DINNER -
Former Nottingham Forest and Scotland hard man Kenny Burns will be the guest speaker at the first-ever sporting dinner hosted by Staveley MWFC More...
3 OUT OF 3 FOR STAVELEY OVER LINCOLN -
Staveley MWFC did what they had to do for the win against a Lincoln Moorlands side who for 45-mins, were stubborn opponents More...
SMWFC JUNIOR RESULTS: 8th JAN -
Staveley's Under 16's were away at Sheffield Wednesday Young Owls. More...
STAVELEY MWFC EDGED OUT OF PRESIDENT'S CUP -
Staveley MWFC were edged out in the quarter finals of the NCEL Presidents Cup by 4-3 at Tadcaster Albion FC. More...
STAVELEY DIG DEEP FOR VICTORY -
Staveley MWFC dug in deep in the second half at Thackley to protect the superiority they held in the first half, coming away with a 2-1 victory More...
STAVELEY SAFELY THROUGH -
Squires Gate FC, were disposed of with ease by Staveley MWFC, who cruised into the last 32 of the FA Vase for the 2nd year running with a superb team performance More...
SMWFC JUNIOR RESULTS: 27th NOV -
Staveley's Under 16's were away to Bramley Sunnyside and lost their 100% winning record More...
JADED STAVELEY SCRAPE A POINT -
Manager Billy Fox lamented his jaded side as they got out of jail against a lively Brighouse team. More...
STAVELEY REACH LAST 64 OF FA VASE -
Staveley MWFC made the trek to Merseyside to West Cheshire Division 1 leaders Ashville FC in the FA Vase 2nd round More...
STAVELEY LOOK TO THE NEXT GAME -
We have moved on after last week's disappointment in the FA Cup with a 3-0 defeat against highflying Hyde FC from the Blue Square North More...
STAVELEY PICK UP POINT AGAINST RETFORD -
10 man Staveley MWFC were disappointed to be held to a 1-1 draw against Retford - even after Captain Tom Jones was sent off after 13 minutes. More...
ALL SQUARE FOR STAVELEY -
If ever 90-minutes of football fitted the old adage of "a game of two halves" - then this FA Cup Tie did! More...
STAVELEY MAKE BEST EVER NCEL START -
Staveley made it 5 league wins from 5 starts beating Hall Road Rangers 2-0 with Manager Billy Fox adding that record to the ever increasing list More...
STAVELEY PROGRESS IN FA CUP -
Staveley MWFC made it through the Preliminary Round Replay of the FA Cup with a 3-1 fully deserved victory against Evostick South side Goole AFC More...
FA CUP REPLAY STRETCHES STAVELEY TO THE LIMIT -
An 87th minute equaliser for Goole AFC saved their blushes and earned them a replay at Staveley MWFC on Tuesday night More...
STAVELEY MAKE IT 7 WINS OUT OF 7 -
Staveley MWFC made it 7 wins from 4 league and 3 cup games in a 23 day period and went 2 points clear at the top of the NCEL Premiership More...
STAVELEY THROUGH IN FA CUP BATTLE -
Staveley MWFC made the next round of the FA Cup with a 4-0 score line that probably flattered them against Winterton Rangers in a game full of incidents. More...
STAVELEY MAKE IT 3 OUT OF 3 -
Staveley MWFC got their second league victory in a week with a 2-1 victory against Winterton Rangers who last season finished 5th More...
AWAY WIN AND A CLEAN SHEET IN NCEL PREMIERSHIP OPENER FOR STAVELEY -
Staveley MWFC opened up their NCEL Premiership campaign with a deserved 1-0 victory at Brighouse Town FC. More...
STAVELEY V CHESTERFIELD FRIENDLY MATCH REPORT -
NCEL Division 1 Champions, Staveley MWFC, played npower League 2 Champions, Chesterfield, at Inkersall Road last Wednesday evening. More...
"WE DON'T WANT TO TAKE THE PASSION OUT OF FOOTBALL" -
On Wednesday Howard Webb refereed the friendly between Staveley MWFC and Chesterfield and spoke with the Chesterfield Post. More..
NCEL ANNOUNCE NEW SPONSOR -
Local company Baris, has just been announced as the sponsor of The Northern Counties East Football League. More...
STAVELEY'S FINAL FLOURISH -
Staveley MWFC brought the curtain down on their season with a 4-1 victory against a young Teversal side who put up a spirited performance. More...
STAVELEY OUT OF THE CUP -
Staveley MWFC went out of the NCEL QF's on penalties by 5-4 after 120 minutes of football that was not for the football purists. More...
"WE ARE THE CHAMPIONS!" -
Staveley MWFC are Champions Of NCEL Division 1 for the very first time in the clubs history. More...
STAVELEY EXTEND THEIR CUP RUN -
Staveley MWFC went through to the quarter-finals of the NCEL Cup with a convincing 2-0 victory away at Barton Town OB FC More...
STAVELEY DEMOLISH 'FROD' 5-1 -
Staveley MWFC's unrelenting push for promotion continued with force with a 5 - 1 demolition of Appleby Frodingham FC. More...
A CLUB ON THE UP -
Back in 2007, Staveley Miners Welfare Football Club faced extinction, their football club committee had resigned en masse due to retirement and just pure time issues. More...
STAVELEY CONTINUE THEIR PROMOTION PUSH -
Another 3 points in a tight game against Hemsworth MWFC who twice went behind early in each half means huge credit must be given for sticking to their tasks. More...
STAVELEY SHOW THEIR CLASS -
Staveley MWFC recorded their biggest away win in the clubs NCEL history with a 8-0 thrashing of Bottesford Town FC. More...
STAVELEY OUT OF THE CUP -
Staveley MWFC went out of the S&H Cup to Parkgate FC by 3-1 in what proved to be a game with little between the sides... More...
STAVELEY MAKE IT 32 POINTS OUT OF 36 AND 7 HOME WINS -
A 1-0 victory fought out against a spirited Bottesford Town side gave the league leaders a battle in front of another very pleasing attendance of 102. More...
STAVELEY EARN A DRAW -
Yorkshire Amateurs push for promotion seemed to necessitate that the 3 points be taken against Staveley and the loss of another 2 points by the Ammers is giving the chasing pack hope. More...
STAVELEY PUSH ON -
Staveley MWFC pushed further ahead at the top of the NCEL Division 1 with a 1-0 victory against AFC Emley, courtesy of a brilliant strike from Chris Fawcus on 68 minutes. More...
LUCKY NUMBER 7 -
Staveley MWFC made it 7 league wins from 7 beating AFC Emley 2-0 at Inkersall Road with 2 goals from the impressive Joe Thornton, one a thunderous 30 yard free kick. More...
STAVELEY LEAD THE PACK AFTER 3-0 WIN -
Staveley MWFC increased their lead at the top of the NCEL to 4 points with 2 games in hand and also maintain an 11-point gap on 3rd More...
A TEST OF CHARACTER -
Staveley MWFC faced a few questions about their character after the weekend's disappointments when Glasshoughton Welfare came to Inkersall Road. More..
STAVELEY GRIND OUT 2-1 WIN OVER LEEDS MET-
Staveley had one hell of a fight to put 3 more points on the board against Leeds Met Carnegie... More...
STAVELEY MWFC ON RECORD SEQUENCE -
Staveley's 2-1 victory against Grimsby Borough brought the club's best ever sequence of results with 20 wins, 3 draws and just 1 defeat in a 24 game run. More...
STAVELEY MWFC HIT TOP SPOT -
Staveley MWFC went to thetop of the NCEL Division 1 with a 6-1 victory against bottom of the league Brodsworth Welfare More...
SHIREBROOK v STAVELEY MATCH REPORT -
Staveley MWFC came away from Shirebrook Town FC with 3 deserved points in a game that they dominated from start to finish. More...