Monday 8th August 2011

It was a bumper turnout as hundreds turned out to support the second Community Fair held by Tesco at their Lockoford Lane store.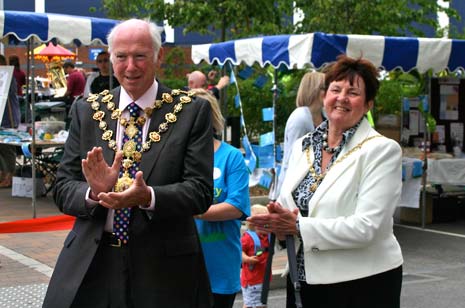 The Mayor and Mayoress of Chesterfield stayed and chatted to all the stallholders and many of the visitors to the Fair

Over thirty charities and organisations held stalls to promote their causes, and attractions such as bouncy castles and fairground rides kept the children entertained. There were also food demonstrations and face painting.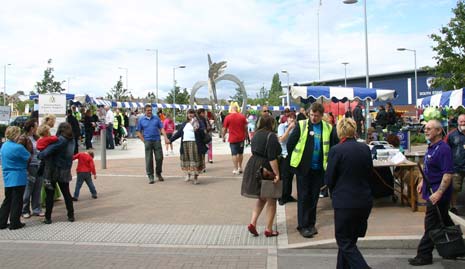 Opened by renowned local Health Campaigner Wendy Watson and attended by the Mayor of Chesterfield the event was a successful follow up to last year's event held in what was, at the time, a new store.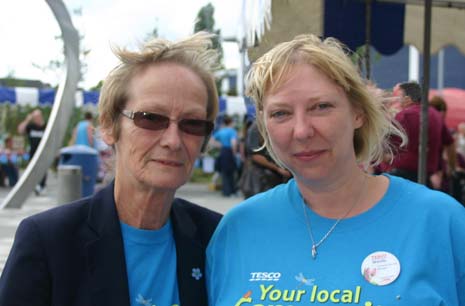 Organisers, Jackie (above left) and Wendy (above right) from the store were thrilled with the support on the day, "I'm over the moon! It's been fantastic and the weather has held out."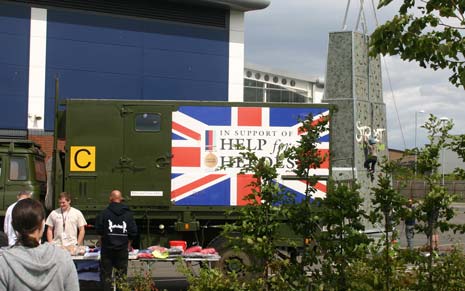 Emergency Services and Help for Heroes, climbing walls, bouncy castles, roundabouts, the Irish Colliery Band - they were all there to join in the fun.

"Today's about raising the profile and allowing the charities to network amongst each other to make the public aware of what they do. It's a great turnout - very worthwhile and fantastic. Hopefully we'll get the chance to do it again next year!"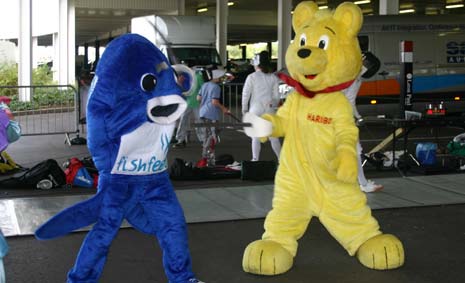 'Fishy Feet' and 'Haribo Bear' had a swordfight with the help of Wingerworth Fencing Club

Music was provided throughout the day by the wonderful Ireland Colliery Brass Band (below) who entertained all the Community Fair visitors while raising money for various charities ...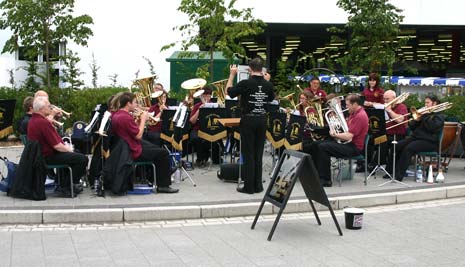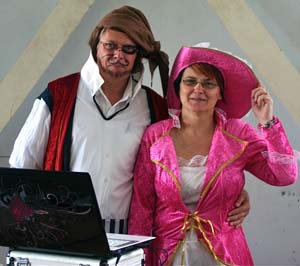 ... while DJ's Johnny 'D' and DJ Rose (both pictured left) from JR Entertainments, dressed as his 'n' hers pirates for the day and kept the Tesco shoppers informed of what was happening from the Car Park side of the fair.

They also cheered up everyone's grocery trips with plenty of 80's, 90's and noughties music!
We managed to grab a chat with some of the Charities there and turn the spotlight on what they do.
NATIONAL HEREDITARY BREAST CANCER HELPLINE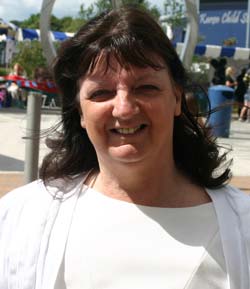 Wendy Watson (left), a local Charity Campaigner and Tesco's 'Mum of The Year' opened the event, and was also there as founder of the National Hereditary Breast Cancer Helpline which she set up in 1996 to support women who find that they carry a gene which may give them a higher chance of developing the disease.

After cutting the ribbon, she told The Chesterfield Post how proud she was of the title and her pride in being rewarded for her tireless work as a health campaigner, "It was a big thrill, and excellent to get the recognition for the helpline I set up 15 years ago, which is still the only one in the world that deals with Hereditary Breast Cancer. We have 27 people trained up, groups across the whole of the UK and a group just set up in Northern France. We run 24 hours a day and I get 200 mails a day.

"People have a difficult decision - not just 'do I have a test?'. If they do and it says they have a 90% chance of getting Breast Cancer then they have a really difficult decision to make and you need to talk to someone who knows what difficult decisions are facing you."

The statistics are frightening, "One in every 200 women carry a gene which gives a high risk of developing Breast Cancer and, if you're found to carry that, a mastectomy is an option - others are to be screened regularly and there are drugs that are being trialled, but, the only certain way is the surgery route, but the technology is much better and the results are aesthetically pleasing."

As well as working full time in championing the helpline, Wendy has just written her first book in which she details her battle and journey. It's due out on the 16th October and already has a couple of well known names behind it, "Elton John has kindly given me permission to use the title 'I'm still standing' as my friends all say that should be my theme tune! Linda Robson ('Birds of a Feather') has written the foreword too as she was on the judging panel for the Tesco award and has written that, out of 6,000 nominations, their decision to choose me was unanimous.

"Tesco have also been great - helping me to find a publisher. It will hopefully inspire people. I've written about the comical side of it too - some of the things I've been through are amazing and I've written about how I've managed to get through them."


ABLE DISABLED
Other Charities represented were Able Disabled, a group trying to set up access for disabled people to buildings around the county. They also run a course called 'Course for Confidence' which helps disabled persons, their friends and carers to find ways of doing things they did before they became disabled.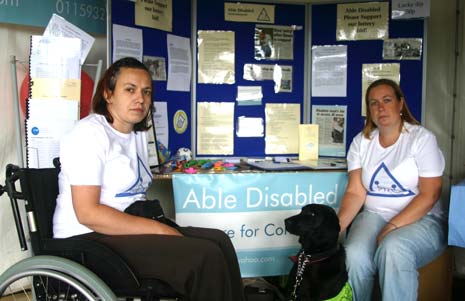 Dawn Campion (above left) was representing the Charity and she told us "We have already done 5 buildings in Cotmanhay and Ilkeston with funding though the council. If there are buildings which need accessing by disabled people then we can look at ways to change it. We are trying to get Lottery Funding at the moment to try and get enough money to get courses up and running 12 times a year."

Dawn says that it's a huge and varied need, "Disabled people find it hard, sometimes they can't physically get past steps, or if there's loud music at a venue then a hearing impaired person may not be able to hear so it's looking at noise levels. It may be looking at lighting at venues so people don't trip. It may be people who have just become disabled and need help getting used to sticks or equipment. At the moment the Disability Act is there but it's only on paper - there's no one checking it's being implemented. Anyone who need to can contact me via our Facebook page."


SANDS CHESTERFIELD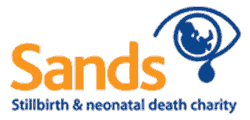 One of the newest Charities in Chesterfield is Sands and they were there launching a new helpline today, THE CHESTERFIELD SANDS HELPLINE - 07432 387725

A national charity which deals with stillbirth and neonatal loss, the local group was set up after a group of mums who lost babies found their nearest group was in Derby.

Emma Sheppard and Nikki Whelan were representing the charity and told us, "Groups are held the first Tuesday of every month at the new fire station near B&Q, everyone in the room has lost a baby, all at different stages and it feels comfortable being around people who've been through the same.

"We're not trained counsellors but we've had some training. People can come to the group and say as much or as little as they want. If they just want to sit, they can - but we do 'one to ones' so anyone who wants to talk, can. It's for dads and families too, they need to talk as well and feel the loss as keenly as the mum."

They added that their main aim at the event was to, "Launch a helpline - people can talk on the phone which Tesco has donated. The new helpline number is 07432 387725 - If anyone needing to talk calls us, they can leave a message and we will call them back as soon as we can."

Again the numbers are scary, with Emma saying, "Nationally, 17 babies a day die, not counting the earlier miscarriages. It's hard - if you have a baby, you have a Midwife, Health Visitor, and sometimes Social Services, but if your baby dies then once you're physically well yourself, there's nothing."

The recent high profile and tragic losses of Lily Allen, Kelly Brook and Amanda Holden have highlighted the cause, say the ladies and people talk about it more, "It was a taboo subject but now friends and families see these ladies talking about it and realise that we need to talk about it."

Emma told us, "Despite undoubted changes in attitude, there is still a need to change perception and understanding around stiilbirth and neo natal deaths.

"We're not depressed - we're grieving and need some support - my babies died, my world has completely changed and I don't know how to cope with that."

Chesterfield Sands Helpline - 07432 387725
RECENT STORIES
COMMUNITY GROUPS BENEFIT FROM GALA FUNDRAISER -
Delighted gala organisers have handed out cheques totalling £1,500 to benefit good causes in the Chesterfield area. More...
COLLIERY BAND FUNDRAISER LOOMS -
Ireland Colliery Band from Chesterfield will be raising cash for charity this coming autumn as it prepares to perform Brass 'N' Sax. More...
CHARITIES BENEFIT AT B2NET -
The best part of 20,000 reasons to celebrate at the b2net as 3 charities received their share of monies raised at the Charity football match More...
DOG-GONE... -
North East Derbyshire District Council are asking for help with information on these two dogs. More...
SPIREITES RUN TO SUPPORT ASHGATE HOSPICE -
It's been revealed that a team from Chesterfield Football Club is hoping to net £2,000 for Ashgate Hospice by competing in the Spire10 mile race later this month. More...
EMBRACING LIFE -
On Saturday 6th August a fund raising event took place in aid of a brand new, local charity called Embracing Life. More...
HAIR TODAY, GONE TOMORROW... -
'Man pain' was definitely the order of the day in one Chesterfield coffee shop on Saturday morning. More...
NEW ACTIVITY PROGRAMME FOR THE DISABLED -
Sportability, the London based registered charity, is expanding its operation of sports programmes for people with paralysis across the nation. More...
CHARITY BEGINS AT ALL 92 FOOTBALL CLUBS!! -
Ian Butt and Steve Pye are currently covering 3,000 miles visiting all 92 football league grounds in just 7 days - all in aid of the McMillan Cancer Charity. More...
DIVISION CHAMPIONS RAISING FUNDS AND GOING DUTCH -
Local U12's Football Club, Somersall Rangers, have recently been involved with raising funds for the Thomas Fletcher Foundation. More...
"ONLY SPIREITES HAD ANYTHING TO CELEBRATE" -
Oliver is completing his Duke of Edinburgh Award and, as part of that, has to raise money for charity. This is where any Spireite fan may want to read on... More...
ASHOVER CLASSIC CAR RALLY WILL BENEFIT CHARITIES -
100's of classic cars and bikes will be at the Ashover Show Ground near Chesterfield this month for a new all-day rally, which could raise thousands for local charities. More...
JAMIE WALKER'S STARS SHINE BRIGHTLY -
This 6th Annual charity football match at the B2net Stadium between the Spireites Legends and the Celebrity Soapstars has so far raised a wonderful sum of £19,600.00 More...
CHESTERFIELD SQUASH STAR RECEIVES £1,000 'BRAMPTON BOOST' -
Chesterfield squash star Ashley Davies has received a £1,000 cash boost in his quest to reach the top thanks to Brampton Manor More..
2 DOGS WILL BE PUT TO SLEEP TODAY UNLESS YOU CAN HELP? -
Bert and Ernie are both being housed at the Dog Control Kennels and as is their policy, they will unfortunately be sadly put to sleep today More...
FERRETS HELP FUND ASHOVER FLOWER FESTIVAL -
This week ferret-racing fans from all over North Derbyshire have helped Ashover Church Flower Guild raise £1,700 for charity. More...
ASHGATE HOSPICE FOREIGN COIN COLLECTION -
Foreign currency can be used to raise money, however time is running out to receive the best rates but you can still help Ashgate Hospice More...
CHARITY MATCH OF THE DAY -
A bumper crowd at the b2net watched the much-anticipated charity match between a team of soap stars and Spireites Legends. More...
SUPPORT OUR ARMED FORCES -
Chesterfield has a proud connection with the Armed Forces past and present and supports current servicemen and veterans through fundraising events. More...
GIVE GENEROUSLY FOR KIAN -
"A lot of people don't know what will happen in future but we know our future will be dialysis 3 times a week and then a major operation for a kidney transplant".More...
LOCAL CHARITIES TO BENEFIT FROM CLASSIC CAR & BIKE SHOW -
Next month's event, organised by the Rotary Club of Chesterfield is set to benefit local organisations. More...
CHESTERFIELD CARERS DIARY FOR JUNE / JULY -
Chesterfield Carers Centre have a full diary of events coming up. Here's the full list and contact details. More...
YOUR LOSS IS THEIR GAIN -
A Charity 12 week Weight Loss Challenge from the 31st May 2011 in aid of Bluebell Wood Children's Hospice. More...
RSPCA WEEK - PLEASE GIVE GENEROUSLY -
We try and help every animal we come across, we try our best to help but that does come at a cost More...
ASHGATE HOSPICE INVITES YOU TO THE B2NET BALL -
Ashgate Hospice will once again be hosting the b2net Ball at the b2net Stadium on Friday 3rd June 2011. More...
CARING FOR CARERS IN CHESTERFIELD -
A new centre that aims to offer support, guidance and activities for carers has been officially opened in the town centre today. More...
ASHGATE'S FANCY DRAG RACE, MEN ONLY! -
The 3rd annual, men only, Ashgate Hospice 'Fancy Drag Race' is taking place on Sunday 15th May and they expect the event to be the biggest yet! More...
LADIES - ZUMBA FOR ASHGATE HOSPICE -
There will be a special Zumba Fitness session on Wednesday 6th April, 7.30pm at the Winding Wheel, Chesterfield. Tickets £5 in aid of Ashgate Hospice. More...
7 DOWN, 2 TO GO -
They say that cats have nine lives but little Kitty must be down to seven by now after being the victim of TWO RTC's in four months. More...
SPIREFEST GETS READY TO ROCK CHESTERFIELD -
The inaugural Spirefest day long rock festival and guitar show due to be held at the Winding Wheel is drawing ever closer... More...
NETTING FUNDS FOR CHARITY AT THE B2NET -
A massive charity football match is being organised to raise funds for a leading cancer charity that helped a former footballing apprentice beat the disease 4 years ago. More...
CATWALK CAPERS FOR CHARITY -
Models, from Fairplay, council staff and friends and family of the Mayor's staff and Chesterfield Post strutted their stuff raising over £750 for the Mayors Appeal. More...
HELP BEAM SCOTTY BACK HOME -
The RSPCA is asking for help in tracing the owners of a cat who survived with only burned paws after being found in the engine of a car that had travelled to Chesterfield from Nottingham. More...
EVERY PEDAL HELPS -
15 staff from Tesco, Chesterfield got on their bikes in order to raise cash for Clic Sargent, Tesco's Charity of the year. More...
CAN YOU SAVE THIS DOG? -
A Staffordshire Bull Cross, picked up as stray by the council's dog wardens, will be put to sleep tomorrow (Friday 4th March at 5pm) if a new home can't be found for him. More...
GREAVESY'S WILD ABOUT CHOCOLATE -
Jimmy Greaves is supporting a new brand of chocolates, made in Chesterfield, helping to do its bit to save tigers from extinction. More...
CHARITY BEGINS AT ... ALFRETON -
The first charity to benefit from the Alfreton Sunday League's Grand 40th Reunion has been announced. More...
COMING TO A POOL NEAR YOU -
Local residents are being invited to 'jump in' and swim to help raise cash for a leading cancer charity. More...
ASHGATE HOSPICE MIDNIGHT WALK FOR LADIES ONLY! -
Our 4th annual Midnight Walk is on Sat/Sun 25th/26th June 2011 and is expected to be one of the biggest events in our calendar this year! More...
HAIR OF THE DOG -
Bella is a year old Shar-pei and has been at the RSPCA kennels for a long time - 10 weeks in total. More...
NOW MAN'S BEST FRIEND CAN HELP TOO! -
Ashgate Hospice is very excited to bring you a new event this year, especially for man's best friend! You and your dog are invited for sponsored "walkies" in Linacre Woods to help raise vital funds. More...
B2NET BUCKETS BRING HELP TO CHILDREN'S HOSPICE -
Generous fans visiting the B2Net have donated £400 to a Children's Hospice through a bucket collection... More...
GUITAR HEROES -
A unique gig, hoping to become an annual event, is being organised in Chesterfield in order to raise money for a leading cancer charity. More..
LEFT OUTSIDE ALONE-
Animal Welfare Workers are investigating after two young cats were found abandoned outside the rescue centre in freezing temperatures. More...
EVERY LITTLE HELPS -
A Primary School in Chesterfield is celebrating after being awarded £800 by a Supermarket Charity Trust. More...
Brrrrr RABBIT! -
The RSPCA has issued an URGENT appeal for homes for 22 rabbits that have been brought to their kennels in Spital this week. More...
STAVELEY MWFC'S GENEROUS GESTURE FOR SCOUTS CANADA TRIP -
A local company has made a generous donation towards a local scout group's Canada trip after reading about the fundraising efforts in The Chesterfield Post. More...
ARE YOU UP FOR A CHALLENGE? -
Fairplay is a registered charity, dedicated to helping children with additional needs and their families. More...
LOVE LIGHTS UP HOSPICE -
Ashgate Hospice would like to say a huge THANK YOU to everyone who dedicated a light in this year's Lights of Love switch on More...
LOCAL CHILDREN AND B&Q MAKE XMAS SPARKLE FOR ASHGATE -
A Primary School in Chesterfield has helped to spread a little Christmas joy after a tree they decorated took pride of place at Ashgate Hospice. More...
RSPCA APPEAL -
The RSPCA is appealing for what it calls a 'special home for a very special pup' - a near-blind rottweiler called 'Mac' and his best friend - a kitten called 'Boyd'. More...
YOUR VOTE COUNTS -
The Football League would like your help to help them decide which charity The League should select to be its Official Charity Partner for Season 2010/11. More...
WILL YOU SHINE A LIGHT OF LOVE THIS CHRISTMAS THIS YEAR -
Will you be remembering someone special this Christmas? It was that time of year again, another summer had flown by and there was more than a nip in the air. More...
CAN YOU OFFER THESE HENS AN
EGG-CITING NEW
LIFE? -
The RSPCA in Chesterfield is urging people to consider buying Free range eggs after accepting 60 ex-battery hens into their kennels at Spital. More...
"BACK OF THE NET!" KICKING CASH FOR CHARITY -
Students from Chesterfield College gave a local charity a boost as they took part in a penalty shoot out to raise cash for Ashgate Hospice.More...
BEING CRUEL TO BE KIND? -
Chesterfield RSPCA are investigating the circumstances behind one of the most bizarre they've seen in 10 years at the Charity. More...
WIRKSWORTH ROTARY 5k SANTA FUN RUN -
The Rotary Club Of Wirksworth are staging a 5k 'Santa' fun-Run for the Rainbows and Ashgate Hospice Charities on Sunday 5th December 2010 at Carsington Water More...
A LONELY GOAT
HERD -
If you're an experienced goat owner (or a Military Regiment looking for your Regimental Mascot), with land to spare, then Chesterfield RSPCA is asking you to consider helping them. More...
PUPPY LOVE UPDATE -
The RSPCA in Chesterfield confirms that a woman claiming to be the owner of the pups has contacted them and after checks, they have been reunited. More...
PUPPY LOVE -
RSPCA bosses are appealing for help in tracing the people who dumped Barnaby and Benji last week in a Chesterfield field. More...
REMEMBER THEM -
The Chesterfield branch of the Royal British Legion is asking residents to do just that and buy a poppy as the town launched it's annual Poppy Appeal Saturday. More...
BARGAIN HUNT BONANZA -
There was everything to pay for as the Mayor and Mayoress took part in a charity Bargain Hunt on Chesterfield's very own flea market on Thursday, More...
WHY YOU REALLY SHOULD "GO TO SPECSAVERS" THIS WEEKEND -
Have you ever looked at the 'Mr Men' characters and thought, what about one called Mr ??? More...
ASHGATE WINTER BALL, 27/11/10 -
Ashgate Hospice are holding their 'WINTER BALL' on Saturday 27th November, 7pm for 7:30 until 1am at The Winding Wheel in Chesterfield. More...
MARIE CURIE CANCER CARE LOOKING FOR SUPPORTERS HELP -
Derbyshire Fundraiser, Laura Read is inviting anyone who is interested to come along to an informal meeting. More...
DROP IN CENTRE OPENS IT'S DOORS -
The Nenna Kind centre is situated in Room 5 on the 2nd floor of the Market Hall and offers support and advice in a welcoming environment for anyone affected by cancer. More...
HOPE FOR AFRICA -
As children in Chesterfield prepare to return to school this week one charity is promoting the message that 'In Africa, education is a privilege not a right'. More...