Sunday 8th June 2014


"Thanks to you, I've had one of my best birthday's ever!" That was Sir Tom Jones paying homage to the thousands of people who packed the PROACT last night to hear him in concert.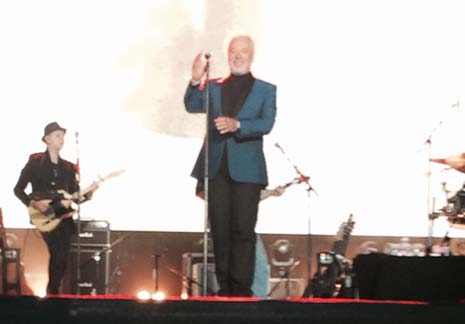 I doubt that I was the only one in the crowd who had difficulty believing that the man who owned the stage (above) and had Chesterfield in the palm of his hand, was actually celebrating his 74th birthday on Saturday evening - and the crowd were eager to join in those celebrations, with a rousing rendition of "Happy Birthday Sir Tom" as you can hear below.
It had crossed my mind earlier in the day that Rihanna and her 'Umbrella' may have been a more topical choice - as the heavens opened all day and shops were rapidly selling out of macs. However, late afternoon, just as the doors began to open, the blue sky appeared, and the organisers no doubt breathed a HUGE sigh of relief! If the sun shines on the righteous - someone at the PROACT had obviously been very good

As with Sir Elton John, the staff at Chesterfield FC had worked tirelessly behind the scenes for well over a year to secure the services of Sir Tom, though with the added caveat this year, that the club itself were 'manning operations' so to speak - and there had probably been a few sleepless nights over the last few weeks.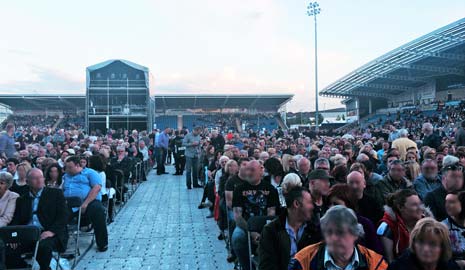 The crowd builds expectedly for Sir Tom Jones at the Proact

However, they pulled it off in spectacular style and left no one in any doubt of Chesterfield's credentials as a top-notch concert venue - Sir Elton was no fluke.

It was noticeable that, far from the audience being 'women of a certain age' keen to wave their pants, the crowd was made up of all ages, from kids to pensioners, men and women.

Despite the 'no knickers' rule, there were ingenious attempts to make a nod to Sir Tom's reputation and trademark - and to the delight of the crowd, several washing lines of underwear were paraded around the stadium. Two ladies (below), entered into the spirit of things with some cheeky humour too!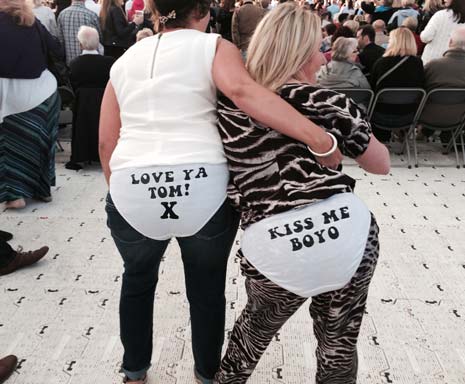 The support acts - though having to compete with the Pimms and concourse entertainment - were fantastic!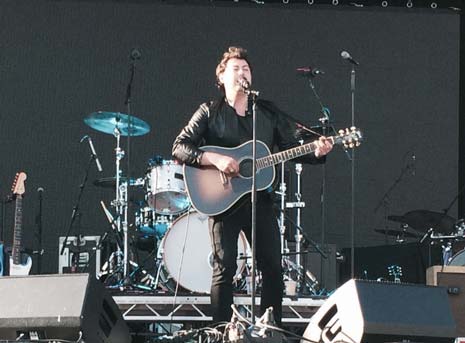 Andrew Cole on stage at the PROACT

Andrew Cole (above), Canadian born - but brought up in Wales, got the crowd rocking, and told The Chesterfield Post after his set that he had been thrilled to appear at the PROACT and with Sir Tom Jones, "It felt amazing to be back on UK soil. I've been a bit of a rover. I'm in LA at the moment trying to finish an album.

"Today has been the best day of my life, to share my new songs with people. I'm thrilled to be on the tour with Sir Tom - I was brought up in Wales, my mum is Welsh. He's one of those legends that you never think you'll share a stage with - he's a legend. It was like family here tonight!"

Hear the interview with Andrew in full here...



Next on stage was Toploader, (below), who got the crowd further warmed up nicely with their brand of rock and infectious enthusiasm. Even grannies were bopping in their seats - with one couple doing an impromptu jive in the aisle next to us!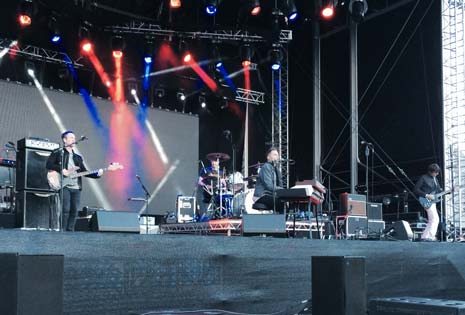 Toploader on stage at the PROACT

Their hit, 'Dancing In The Moonlight' was given a rapturous reception by the crowd, before all that was left to do was thank Chesterfield for their hospitality.

Then onto the 'Sex Bomb' himself, from nowhere, hoardes of people took their seats and the stadium came to life once again. The air of expectation was palpable as we waited for him to come on.

There was no fanfare, no big announcement - without ceremony, Sir Tom Jones walked n stage as if he came there every week. It became clear very early on that, not only is Sir Tom a world-class performer and legend, he is also an affable, personable and humble man - who seemed genuinely delighted to be in Chesterfield on his birthday, telling the crowd that people had asked what he was doing for his birthday, and being told "I'm In Chesterfield" on being asked why, he replied, "Cos I love to sing!"

And sing he did - with all the old favourites, Sex Bomb, Mama Told Me Not To Come, You Can Leave Your Hat On and Delilah, which played just as the sun went down and drove the crowd into an impromptu sing-song, drawing laughter from Sir Tom as thousands sang the famous chorus in unison (below).





The Green Green Grass Of Home, so often the headline writer's go-to since the announcement that Sir Tom was coming to town, and Its Not Unusual were also crowd-pleasers.

After an hour and a half of non-stop performing - and only the occasional sip of water - it was time for Sir Tom to bid goodnight. He thanked the people of Chesterfield for sharing his birthday with him, giving the impression that there was nowhere else he'd rather be.

74? An age when most are hanging up their dancing shoes and settling for comfy slippers? Never would you have guessed!

Whatever Tom Jones has, he has certainly still got it in buckets. If you could bottle it, you would retire a very rich man, and quickly! What was clear was that he is also, warm, witty and wise - with a love of people and performing that has no doubt added to his longevity.

Sir Tom was pleased to be in Chesterfield and the town was pleased to welcome him too. Like Sir Elton before him, Sir Tom proved himself to be a "people's performer" who put on the same show here as he did in bigger and more exotic venues.

"A brilliant five star show" is possibly the best succinct resumé I could do in a family publication, but my oh my, the energy and buzz around the football stadium matched, eclipsed even, the day that the home team won promotion as Champions!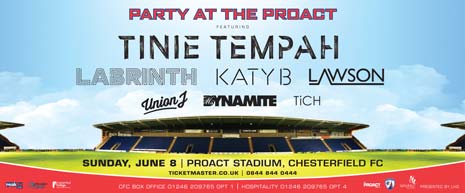 And what of Chesterfield FC as it gears up to host another headline concert today (Sunday 8th June), this time for the younger crowd?

It can safely say that hard work and vision has paid off.

Five years ago when the move from Saltergate began, we could only have dreamed that acts such as the two Knights of The Realm, Tinie Tempah and Katy B would be in our own back yard rather than Nottingham, Sheffield or Manchester.

The club - and the council planning officers - deserve huge credit for putting Chesterfield on the touring map and dragging in tourists and revenue (mainly in mac sales!) to the town.

Las Vegas? Pah! Chez Vegas is now the place to be - and long may it last!
RELATED STORIES
REAL TIME LIVE'S VERY OWN 'LIVE AID' STYLE GIG THIS SUNDAY -
REAL TIME Live are holding a Live Aid style gig called 'Action for Alexander' on Sunday 6th December from 4pm onwards. More...
HASLAND BORN MOTORHEAD DRUMMER PHIL 'PHILTHY ANIMAL' TAYLOR DIES -
Former Motorhead drummer, Hasland born Phil 'Philthy Animal' Taylor has died aged 61. More...
BRIT AWARD WINNERS BLAKE ARE COMING TO TOWN -
They've performed for HM The Queen, at Wembley and Wimbledon on centre court, and now Brit-Award winners BLAKE are bringing their refined new sound to Chesterfield's Pomegranate Theatre, this Friday, 1st May 2015.
More, Audio & Video...
STAVELEY'S CENTRE SPOT SOUL CLUB STAGES FIRST NORTHERN SOUL NITE-
The 'Centre Spot' Soul Club at Staveley Miners Welfare FC is staging an inaugural Northern Soul Nite event on Saturday 11th April 2015. More...
THE BILLY FURY YEARS AT THE WINDING WHEEL TONIGHT -
The Billy Fury Years takes you on a musical journey through the musical career of Britain's best loved rock 'n' roller. At the Winding Wheel, Thursday 13th November at 7:30 More...
TIDESWELL MALE VOICE CHOIR PRESENT 'NEVER FORGET' -
In the 100th anniversary year of the First World War audiences in the Pomegranate Theatre, Chesterfield and The Buxton Opera House, Buxton can share in a stunning tribute presented by the Tideswell Male Voice Choir. More...
MORE PARTYING AT THE PROACT AS RAIN FAILS TO DAMPEN SPIRITS -
Editor's eye view of Party At The Proact, featuring acts such as Katy B, Lawson, Labrinth and headliner Tinie Tempah
More, Pics, Audio & Video...
CHESTERFIELD'S 'HIDDEN TALENT' COMPETITION IS
OPEN FOR ENTRIES -
A competition is being held at Vicar Lane Shopping Centre, Chesterfield, to find hidden talent from around the region. More...
SUPPORT ACTS FOR SIR TOM JONES' PROACT CONCERT ARE CONFIRMED -
Sir Tom Jones will be joined by Toploader and Andrew Cole at his concert at the Proact Stadium on Saturday, June 7th More...
PARKING AND HOSPITALITY AVAILABLE FOR PROACT CONCERTS -
Those travelling to the forthcoming concerts at the Proact Stadium by vehicle are advised to book a car parking spot. More...
STUDENT DISCOUNT OFFER ANNOUNCED FOR 'PARTY AT THE PROACT' -
It's been announced this morning that students can take advantage of a discount ticket offer for next month's Party at the Proact concert which features seven top acts. More...
'MODNESS' AT STAVELEY MWFC WITH SKA, MOD & PUNK KINGS - THE NUTTY BOYS -
The brilliant 'Nutty Boys' are bringing their own brand of 'Modness' to Staveley MWFC's Inkersall Road ground club on Saturday 10th May 2014 from 7pm. More...
"LET'S GET ROCKING AT THE PROACT!" ALAN STEVENSON ON SIR TOM AND TINIE -
After securing promotion to League One this weekend, the Chesterfield faithful have a lot to look ahead to on the pitch this coming summer.
More & Audio...
TINIE TEMPAH TO HEADLINE JUNE'S 'PARTY AT THE PROACT' -
Multi-award winning rapper Tinie Tempah will headline this summer's 'Party at the Proact' on Sunday, June 8th, joining Labrinth, Katy B, Lawson, Union J and Ms Dynamite. More...
TRIO TO JOIN PARTY AT THE PROACT LINE UP -
Chesterfield Football Club has said this lunchtime that Labrinth, Katy B and Ms Dynamite have been added to the exciting line-up for this summer's Party at the Proact. More...
THERE'S A GUY WORKS DOWN THE PROACT SWEARS
HE'S ELVIS! -
A fundraising event at the Proact Stadium on Saturday night saw around £3,500 raised for the Chesterfield FC academy. More...
DIRTY STOP OUTS' LAUNCH THIS WEEKEND AT THE WINDING WHEEL -
This Saturday's (14th) launch party for the 'Dirty Stop Out's Guide to 1980s Chesterfield' is set to raise hundreds of pounds for Ashgate Hospice. More...
LAH-DI-DAH LADIES VOCAL HARMONY GROUP LOOK FOR ANOTHER 'LAH'! -
'Lah Di Dah' are a Ladies Vocal Harmony group who perform regularly around Chesterfield and The Peak District, often doing a great job fundraising for Charities. More...
AWARD WINNING FOLK ARTIST TO HEADLINE IN HIS HOME TOWN -
Captivating folk artist Blair Dunlop, who won the prestigious Radio 2 'Horizon Award' earlier this year, is heading back to his home town next month More...
HOT FINGERS POINT TO A GREAT NIGHT AT WHITWELL CENTRE -
Word has it on the streets that April 26th will see Whitwell Centre turned into Fat Sam's Speakeasy and the Hot Fingers band will show up More...
BALTIC CROSSING. IN DEMAND AND IN CHESTERFIELD. TWICE! -
Baltic Crossing are 5 young traditional musicians from Finland, Denmark and the UK - and they are appearing twice in Chesterfield in the space of a few days! More...
CHESTERFIELD JAZZ CLUB'S SEASON CONTINUES -
Following a sell-out launch night in May and an average of over 100 attendees a gig, the Chesterfield Jazz Club is proving to be a great success, and tomorrow continues with a gig by Jazz band Interplay More...
ELVIS AT NONNAS -
Elvis isn't down at the local chip shop after all - but he did hit the stage at a venue in Chesterfield recently. More...
LOCAL STARS TO LAUNCH CHRISTMAS AT VICAR LANE SHOPPING CENTRE -
Britain's Got Talent entrant and X-factor finalist Chelsea Redfern will be performing alongside Directions Theatre Arts on Sunday 25th Nov in Vicar Lane, Chesterfield. More...
LOCAL SINGER DIDIER ROCHARD SINGS AT READING FESTIVAL WITH ALT-J -
Former Barlow resident Didier Rochard of London Contemporary Voices, recently collaborated with Mercury Prize nominees Alt-J, for their set at Reading Festival More...
VINTAGE ROCK'N'ROLL WITH THE ATLANTICS -
Dust off those blue suede shoes because this 1950s rock 'n' roll band really knows how to party and they're coming to Whitwell! More...
WIN TICKETS FOR THE NEURYTHMICS AT THE PROACT -
We have two tickets to see Eurythmics tribute act - The Neurythmics - at the PROACT stadium on Friday 28th September. More...
BANDSTAND MARATHON COMES TO QUEEN'S PARK THIS WEEKEND -
Come along, watch and listen to a jam-packed musical programme at Chesterfield's Queen's Park as part of the London 2012 Festival closing celebrations. More...
CHESTERFIELD JAZZ CLUB - 2012 DIARY DATES -
Chesterfield Jazz Club meets on the third Thursday of every month at Club Chesterfield on Chester Street More...
DALEDIVA TAKE CENTRE STAGE FOR CHARITY CONCERT -
People are being invited to enjoy an evening of entertainment when the stars of local chorus, DaleDiva, take to the stage for a charity concert in Ashover. More...
WALTON & WEST COMMUNITY FORUM HOPE YOU'LL 'STAND IN LINE' -
One local Community Forum has decided to try and bring live, top class entertainment to the local area - at an affordable price. More...
LOCAL MUSICIANS TAKE TO THE BANDSTAND -
Local musicians will have a once-in-a-lifetime opportunity to take part in the largest closing cultural event of London 2012 on 9th September, thanks to Chesterfield Borough Council. More...
TAKE THE 7 PLAY THE WELLINGTON, NEW WHITTINGTON -
Take The Seven play at the Wellington, High Street, New Whittington, Chesterfield on Saturday 16th from 9pm More...
I'M STILL STANDING AFTER SIR ELTON ROCKS 'CHEZ VEGAS' -
It was THE event of the year in Chesterfield, over 12 months in the making and the result of much planning, preparation and purpose. More...
THE 'ROCKET MAN' PREPARES TO LAND -
The stage is set and, in less than 48 hours, Chesterfield will witness the biggest show to come to the town in years. More...
FINAL TICKETS RELEASED FOR ELTON JOHN AT THE B2NET -
With just over two weeks until the first ever show at the B2net Stadium, the final few tickets for Elton John have been released for sale to the general public. More...
COULD ELTON BE A SECRET SPIREITE -
Well-known football fan Sir Elton John will be taking two pieces of Chesterfield back with him when he performs at the b2net shortly. More...
MUSIC FESTIVAL CELEBRATES A DERBYSHIRE HERO -
Love, Life and Liberty: A celebration of Chesterfield's unique role in inspiring better places for people and the life of Raymond Unwin More...
2CELLOS TO SUPPORT ELTON JOHN AT THE B2NET -
Sir Elton John has announced that very special guests 2CELLOS will join him for his forthcoming live show this summer. More...
SUCH SWEET THUNDER -
Steve Steinhaus, the charismatic singer with the big personality who fronts both his Swing Band and the Dr Teeth Big Band, returns to Whitwell with his brand new show More...
MAGNETS ATTRACTED TO CHESTERFIELD -
They've performed with Blondie and at private parties for the likes of Hugh Grant and Elle McPherson - and now The Magnets are coming to Chesterfield. More...
ELTON JOHN PLAYS CHESTERFIELD FC'S B2NET! -
Superstar Elton John will be the first ever artist to perform at the B2net when he plays there in Summer 2012. More...

600 FOLLOW FEROCIOUS DOG AT MUSIC FESTIVAL! -
Whitwell Forward Community Group and 4Ward Promotions have extended Whitwell Festival Of Music 2011 and attracted 23 top quality bands More...
DO YOU HAVE TALENT? -
For the third year running, the Mayor of Chesterfield will once again be hosting 'Chesterfield's Got Talent' and is looking for talented acts from across the Borough. More...
ON SONG FOR TOWN, CARL NEWTON -
A day of firsts at the B2net on Saturday - first home game of the season and the first unfurling of the Champions Flag - also the first time the new 'Town song' rang out across the terraces More...
A STAR IS BORN... AND SHE'S FROM CHESTERFIELD -
One young girl from Chesterfield says she has to pinch herself every single day after hitting the big time and with her band preparing to launch its first single, next month. More...
HARLEY HANSON PLAYS HARLEY'S BAR-
Harley Hanson, International Singer and Songwriter returns to his home town of Chesterfield to launch his music video's and CD "When My Guitar Crys" and to film for his new video. More...

Music Event Diary -
Here is the place to find the latest Live Music Gigs from around Chesterfield. More...