Monday 22nd September 2014



Actor John Challis - who played Boycie in Only Fools and Horses - has officially re-opened two Chesterfield theatres following a £700,000 refurbishment.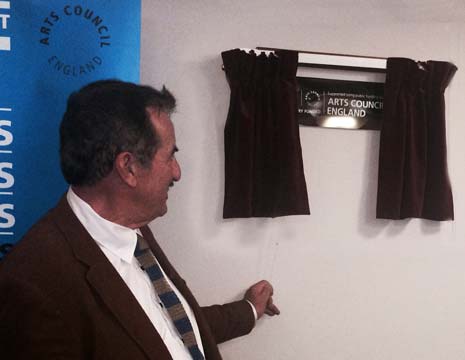 Actor John Challis ('Boycie' from Only Fools and Horses) unveils the plaque to commemorate the redevelopment work done at the Pomegranate and Winding Wheel theatres

The actor, who began his career by performing regularly in Chesterfield, unveiled improvements to the Pomegranate Theatre and the Winding Wheel on Friday 19th September.

The work was possible due to a £495,000 investment from Arts Council England's National Lottery-funded capital programme, and £205,000 from Chesterfield Borough Council, which also owns and runs both buildings.

Speaking at the unveiling of the plaque, Leader of Chesterfield Borough Council, Cllr John Burrows said, "We're here today due to the amazing support we've had from people around the town, our staff, the contractors and the Arts Council. I'd also like to thank the Friends Of The Theatre - the value of the support that you put into these places is recognised by us. Without the support of the Arts Council, this wouldn't have happened today.

"Chesterfield Borough council and the residents are keeping the faith with the venues we have here. We want to keep these for the future - and with the continuing support of the Arts Council and many other organisations we will do."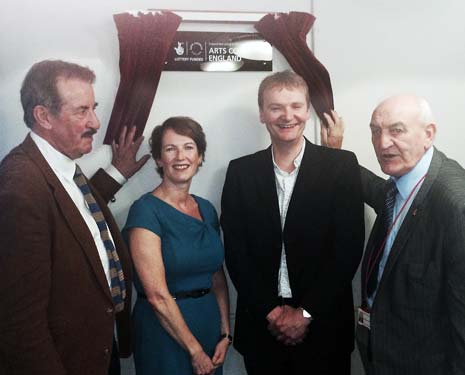 (l-r) Actor John Challis, Cllr Amanda Serjeant, Arts Council England Area Director Peter Knott and Leader of Chesterfield Borough Council, Cllr John Burrows

Councillor Amanda Serjeant, Chesterfield Borough Council's executive member for leisure, culture and tourism, said: "Both the Pomegranate Theatre and the Winding Wheel are held in high regard by new and regular theatre-goers.

"The support from Arts Council England has helped us improve the experience for our customers. We can now show live broadcasts of performances from venues around the world and attract more West End shows for residents of Chesterfield and the surrounding area to enjoy."

Peter Knott, Area Director, Arts Council England said: "I'm delighted that we have been able to support the refurbishments at the Pomegranate Theatre and Winding Wheel.

"The improvements will mean both venues can expand their artistic and cultural programmes to offer people in Chesterfield more opportunities to experience and enjoy great art and culture on their doorstep."
Work at the Winding Wheel included:
Increasing the power supply to three times the previous limit to allow the Winding Wheel to stage more large-scale productions such as the West End touring productions of Joseph, Blood Brothers and Dreamboats and Petticoats, which played to packed houses


Installing a new fixed stage with an automatic stage extension allowing bigger productions on the stage|


Installing a new lighting rig


Adding a new stage door and dressing room, as well as improving access to the stage for performers with limited mobility


Installing new moveable seating in the auditorium.
Work at the Pomegranate Theatre included:
Installing new digital cinema equipment  including a digital projector, surround sound and cinema screen to show live broadcasts of performances from around the world - a satellite dish is also planned to be installed


Refurbishing the existing 546 seats and adding 43 new seats to the stalls


Replacing the carpets in the foyer and auditorium and redecorating the front of house areas


Replacing the existing lighting and control booths in the stalls and adding an audio description room to improve the experience of performances for people with visual impairment.
Only Fools and Horses star John Challis was a regular performer at Chesterfield Civic Theatre as the Pomegranate Theatre was known.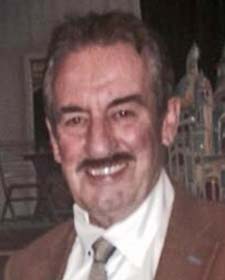 John (left), has fond memories of his time there: "Chesterfield Civic Theatre was my first job in theatre as an actor without the trappings of stage management.

"It was a different show every week so I played a different role each week. We learned The Tempest in seven days - and to this day, I have no idea how we did it! There was a time when I was playing Jack the Ripper at night while rehearsing during the day as the Archangel.

"It was all enormous fun and a great start to my career."

The Pomegranate Theatre is the oldest civic theatre in the country. Established in 1949, its 65th anniversary is marked in an exhibition running at Chesterfield Museum until 22nd November.

The Winding Wheel was built as a cinema in 1923 and was bought by Chesterfield Borough Council in 1987.

As well as theatre performances, it has been hired for political conferences, banquets, wedding receptions and TV appearances.

Guests and dignitaries at the event included the Mayor and Mayoress of Chesterfield and Chief Executive of Chesterfield Borough Council Huw Bowen, had a tour of the venues to see for themselves the improvements and watched a short programme of films to showcase the digital equipment at the theatre.
Listen to the interview with John Challis in full here...
RECENT STORIES
FROM PUMPKIN TO STAGECOACH - BUS FIRM SPONSORS CINDERS! -
It's behind you! Stagecoach in Chesterfield is 'Strictly' showing its support for the town's theatre by getting behind a panto production More...
POMEGRANATE THEATRE'S ART HOUSE SCREENINGS - REVIEWS -
Chesterfield's Pomegranate Theatre has marked the completion of their £750,000 renovation with a packed weekend of exclusive screenings. 2 are reviewd here by Adam Morris More...
PANTO COMES TO CHESTERFIELD -
'OH YES IT DOES!' -
People of a nervous disposition may want to stop reading now as Dames in brightly coloured dresses, a Prince, Princess and 'Buttons' crossing the road in Chesterfield yesterday afternoon can only mean one thing... More & Audio...
CHESTERFIELD'S POMEGRANATE THEATRE WINS TRIPADVISOR AWARD-
Chesterfield's Pomegranate Theatre has won a prestigious award from the online review site, TripAdvisor. More...
GINNY DAVIES APPEARS IN 'SOMETHING FISHY' AT HOLLINGWOOD HUB -
After her wonderful performance of 'Double Booked' last year, the Chesterfield Canal Trust is delighted to welcome Ginny Davis back to the Hollingwood Hub. More...
FORMER CHESTERFIELD THEATRE MANAGER REMEMBERED -
The Friends of Chesterfield Theatres have presented a framed photograph of Derek Coleman, which will be hung in the bar of the Pomegranate Theatre in memory of him. More...
DÉDA LAUNCHES SEARCH FOR YOUNG DANCE STARS -
A Chesterfield-based youth contemporary dance company is holding auditions next month to give talented local youngsters the chance to develop their performance skills. More...
WIN A PAIR OF TICKETS TO ISLA ST CLAIR'S 'EYES FRONT' SHOW -
We have two tickets to give away to a wonderful 'Live and Local' event , organised by two local councillors - Shirley Niblock and Howard Borrell More...
PANTO SEASON BECKONS IN CHESTERFIELD...
OH YES IT DOES! -
The children may have just gone back to school but thoughts are turning to the festive season already - and that means Panto! More...
GET WED AT THE WINDING WHEEL! -
One of Chesterfield's premier venues is now licensed to hold wedding and civil partnership ceremonies. More...
ARE YOU A YOUNG DANCING HOPEFUL? READ ON... -
Derby-based Déda has teamed up with Chesterfield Borough Council and Dance4's (CAT), to launch a 2nd auditioned youth dance company - giving local young people the chance to develop their talents. More...
CHESTERFIELD'S YOUNG DANCERS SOUGHT FOR DANCE PROGRAMME -
Talented young dancers in Derby and Derbyshire are being urged to come forward for a chance to perform in a professional venue in front of 100s of people. More...
'BOUNCERS' AT THE POMEGRANATE - A NIGHT OUT, BUT NOT AS YOU KNOW IT!
We were promised laughter from start to finish on opening night - and we were not disappointed. More...
WIN 2 TICKETS FOR THE VAGINA MONOLOGUES -
A great, free competition to win 2 tickets to see the world famous show 'The Vagina Monologues', by Eve Ensler - at the Pomegranate Theatre on Friday 28th September More...
STARS OF SCREEN COME TO TOWN WITH RENOWNED SHOW -
The Vagina Monologues - Britain's funniest and sexiest show - comes to The Pomegranate, Chesterfield on 28th September at 7.30pm for ONE night only! More...
GROUNDFORCE FAIRY CHARLIE TO TACKLE FLESHCREEP -
There'll be a 'ground force' to be reckoned with on stage this Christmas when the nation's favourite gardener swaps her spade for a magical wand More...
JOSEPH DREAMS IN CHESTERFIELD -
In what's seen as a huge coup for Chesterfield, Keith and his company will be the first West End production show to perform at the town's Winding Wheel More...
CHOIR WARMS UP FOR CHESTERFIELD'S BIG PRODUCTION -
The final choir has now been selected for the hit show Joseph, which comes to the Winding Wheel in Chesterfield in May. More...
TRIBUTE TO POMEGRANATE THEATRE DIRECTOR -
A tribute to one of Chesterfield's most well known and loved artistic producers and directors, Colin McIntyre, took place on 9th March at the Pomegranate Theatre in Chesterfield. More...
CHESTERFIELD VEHICLE FIRM GIVES LYCEUM A THEATRE ON THE GO -
A mini mobile theatre project may soon be a star turn in Sheffield thanks to a local firm. More...
TICKET SALES BOOST FOR WEST END'S JOSEPH -
It's been announced that The West End production of Joseph, due to come to Chesterfield in May, is already proving popular - and that there is now local interest in the production too. More...
JOSEPH TRAVELS TO THE WINDING WHEEL -
The West End production of Joseph and the Amazing Technicolour Dreamcoat is coming to Chesterfield in May 2012 More...
PRICE INCREASE FOR CHESTERFIELD VENUES -
We've been informed that Chesterfield Borough Council has agreed to a small increase in ticket prices at the Pomegranate Theatre and the Winding Wheel. More...
ARKWRIGHT'S STORY RELIVED -
The unique history of this North East Derbyshire village has been brought to life as part of a community art and drama project. More...