Tuesday 23rd September 2014



People of a nervous disposition may want to stop reading now as Dames in brightly coloured dresses, a Prince, Princess and 'Buttons' crossing the road in Chesterfield yesterday afternoon can only mean one thing...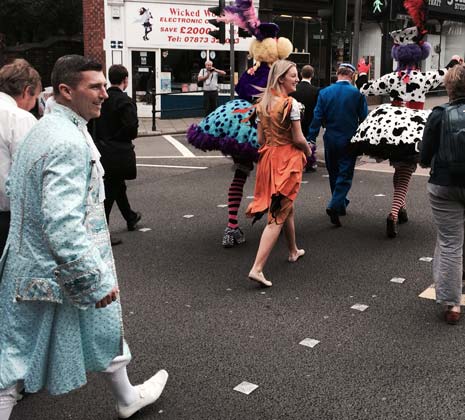 ...It's nearly 'Panto' time! (Oh yes it is) in Chesterfield!

This year, the Pomegrante Theatre will stage 'Cinderella' (produced by Paul Holman Associates and sponsored by Stagecoach), which will star Camilla Dallerup (Strictly) and Asa Elliott (Bendiorm) as The Fairy Godmother and Prince Charming respectively, alongside Tony Rudd (Buttons) and Dean Horner and Oliver Gray who will play the ugly sisters.

They all visited Chesterfield yesterday ahead of the season beginning in order to meet the press - and people around the town, with the Dames in particular proving themselves to be a hit with unsuspecting shoppers who happened to be passing!




After a photograph in front of the iconic Crooked Spire, they spoke to the assembled media and said how much they were looking forward to the season starting.

Having only met yesterday afternoon, the lively and friendly bunch were clearly having fun at the launch event, something which is sure to translate well to the energy of the performances in a couple of months time.

Dean and Oliver are panto regulars they told us, "It's our seventh year as Dames, we've always played ugly sisters. Every year we get to bully Cinderella - it makes our Christmas!"

Wearing some impressive dresses which they make themselves, the Dames admit they can't wait to hit the High Street here, "It takes a long time to make the costumes but it's all about accessories - it's about doing lots of shopping and finding expensive things that go!

"We go to Primani and Wilkinsons and love Neue Look and H&M! You know where you'll find us - we'll be best friends with them before we leave! Has Chesterfield got a Harvey Nicks?"

It will be a long way away from their home for Dean and Oliver but they say there will be some home comforts for the Dames over the season, "We are staying just outside Chesterfield, with Dandini, and we have our dog who comes with us, little Tippi. She'd like to come on stage but she probably couldn't cope with the stage - she's a little nervous, she might chew the set up."

The ugly sisters famously fancy their chances with the Prince and, having met Asa, the Dames admit they like what they see, "We are very happy. We've marked his card, but we know how it ends! We have tried for 6 years to get our Prince, how many hours have we put in to be as beautiful as we are, we're hoping this is going to be our year!!"

For all the fun, it's also an intense time which the Dames concede, "The rehearsal period is 10 days and then it's largely two shows a day.

"Panto is modular, you put it together in pieces. Everyone has done panto before and they know the sort of thing we are going to do, whilst one is rehearsing in one room, someone else is in another room rehearsing something else, one is doing songs, and the dancers are doing the dancing and it all happens at the same time and it's only the last few days we work together and …woosh, you've got a show!"

They had this message for Chesterfield ahead of the opening, "Pantomine is for everyone! Come and see us, we love Chesterfield, we've only been here for a few hours and we love it. We are going to come a week early and meet lots more people!"

Producer Lee is charged with keeping order of the cast, "I've worked with Tony before with a different company and, I poached him! He's a superb impressionist so they will feature in the show, they'll be seamlessy crowbarred in!

"We work out how Tony's comedy and act will fit in, everyone has to follow the story and connect to the story. The children who'll catch you out and tell you about it afterwards! When panto's done well, it's by sticking to the story, the entertainment bits have to have a rationale for being there.

"We're working on 13 pantos at different venues and it starts with piecing together the teams on each one and we have discussions with the venues, working out the core of the show night - making sure the comedy is right, everyone wants to have a good laugh at Christmas."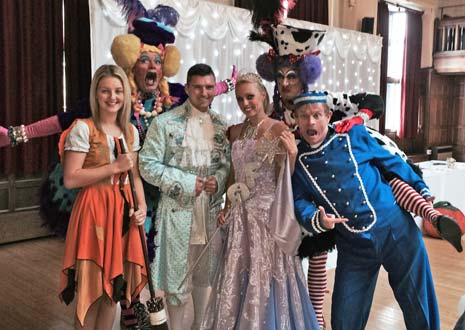 Tony (Buttons) is coming back to Chesterfield for the third time and, the stand up comedian and teacher at a special school admits he can't wait to get started, "It's fun, it's as simple as that, it works. It's the most fun you can have with an audience, anything can happen and that makes the audience on edge! You can go anywhere with it.

"We encourage people to be a part of it, they're like cast members for the day. Every performance has a different energy, the audience will say something, someone can forget their lines, you can have a whole new show! You cover for each other when things go wrong, although it never does, we script it before we go on!"

Asa, who will play Prince Charming, started on Stars In Their Eyes and, having moved to Spain, got picked up by the Benidorm TV crew but says, "The job I've always wanted to do is pantomime, which led off the back of Benidorm. It's nice for people to hear me sing properly. It's nice to meet the fans at the end of each performance, it's nice to feel you're representing the TV show."

Confessing that he's never been to Chesterfield before he says that, coming from Manchester (he's a City fan), he knows something of the town and he's thrilled to get to see it in the flesh.

Panto appeals he says because, "Christmas is the best time of the year and this is such a big part of everyone's Christmas. When you see the children on Christmas Eve, the school performances, it's great to be part of the show. It's a tradition that we have to keep going."

Fun it may be, but it's hard work says Asa, who's doing his third, "It's a crazy schedule, you think it's going to be fun but you only get 12 days or something to rehearse and the show evolves throughout the run. It is tiring, you feel burned out by the end of it but it's worth it!

"I'd never met Camilla before but I've looked her up on social media. After six weeks of living in each other s pockets - you make friends for life. It's an emotional thing when it finishes. I look forward to it, if you get a crew of people working together it's great.
Listen to the full interview with Asa Elliott here...
"Pantomime is getting bigger each year and you'll be amazed at how much goes into them. You can get some Christmas spirit as well!"




Camilla Dallerup (above with Asa Elliott) is of course best known for Strictly Come Dancing, which she won with Matlock's Tom Chambers and, though not a regular dancer any longer, she has been busy, telling us, "Over the last three years I have been writing my first book, Strictly Inspirational, which is out in January. It's part biography, part self help, as I have been working as a life coach and hypnotherapist for the last five years.

"I use all the tools that I use to help myself when in situations like panto. The first time I sang on stage was in panto which was a major challenge as it was outside my comfort zone, not something I have trained for. I did it to tick the box - to test the tools and see if they work. I just wanted to share it. I love helping other people succeed as I'm grateful for the career I've had."

Being Danish by birth, Camilla admits panto was a leap into the unknown but she wouldn't have it any other way now, "You can be exhausted and you hear the kids from the stage and you feel instantly it's wonderful.

"I didn't grow up with panto in Denmark but I have totally fallen in love with it. It's a tradition I would love for Denmark to have as it brings children to the theatre. Something I have learned from my husband who's an actor is it's the first time children go to the theatre so I'm proud to be part of that British tradition.

"It's my fourth panto. I started as Genie of the Lamp and I've the played the Fairy since. Something happens when I out the dress on, I feel like a fairy. I feel responsible for Cinderella."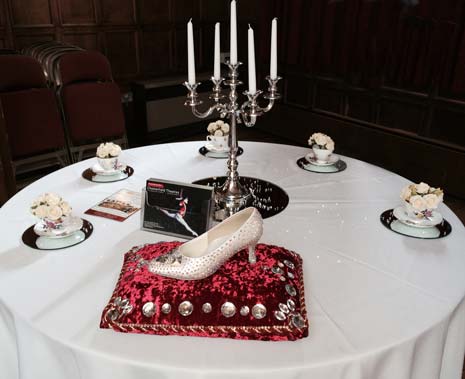 Having come face to face with her cast mates for the first time yesterday, Camilla asserts that the bond is already strong, "We have just met but through social media we feel connected already. It's going to be fun, wild but professional though. Something happens when the whole transformation with the beautiful sets happens. Everyone likes a fairytale!"

Though Tom Chambers originates from the area, Camilla says that Chesterfield is a new place to discover, "I've been nearby, to Sheffield and I've toured to lots of theatres around here with Calendar Girls. I can't wait to get out there and walk around! I like to embrace the experience - I don't want to leave so we will stay here for Christmas. My parents will come and my husband will cook Christmas dinner. I need to know any takeways and Indians and Chinese!"

Cinderella runs through from 5th December 2014 to 4th January 2015.
Please click here for more details: http://chesterfieldtheatres.co.uk/shows/cinderella-pantomine.aspx#.VCBrO2a6S-W
RECENT STORIES
FROM PUMPKIN TO STAGECOACH - BUS FIRM SPONSORS CINDERS! -
It's behind you! Stagecoach in Chesterfield is 'Strictly' showing its support for the town's theatre by getting behind a panto production More...
POMEGRANATE THEATRE'S ART HOUSE SCREENINGS - REVIEWS -
Chesterfield's Pomegranate Theatre has marked the completion of their £750,000 renovation with a packed weekend of exclusive screenings. 2 are reviewd here by Adam Morris More...
'BOYCIE' OFFICIALLY OPENS REDEVELOPED CHESTERFIELD THEATRES -
Actor John Challis - who played Boycie in Only Fools and Horses - has officially re-opened two Chesterfield theatres following a £700,000 refurbishment.
More & Audio...
CHESTERFIELD'S POMEGRANATE THEATRE WINS TRIPADVISOR AWARD-
Chesterfield's Pomegranate Theatre has won a prestigious award from the online review site, TripAdvisor. More...
GINNY DAVIES APPEARS IN 'SOMETHING FISHY' AT HOLLINGWOOD HUB -
After her wonderful performance of 'Double Booked' last year, the Chesterfield Canal Trust is delighted to welcome Ginny Davis back to the Hollingwood Hub. More...
FORMER CHESTERFIELD THEATRE MANAGER REMEMBERED -
The Friends of Chesterfield Theatres have presented a framed photograph of Derek Coleman, which will be hung in the bar of the Pomegranate Theatre in memory of him. More...
DÉDA LAUNCHES SEARCH FOR YOUNG DANCE STARS -
A Chesterfield-based youth contemporary dance company is holding auditions next month to give talented local youngsters the chance to develop their performance skills. More...
WIN A PAIR OF TICKETS TO ISLA ST CLAIR'S 'EYES FRONT' SHOW -
We have two tickets to give away to a wonderful 'Live and Local' event , organised by two local councillors - Shirley Niblock and Howard Borrell More...
PANTO SEASON BECKONS IN CHESTERFIELD...
OH YES IT DOES! -
The children may have just gone back to school but thoughts are turning to the festive season already - and that means Panto! More...
GET WED AT THE WINDING WHEEL! -
One of Chesterfield's premier venues is now licensed to hold wedding and civil partnership ceremonies. More...
ARE YOU A YOUNG DANCING HOPEFUL? READ ON... -
Derby-based Déda has teamed up with Chesterfield Borough Council and Dance4's (CAT), to launch a 2nd auditioned youth dance company - giving local young people the chance to develop their talents. More...
CHESTERFIELD'S YOUNG DANCERS SOUGHT FOR DANCE PROGRAMME -
Talented young dancers in Derby and Derbyshire are being urged to come forward for a chance to perform in a professional venue in front of 100s of people. More...
'BOUNCERS' AT THE POMEGRANATE - A NIGHT OUT, BUT NOT AS YOU KNOW IT!
We were promised laughter from start to finish on opening night - and we were not disappointed. More...
WIN 2 TICKETS FOR THE VAGINA MONOLOGUES -
A great, free competition to win 2 tickets to see the world famous show 'The Vagina Monologues', by Eve Ensler - at the Pomegranate Theatre on Friday 28th September More...
STARS OF SCREEN COME TO TOWN WITH RENOWNED SHOW -
The Vagina Monologues - Britain's funniest and sexiest show - comes to The Pomegranate, Chesterfield on 28th September at 7.30pm for ONE night only! More...
GROUNDFORCE FAIRY CHARLIE TO TACKLE FLESHCREEP -
There'll be a 'ground force' to be reckoned with on stage this Christmas when the nation's favourite gardener swaps her spade for a magical wand More...
JOSEPH DREAMS IN CHESTERFIELD -
In what's seen as a huge coup for Chesterfield, Keith and his company will be the first West End production show to perform at the town's Winding Wheel More...
CHOIR WARMS UP FOR CHESTERFIELD'S BIG PRODUCTION -
The final choir has now been selected for the hit show Joseph, which comes to the Winding Wheel in Chesterfield in May. More...
TRIBUTE TO POMEGRANATE THEATRE DIRECTOR -
A tribute to one of Chesterfield's most well known and loved artistic producers and directors, Colin McIntyre, took place on 9th March at the Pomegranate Theatre in Chesterfield. More...
CHESTERFIELD VEHICLE FIRM GIVES LYCEUM A THEATRE ON THE GO -
A mini mobile theatre project may soon be a star turn in Sheffield thanks to a local firm. More...
TICKET SALES BOOST FOR WEST END'S JOSEPH -
It's been announced that The West End production of Joseph, due to come to Chesterfield in May, is already proving popular - and that there is now local interest in the production too. More...
JOSEPH TRAVELS TO THE WINDING WHEEL -
The West End production of Joseph and the Amazing Technicolour Dreamcoat is coming to Chesterfield in May 2012 More...
PRICE INCREASE FOR CHESTERFIELD VENUES -
We've been informed that Chesterfield Borough Council has agreed to a small increase in ticket prices at the Pomegranate Theatre and the Winding Wheel. More...
ARKWRIGHT'S STORY RELIVED -
The unique history of this North East Derbyshire village has been brought to life as part of a community art and drama project. More...