Thursday 13th June 2013




There are "Positive Signs for The Future" said Mike Hayden - Head Of Regeneration at Chesterfield Borough Council, as members of the Chesterfield business community and local media were, this morning, given an update on regeneration projects currently being undertaken around the town.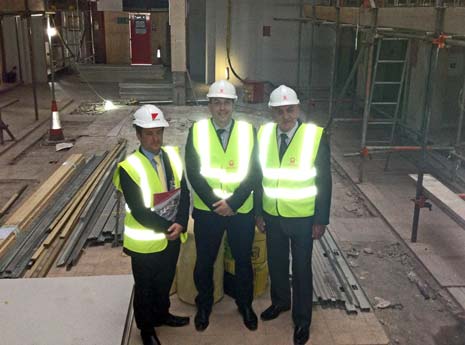 (l-r) Matt Sorby, Head of Contractors at Kier, Huw Bowen, Chief Exec of Chesterfield Borough Council and John Burrows, Leader of Chesterfield Borough Council inside the currently 'regenerating' Market Hall

During a breakfast meeting at the Town Hall, talks were given by John Croot from Chesterfield Football Club, Matt Sorby, Head of Contractors at Kier and Mike Hayden, Head of Regeneration at Chesterfield Borough Council.

Having previously asserted that Chesterfield is a forward thinking town, with a commitment to growth and development, Destination Chesterfield - the driving force behind the meeting - were keen to show that the plans to put this in place were well underway.

Members of the media were also given the chance to tour the Market Hall in the town centre, which is currently undergoing a massive restoration and due to re-open in October this year.

John Croot - Community Director at CFC, was the first to speak to the room, and he first outlined the work of the CFC Community Trust, based at the PROACT stadium.

He said he was delighted and proud of the work done by his team and the club in building community links, saying that, "The move to the new stadium gave us the opportunity to develop further partnerships and we work strategically with local authorities, NHS and charities, and other partnership agencies and that gives us a good opportunity to work with the wider community. We also manage the hugely popular 'Chester The Fieldmouse!' "

He outlined the fact that the Community Trust is a registered charity which began 3 years ago, and that all proceeds go back into the Community Trust, joking, "not paying for a new Centre Forward!"

John explained that the Trusts' vision when they moved to the new stadium was to deliver a community stadium, and went on to say that the new £1.5 community stand facilities, due to open in September, were the "final piece of the jigsaw."

"Those facilities", explained John, "will feature many community based projects and spaces - including a gym and therapy pool - and will enhance the experience and blend the club and community in an exciting way. It is an ambitious project!"

More will be released about the facilities nearer the time, in partnership with the Football League.

Matt Sorby, from Kier - the Council's Property advisors - talked next about perhaps the most visible project in the town at present - The Market Hall.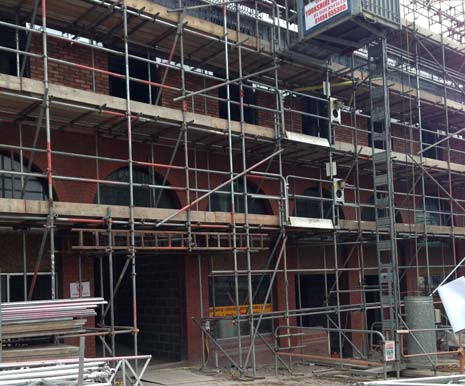 The Market Hall entrance on New Square, formerly to the Fish Halls.

Currently swathed in sheeting and scaffolded on all sides (above), it has been the subject of much debate and consultation.

Matt admitted that it had been "A difficult project! We had a listed buiiding , in the town centre, with existing tenants to negotiate with, to relocate - and with some traders still at the site - a live site to deal with too."

However, doing nothing was not possible. He explained, "The dated and closed interior and the condition of the building would have cost Chesterfield tax payers £1 million just to maintain. It had no long term viable future."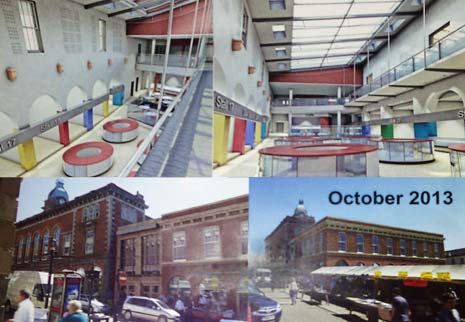 Impressions of how the Market Hall will look when completed in October 2013

The new building, on schedule to be opened in October 2013 will have a simplified layout (as above), with a light modern environment and better accessibility to all floors. It will also provide meeting rooms and a new base for the markets team.

Currently two thirds of the way through demolition, there have already been significant revisions of the original plans as the building gave up its secrets as it was stripped back - and that had lead to "significant delays" Matt informed the room. However, he confidently predicted that it would open, as billed, on 1st October 2013.

Tenants are currently being sought for the refurbished spaces - and Matt maintained that the Council was committed to giving priority to existing traders but that there was room for many new opportunities.

45 businesses had, said Matt, already expressed an interest - and the deadline for business plans is this coming Monday (17th June).

Business advice and guidance has been offered to existing tenants to allow them to submit high quality business plans.

Traders will be selected by mid July to give successful applicants the chance to complete legal formalities and shopfitting for opening.

Meeting rooms will be managed by Chesterfield Venues and enquiries with regard to lettings should be directed there.

Matt summarised the project by saying that the new, revamped building would be "A mix of a traditional exterior and a modern interior. It would", he said, "last 150 years"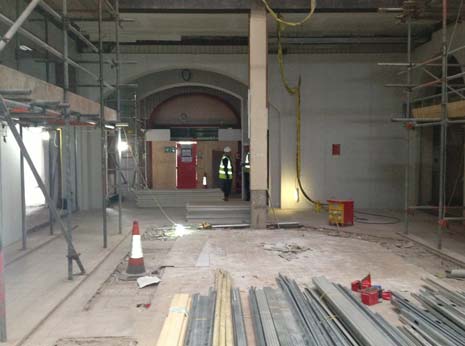 The site is currently stripped right back, with the middle ripped out (pictured above) and the atrium about to go in, replacing the flat roof. Units are well under way to completion and colour schemes being chosen.

Mike Hayden then updated the room on various other projects which are in various states of completion around the town.

Mike admitted that The Northern Gateway site (the site of the Donut car park) had "nothing happening at the moment on site - but that does not belie what is going on in the background", and went on to say that, after picking the development partner (Bowden Wilson) they were now currently seeking "anchor tenants" for what is a "substantial scheme to provide an anchor for the north of the town centre."

He conceded that they had hoped to have planning permission by now but that the slow down in the retail sector had meant that an announcement should be forthcoming by the end of the year .

The Waterside development, on the old Trebor site, is the 47th largest regeneration project in the UK, and the £340 million transition will see residential and office space begin to grow by the end of the year.

Again, the economic downturn has meant a rethink of original timings but, a £3.1million Growing Places funding grant has meant the first phase can now begin. Mike also confirmed that there has been genuine interests from housebuiders and commercial partners which will see the commercial and residential builds begin shortly.

Markham Vale has been a huge success with regeneration, including new roads and £2.5 million of industrial space on the former 85 hectare colliery site, bringing thousands of jobs and economic benefits to the area.

It was confirmed by Mike that 2 new businesses alone are due to bring in another 113 jobs very shortly. Mike said that he was pleased to see "momentum is beginning to build around Markham Vale."

Finally he summed up by saying that, in the last year, 160 further new homes had been built in the town on the former Saltergate site (70) and the site of the former Rugby Club at Stonegravels (120) and also revealed that on the Ravenside development, Hobby craft and Asda living were about to open.

Leader of the Council, John Burrows accompanied press and leaders on the 'hard hat' tour of the Market Hall, and he spoke to The Chesterfield Post afterwards.

He admitted that the schemes had their detractors, but that they were bringing much needed jobs to the town - both during and after construction - and that he was keen for residents and business owners to stay behind the town and keep the faith.

Listen to the interview in full here...
RECENT STORIES
YOUNG DERBYSHIRE ENTREPRENEURS AT CHESTERFIELD'S MARKET HALL -
Pupils from schools across North Derbyshire are at Chesterfield's New Market Hall today - to 'wow' shoppers with their products and services. More...
A WINTER WONDERLAND COMES TO TOWN -
Thousands filled New Square this evening to see Chesterfield transformed into a Winter Wonderland, complete with snow More...
NOT ONLY HERE FOR THE BEER! CAMRA FESTIVAL OPENS ASSEMBLY ROOMS -
The Real Ale Festival, organised by CAMRA, kicked off in the newly refurbished Market Hall Assembly Hall today on Day 2 of Chesterfield's 3 day Market Festival. More...
CHESTERFIELD MARKET FESTIVAL TV CELEBRITIES GO BACK IN TIME -
Anyone visiting town today would have thought they'd gone back in time, as the traders on the regular flea market donned their finest 1940's gear and opened the three day Market Festival More & Audio...
2013 CHESTERFIELD MARKET FESTIVAL BEGINS THURSDAY 31st OCTOBER -
Chesterfield is a market town and proud of it! And you are invited to come and celebrate all that the markets have to offer during this three-day festival, where there really is something for everyone! More...
IT'S THE MARKET HALL - BUT NOT AS YOU KNOW IT! -
It has been one of the town's flagship regeneration projects - and today, Chesterfield Market Hall opened its doors after the £4m refurbishment of the interior. More...
TRADERS GET SET
TO MOVE INTO CHESTERFIELD'S
NEW MARKET HALL -
All of the traders who were previously trading from Chesterfield's Market Hall have been offered space in the new Market Hall when it re-opens this autumn. More...
LUCKY LINDA BAGS AN iPAD MINI -
Congratulations to Chesterfield resident Linda Wombwell who is the lucky winner of a Mini iPad in a Chesterfield Borough Council markets competition. More...
CHESTERFIELD PUTS THE SPRING BACK INTO BANK HOLIDAY MONDAY -
Chesterfield town centre is set to come alive with music, dancing and comedy this spring bank holiday. More...
LOVE YOUR LOCAL MARKET -
Chesterfield is taking part in the 'Love your Local Market' campaign. More...
STEP BACK IN TIME FOR CHESTERFIELD MARKET -
Chesterfield proved yesterday that it didn't need a Tardis or Marty McFly to go back in time as it got 'groovy' at it's sixties market. More...
BRING YOUR PRODUCT TO CHESTERFIELD MARKET WITH 'FIRST PITCH' -
Young entrepreneurs in the borough have the chance to start their business thanks to Chesterfield Borough Council and the National Market Traders Federation (NMTF).
More...
COUNTERFEIT MARKET TRADER HAS TO REPAY CASH -
A Derbyshire market trader who sold thousands of fake goods has been told to pay back £49,000 - or face jail. More...
CHESTERFIELD EASTER MARKET AND TABLE TOP SALE FOR BANK HOLIDAY -
There is an Open Air Easter Market and Table Top Sale on Bank Holiday Monday, April 1st 2013, from 10am to 4pm. More...
CHESTERFIELD MARKET RENTS SET FOR COMING YEAR -
Market traders and Chesterfield Borough Council have agreed a deal which will see rents on the markets increase by 1.5% More...
CHESTERFIELD MARKET'S FAVOURITE TRADER COMPETITION WINNER -
Recently, shoppers in Chesterfield were invited to vote for their 'Favourite Market Traders' in a competition which was run by Chesterfield Borough Council in the Chesterfield Market Retailer Guide. More...
A WHITE CHRISTMAS GUARANTEED IN CHESTERFIELD THIS SUNDAY... -
Chesterfield Council's Christmas lights 'Switch-On' is this Sunday, 2nd December. Thousands will line the High Street as the switch is pulled to illuminate the town. More...
SPACIOTEMPO UK CONQUER UPHILL BATTLE IN MARKET'S NEW SQUARE -
A Staffordshire supplier of temporary buildings has praised its workers after they successfully completed one of the most complicated installation jobs the company has ever attempted. More...
WHAT WOULD YOU NAME IT? -
The Yards' new Falcon and Puppy sculptures were officially unveiled today and a competition announced by the Mayor and Mayoress and the Leader of Chesterfield Borough Council More...
CHESTERFIELD MARKET STEPS BACK IN TIME -
Yesterday saw the beginning of the Chesterfield Arts and Markets Festival - three days of events designed to showcase, promote and support our local market and arts groups.
More...
CHESTERFIELD ARTS & MARKET FESTIVAL STARTS TOMORROW -
Chesterfield Arts and Market Festival is a hugely successful annual initiative which has seen TV favourites, local businessmen and charity participate in order to promote the town and raise money for charity. More...
LOVE YOUR LOCAL MARKET THIS HALLOWEEN -
People are urged not to miss a trick - or treat - at North East Derbyshire's markets this Halloween! More...
MARKET HALL 'MEET THE BUYER' EVENT FOR LOCAL SUPPLIERS -
Contractor for the Market Hall refurbishment, G F Tomlinson, hold a 'Meet the Buyer' event in September 2012. More...
GRAB A BARGAIN AT CHESTERFIELD'S MARKETS -
We in Chesterfield often take it for granted but just about everything's available at the town's outdoor and indoor markets. More...
TOWN STEPS BACK IN TIME FOR MEDIEVAL MARKET -
The footfall on Chesterfield's famous cobbles could probably have been measured in the tens of thousands today as people packed the town to take part in the famous medieval market event. More...
GREEN LIGHT FOR MARKET HALL REFURBISHMENT -
Chesterfield Borough Council today announced the appointment of local construction company GF Tomlinson, to undertake the refurbishment of the Market Hall More...
ERIC PICKLES LAUNCHES NATIONAL MARKET DAY -
Communities Secretary Eric Pickles is calling on people to show their support for high street shopping by visiting their local market on National Market Day (23rd June). More...
SHOPPERS ROLL-UP TO CIRCUS THEMED MARKETS -
Shoppers have flocked to North East Derbyshire's markets to enjoy circus-themed family fun day. More...
CHESTERFIELD TAKES PART IN LOVE YOUR LOCAL MARKET CAMPAIGN -
Chesterfield is one of over 300 markets taking part in the national 'Love Your Local Market' campaign inspired by Mary Portas More...
"MY DAD WOULD HAVE BEEN PROUD" CHEESE FACTORY'S SIMON DAVIDSON -
Simon Davidson is one of the most familiar faces in town, if people don't know him, they'll undoubtedly know the shop he owns, 'The Cheese Factory' underneath the Market Hall. More...
CHESTERFIELD MARKETS GIVE A WARM WELCOME -
There's a new look in town today, as Chesterfield's outdoor market stall canopies have been given a fresh new look that reflects the 'Destination Chesterfield' branding. More...
COUNCIL ISSUES NEW TENDER FOR THE MARKET HALL REDEVELOPMENT -
Chesterfield Borough Council announces it is seeking a new construction partner for the refurb of the Market Hall, after deciding not to proceed with Wates Construction. More...
MARKET TRADERS SPEAK ABOUT RENT FREEZE -
After news that Chesterfield Borough Council decided to freeze market stall rents next financial year, traders say they welcome the decision. More...
FESTIVE FUN IN NE DERBYSHIRE MARKETS -
Street entertainment, kids' activities, prizes and a range of stalls are on offer at a series of festive-themed market events which are designed to boost the local economy. More...
N E DERBYSHIRE SETS OUT IT'S STALL FOR CHRISTMAS -
Shoppers are invited to join in some festive fun - while supporting local businesses - at a series of festive-themed markets More...
FRESH NEW LOOK
FOR CHESTERFIELD MARKET -
Chesterfield Borough Council, in partnership with Destination Chesterfield, is to give a whole new look to the town's famous outdoor market stalls. More...
ICONIC MARKET HALL ALL SET FOR UPGRADE -
Chesterfield's iconic Market Hall is now one step closer to its planned refurbishment after Chesterfield Borough Council's approved the planning and listed building application. More...
ALL THINGS GREEN AND WONDERFUL IN CHESTERFIELD -
Chesterfield Market will be staging its first Green Fair on Saturday 24th September from 10am until 4pm. More...
GET DANCING IN CHESTERFIELD THIS SEPTEMBER -
It's strictly all for fun as Saturday 10th September sees Chesterfield's New Square Arena explode with an amazing display of dance at the annual 'Day of Dance'. More...
IN LOVING MEMORY OF CHESTERFIELD LEGEND -
Roy 'Pound A Bag Man' Davidson, one of Chesterfield and the Market's most famous faces (and voices) will be laid to rest tomorrow. More...
MARKET HALL FUNDING APPROVED -
Chesterfield Borough Council's cabinet has this week approved the funding for the £4million refurbishment of the town's Market Hall. More...
'MARKETING THE MARKETS' SUCCESS -
Events organised to boost the local economy and promote the markets have been a success after crowds descended on Eckington, Clay Cross and Killamarsh events. More...
MARKET FUN DAYS IN N E DERBYSHIRE -
Street entertainment, kids' activities, free raffles and a range of stalls will be on offer at a series of market events being held in North East Derbyshire this month. More...
AND THE VOTES ARE IN... -
The shoppers of Chesterfield have voted, and, in a closely fought contest, have crowned their Market Retailer of the Year. More...
CHESTERFIELD MARKET CLEANS UP -
Chesterfield market traders have signed a new agreement with Chesterfield Borough Council to work together in keeping the town's market clean and tidy. More...
MARKET RATES FROZEN -
Chesterfield Borough Council has today announced that, in recognition of their value to the town, there is to be no rent increase for the town's market stalls. More...
YOUNG PEOPLE SHOW THEIR ENTERPRISE SKILLS AT MARKET -
Despite the current financial climate, young people in Chesterfield proved that the spirit of enterprise is alive and well... More...
YOUNG ENTERPRISE TRADE FAIR AT CHESTERFIELD MARKET -
Students from local schools are preparing to take part in the North Derbyshire Young Enterprise Trade Fair on Thursday 3rd March. More...
MARKET FUN DAY A SUCCESS -
A family fun day took place at Clay Cross, one of a series of events aimed at getting local residents to love their local market. More...
LOVE YOUR LOCAL MARKET -
"They're Valuable Assets", says Cllr Pat Kerry from NE Derbyshire District Council as she encourages local people to shop at local markets in the region. More...
THE 'M' FACTOR -
Chesterfield residents are being asked to support Chesterfield in trying to prove it has the 'M' factor and in giving a boost to local traders and shoppers too More...
SUPPORT LOCAL RETAILERS THIS CHRISTMAS -
Christmas shoppers in Chesterfield are being asked to shop locally and support market and local retail traders with news that we can all enjoy additional markets throughout December. More...
NE DERBYS SETS IT'S STALL OUT FOR CHRISTMAS -
Shoppers are invited to join in some festive fun while supporting local businesses, at a series of Christmas Markets being held in NE Derbyshire this year. More...
ARTS & CRAFTS MARKET ADDS BRIGHTNESS TO SWITCH ON -
A new Arts and Craft market is setting up for this year's Christmas lights switch-on event in Chesterfield. More...
LAST DAY FOR 'COTTON FOR COTTON' AT CHESTERFIELD MARKET -
Look out any old items of clothing which you no longer want and take them along to the market to be swapped for a cotton bag to encourage recycling and shopping locally and raise funds for Ashgate Hospice. More...
COUNTDOWN TO ARTS AND MARKET FESTIVAL -
Chesterfield is preparing to stage its biggest and best ever Arts and Market Festival. More...
"IT'S THE HEART OF THE TOWN!" -
That's Markets Manager Andy Bond on the Market held in Chesterfield four days a week. More...
DAY OF DANCE -
A Day Of Dance descended on Chesterfield Market on Saturday 11th September, and we have some pictures for you. More...
FOOTBALL FEVER -
Chesterfield Market Traders donned their football boots for charity and raised £250 for CLIC Sargent Cancer Charity. More...
MARKET FACES, DON HOLLINGWORTH -
To all of us living in Chesterfield Donald Hollingwood is a familiar face and voice. Ayres fruit stall would simply not be the same place without him. More...
One of the more fun events the Mayor and Mayoress have taken part in recently was the Medieval Market. The weather was great and the Town was filled with not only... More...
The open air market is at the heart of Chesterfield town centre. Taking place every Monday, Thursday, Friday and Saturday, it's one of the biggest in the UK with over 200 stalls to fill. More...