Wednesday 30th October 2013
Anita Manning and James Lewis pic courtesy
www.bbc.co.uk and BBC's Antiques Road Trip Show




Chesterfield is a market town and proud of it! And you are invited to come and celebrate all that the markets have to offer during this three-day festival, where there really is something for everyone!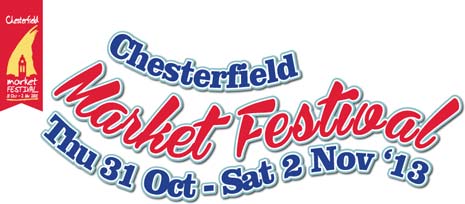 THURSDAY 31st OCTOBER
FESTIVAL BARGAIN HUNT & AUCTION
On Thursday 31st October, there is a Festival Bargain Hunt and Auction with two of BBC Bargain Hunt's resident experts, Anita Manning and James Lewis (pictured below).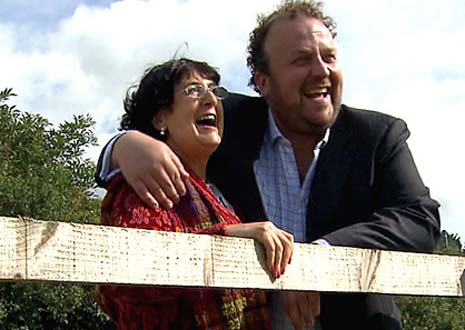 Starting at 10am through to 12 noon, the Festival Bargain Hunt, sponsored by Banner Jones Solicitors, will see Anita and James each lead a team - James will lead the Mayor's team and Anita will lead a team from Banner Jones Solicitors to track down the best bargains.

Purchases will then be auctioned off in the afternoon, outside the Market Pub in New Square at 1:30pm - and all the money raised will be donated to the Mayor's Appeal.


FLEA MARKET WITH A 1940s THEME
Also on Thursday 31st October, from 9am to 4pm, rummage through the stalls at one of the biggest flea markets in the country. Who knows, you might even find a hidden treasure or a priceless antique! Enjoy 40s music, entertainment and exhibits, and meet the stall holders in fancy dress.

Why not dress up as well, the more the merrier!


WARTIME REFRESHMENTS
And before, after or as you shop in the day's 1940s Flea Market, why not visit Java on Stephenson Place, for a traditional wartime afternoon tea served in their upstairs room, which will also be decorated in a 1940s wartime theme.
The traditional fayre will be available from 8.30am to 5pm.


FRIDAY 1st NOVEMBER
CHESTERFIELD & DISTRICT CAMRA MARKET BEER FESTIVAL
sponsored by GF Tomlinson

Featuring over 35 beers from Derbyshire and South Yorkshire, including one called Tomlinson's Tipple, specially brewed for the Beer Festival sponsor. Cider and country wines also available.




The 'Battle of the Beers' challenge returns with our best local breweries going head to head in an exclusive competition to find the best new brew! This is the first event to be held in the newly refurbished Market Hall Assembly Rooms.

Ploughman's lunches and sandwiches available at all sessions, provided by Davidson's Cheese Factory.

With entertainment on the Saturday night by Whiskey Bob Shaker. There will be two Beer Festival sessions per day, the lunchtime session from 11am to 4pm and the evening session from 6.30pm to 11pm.

Tickets are are available to buy in advance from Chesterfield Visitor Information, Tel: 01246 345777 or on the door subject to availability and are priced at £1 for the lunchtime session and £3 for the evening (glasses are available to hire or buy).

CHILDREN'S MARKET
Calling all budding traders between the ages of 3 and 14 (accompanied by an adult over 18).

Come along kids and be a market trader for a day! Boost your pocket money and sell your unwanted toys and books, and clothes that no longer fit.

Stalls are available free of charge on a first come, first serve basis and need to be pre-booked by calling the Markets Department on 01246 345999.

If you prefer buying to selling, come and browse the stalls for new toys, books or clothes. You're sure to find a bargain. See us on the central walkway in Market Place from 10am to 4pm.

CHILDREN'S ENTERTAINMENT
Enjoy a variety of entertainment that will keep the children amused.

Walkabout characters will roam the Market Place, plus other entertainment including balloon animals, circus skills, bubbles etc from 10am to 3pm.

CHILDREN'S ART COMPETITION
Draw and colour at the Chesterfield Action for Arts Forum market stall (materials provided), and enter your finished masterpiece in the competition.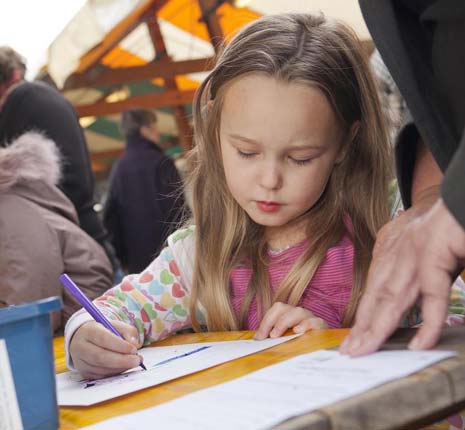 There are three age categories:
7 and under
8 to 11 year olds
12 to 16 year olds
and there are prizes for each category.

Find the stall next to the Pump in the Market Place. Competition takes place from 10am to 1.30pm with judging at 2pm.

CUPCAKE DECORATING
When you've finished your masterpiece in the Art Competition, visit the stall next door and try your hand at decorating a cupcake courtesy of the Chesterfield Food Co-operative who will be there from 10am to 3pm.


SATURDAY 2nd NOVEMBER
2nd DAY of the CHESTERFIELD & DISTRICT CAMRA MARKET BEER FESTIVAL
sponsored by GF Tomlinson

JUST A TASTE MARKET
Are you aware of the wide variety of food available in Chesterfield?

Take a walk down the central aisle of Market Place and you'll be surprised at what you find.

Italian cuisine on offer at Calabria and Lambarellis, traditional British fayre at Aubergine and The Galleon Steakhouse, Spanish food at the Casa Hotel's 2 AA rosette award winning Cocina Restaurant and lots more!

Try just a taste of what they have on offer from 10am to 4pm.

CHESTERFIELD GHOST WALK
Take a 1-1/2 hour trip into Chesterfield's Twilight Zone, if you dare!

The walk starts at 6.30pm from outside the Visitor Information Centre in Rykneld Square.

Tickets are Adults £4, Children £2 (no concession for over 60s), booking essential and are available from the Visitor Information Centre, Tel: 01246 345777/8.

CHESTERFIELD CAKE BAKING COMPETITION
sponsored by Jacksons the Bakers Ltd
Chelsea has its buns, Bakewell has its Pudding, Chesterfield has its???

So, now's YOUR chance to create a Chesterfield Cake and bring it along to the Chesterfield Market Hall on the day. They will be judged by a panel including the Mayor of Chesterfield and Trevor Jackson representing the sponsors, Jacksons the Bakers Ltd, and then be sold off to raise money for the Mayor's Appeal.

Please note you do need to register your entry in advance for this event either online at www.chesterfieldfestival.co.uk or by visiting the Chesterfield Visitor Information Centre.

There are two age categories - under 16s and 16 and over - and the winner of each will receive a hamper provided by Jacksons.

Judging will be from 10am to 11am and followed by a Cake Sale from 11am to 2pm.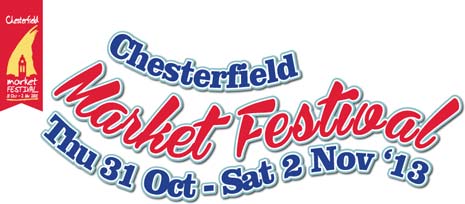 RECENT STORIES
DUKE OF DEVONSHIRE OFFICIALLY OPENS CHESTERFIELD'S MARKET HALL -
The Duke of Devonshire was in Chesterfield this afternoon - to look around, and officially open, the revamped Market Hall, first built in 1857 and a key part of the historic town centre landscape. More...
CHESTERFIELD'S MAY DAY GALA - THE BIGGEST AND THE BEST! -
After two years absence, the stage for the 2014 May Day Gala moves back to New Square, following the renovation of Chesterfield's historic Market Hall. More...
A 'CRACKING' EASTER EGG HUNT IN THE MARKET HALL -
The Market Hall Easter Egg Hunt was a great success this year and got everyone involved in the detective work from ages 2 to 62! More...
TAKE A STALL AT CHESTERFIELD'S EASTER MONDAY TABLE TOP MARKET -
Stalls are available to rent at Chesterfield Borough Council's Easter Monday table top sale. More...
YOUNG DERBYSHIRE ENTREPRENEURS AT CHESTERFIELD'S MARKET HALL -
Pupils from schools across North Derbyshire are at Chesterfield's New Market Hall today - to 'wow' shoppers with their products and services. More...
A WINTER WONDERLAND COMES TO TOWN -
Thousands filled New Square this evening to see Chesterfield transformed into a Winter Wonderland, complete with snow More...
NOT ONLY HERE FOR THE BEER! CAMRA FESTIVAL OPENS ASSEMBLY ROOMS -
The Real Ale Festival, organised by CAMRA, kicked off in the newly refurbished Market Hall Assembly Hall today on Day 2 of Chesterfield's 3 day Market Festival. More...
CHESTERFIELD MARKET FESTIVAL TV CELEBRITIES GO BACK IN TIME -
Anyone visiting town today would have thought they'd gone back in time, as the traders on the regular flea market donned their finest 1940's gear and opened the three day Market Festival More & Audio...
IT'S THE MARKET HALL - BUT NOT AS YOU KNOW IT! -
It has been one of the town's flagship regeneration projects - and today, Chesterfield Market Hall opened its doors after the £4m refurbishment of the interior. More...
TRADERS GET SET
TO MOVE INTO CHESTERFIELD'S
NEW MARKET HALL -
All of the traders who were previously trading from Chesterfield's Market Hall have been offered space in the new Market Hall when it re-opens this autumn. More...
LUCKY LINDA BAGS AN iPAD MINI -
Congratulations to Chesterfield resident Linda Wombwell who is the lucky winner of a Mini iPad in a Chesterfield Borough Council markets competition. More...
CHESTERFIELD'S ONGOING REGENERATION - AN UPDATE -
'Positive Signs for The Future' said Mike Hayden - Head Of Regeneration at Chesterfield Borough Council at an update on regeneration projects currently underway around the town.
More & Audio...
CHESTERFIELD PUTS THE SPRING BACK INTO BANK HOLIDAY MONDAY -
Chesterfield town centre is set to come alive with music, dancing and comedy this spring bank holiday. More...
LOVE YOUR LOCAL MARKET -
Chesterfield is taking part in the 'Love your Local Market' campaign. More...
STEP BACK IN TIME FOR CHESTERFIELD MARKET -
Chesterfield proved yesterday that it didn't need a Tardis or Marty McFly to go back in time as it got 'groovy' at it's sixties market. More...
BRING YOUR PRODUCT TO CHESTERFIELD MARKET WITH 'FIRST PITCH' -
Young entrepreneurs in the borough have the chance to start their business thanks to Chesterfield Borough Council and the National Market Traders Federation (NMTF).
More...
COUNTERFEIT MARKET TRADER HAS TO REPAY CASH -
A Derbyshire market trader who sold thousands of fake goods has been told to pay back £49,000 - or face jail. More...
CHESTERFIELD EASTER MARKET AND TABLE TOP SALE FOR BANK HOLIDAY -
There is an Open Air Easter Market and Table Top Sale on Bank Holiday Monday, April 1st 2013, from 10am to 4pm. More...
CHESTERFIELD MARKET RENTS SET FOR COMING YEAR -
Market traders and Chesterfield Borough Council have agreed a deal which will see rents on the markets increase by 1.5% More...
CHESTERFIELD MARKET'S FAVOURITE TRADER COMPETITION WINNER -
Recently, shoppers in Chesterfield were invited to vote for their 'Favourite Market Traders' in a competition which was run by Chesterfield Borough Council in the Chesterfield Market Retailer Guide. More...
A WHITE CHRISTMAS GUARANTEED IN CHESTERFIELD THIS SUNDAY... -
Chesterfield Council's Christmas lights 'Switch-On' is this Sunday, 2nd December. Thousands will line the High Street as the switch is pulled to illuminate the town. More...
SPACIOTEMPO UK CONQUER UPHILL BATTLE IN MARKET'S NEW SQUARE -
A Staffordshire supplier of temporary buildings has praised its workers after they successfully completed one of the most complicated installation jobs the company has ever attempted. More...
WHAT WOULD YOU NAME IT? -
The Yards' new Falcon and Puppy sculptures were officially unveiled today and a competition announced by the Mayor and Mayoress and the Leader of Chesterfield Borough Council More...
CHESTERFIELD MARKET STEPS BACK IN TIME -
Yesterday saw the beginning of the Chesterfield Arts and Markets Festival - three days of events designed to showcase, promote and support our local market and arts groups.
More...
CHESTERFIELD ARTS & MARKET FESTIVAL STARTS TOMORROW -
Chesterfield Arts and Market Festival is a hugely successful annual initiative which has seen TV favourites, local businessmen and charity participate in order to promote the town and raise money for charity. More...
LOVE YOUR LOCAL MARKET THIS HALLOWEEN -
People are urged not to miss a trick - or treat - at North East Derbyshire's markets this Halloween! More...
MARKET HALL 'MEET THE BUYER' EVENT FOR LOCAL SUPPLIERS -
Contractor for the Market Hall refurbishment, G F Tomlinson, hold a 'Meet the Buyer' event in September 2012. More...
GRAB A BARGAIN AT CHESTERFIELD'S MARKETS -
We in Chesterfield often take it for granted but just about everything's available at the town's outdoor and indoor markets. More...
TOWN STEPS BACK IN TIME FOR MEDIEVAL MARKET -
The footfall on Chesterfield's famous cobbles could probably have been measured in the tens of thousands today as people packed the town to take part in the famous medieval market event. More...
GREEN LIGHT FOR MARKET HALL REFURBISHMENT -
Chesterfield Borough Council today announced the appointment of local construction company GF Tomlinson, to undertake the refurbishment of the Market Hall More...
ERIC PICKLES LAUNCHES NATIONAL MARKET DAY -
Communities Secretary Eric Pickles is calling on people to show their support for high street shopping by visiting their local market on National Market Day (23rd June). More...
SHOPPERS ROLL-UP TO CIRCUS THEMED MARKETS -
Shoppers have flocked to North East Derbyshire's markets to enjoy circus-themed family fun day. More...
CHESTERFIELD TAKES PART IN LOVE YOUR LOCAL MARKET CAMPAIGN -
Chesterfield is one of over 300 markets taking part in the national 'Love Your Local Market' campaign inspired by Mary Portas More...
"MY DAD WOULD HAVE BEEN PROUD" CHEESE FACTORY'S SIMON DAVIDSON -
Simon Davidson is one of the most familiar faces in town, if people don't know him, they'll undoubtedly know the shop he owns, 'The Cheese Factory' underneath the Market Hall. More...
CHESTERFIELD MARKETS GIVE A WARM WELCOME -
There's a new look in town today, as Chesterfield's outdoor market stall canopies have been given a fresh new look that reflects the 'Destination Chesterfield' branding. More...
COUNCIL ISSUES NEW TENDER FOR THE MARKET HALL REDEVELOPMENT -
Chesterfield Borough Council announces it is seeking a new construction partner for the refurb of the Market Hall, after deciding not to proceed with Wates Construction. More...
MARKET TRADERS SPEAK ABOUT RENT FREEZE -
After news that Chesterfield Borough Council decided to freeze market stall rents next financial year, traders say they welcome the decision. More...
FESTIVE FUN IN NE DERBYSHIRE MARKETS -
Street entertainment, kids' activities, prizes and a range of stalls are on offer at a series of festive-themed market events which are designed to boost the local economy. More...
N E DERBYSHIRE SETS OUT IT'S STALL FOR CHRISTMAS -
Shoppers are invited to join in some festive fun - while supporting local businesses - at a series of festive-themed markets More...
FRESH NEW LOOK
FOR CHESTERFIELD MARKET -
Chesterfield Borough Council, in partnership with Destination Chesterfield, is to give a whole new look to the town's famous outdoor market stalls. More...
ICONIC MARKET HALL ALL SET FOR UPGRADE -
Chesterfield's iconic Market Hall is now one step closer to its planned refurbishment after Chesterfield Borough Council's approved the planning and listed building application. More...
ALL THINGS GREEN AND WONDERFUL IN CHESTERFIELD -
Chesterfield Market will be staging its first Green Fair on Saturday 24th September from 10am until 4pm. More...
GET DANCING IN CHESTERFIELD THIS SEPTEMBER -
It's strictly all for fun as Saturday 10th September sees Chesterfield's New Square Arena explode with an amazing display of dance at the annual 'Day of Dance'. More...
IN LOVING MEMORY OF CHESTERFIELD LEGEND -
Roy 'Pound A Bag Man' Davidson, one of Chesterfield and the Market's most famous faces (and voices) will be laid to rest tomorrow. More...
MARKET HALL FUNDING APPROVED -
Chesterfield Borough Council's cabinet has this week approved the funding for the £4million refurbishment of the town's Market Hall. More...
'MARKETING THE MARKETS' SUCCESS -
Events organised to boost the local economy and promote the markets have been a success after crowds descended on Eckington, Clay Cross and Killamarsh events. More...
MARKET FUN DAYS IN N E DERBYSHIRE -
Street entertainment, kids' activities, free raffles and a range of stalls will be on offer at a series of market events being held in North East Derbyshire this month. More...
AND THE VOTES ARE IN... -
The shoppers of Chesterfield have voted, and, in a closely fought contest, have crowned their Market Retailer of the Year. More...
CHESTERFIELD MARKET CLEANS UP -
Chesterfield market traders have signed a new agreement with Chesterfield Borough Council to work together in keeping the town's market clean and tidy. More...
MARKET RATES FROZEN -
Chesterfield Borough Council has today announced that, in recognition of their value to the town, there is to be no rent increase for the town's market stalls. More...
YOUNG PEOPLE SHOW THEIR ENTERPRISE SKILLS AT MARKET -
Despite the current financial climate, young people in Chesterfield proved that the spirit of enterprise is alive and well... More...
YOUNG ENTERPRISE TRADE FAIR AT CHESTERFIELD MARKET -
Students from local schools are preparing to take part in the North Derbyshire Young Enterprise Trade Fair on Thursday 3rd March. More...
MARKET FUN DAY A SUCCESS -
A family fun day took place at Clay Cross, one of a series of events aimed at getting local residents to love their local market. More...
LOVE YOUR LOCAL MARKET -
"They're Valuable Assets", says Cllr Pat Kerry from NE Derbyshire District Council as she encourages local people to shop at local markets in the region. More...
THE 'M' FACTOR -
Chesterfield residents are being asked to support Chesterfield in trying to prove it has the 'M' factor and in giving a boost to local traders and shoppers too More...
SUPPORT LOCAL RETAILERS THIS CHRISTMAS -
Christmas shoppers in Chesterfield are being asked to shop locally and support market and local retail traders with news that we can all enjoy additional markets throughout December. More...
NE DERBYS SETS IT'S STALL OUT FOR CHRISTMAS -
Shoppers are invited to join in some festive fun while supporting local businesses, at a series of Christmas Markets being held in NE Derbyshire this year. More...
ARTS & CRAFTS MARKET ADDS BRIGHTNESS TO SWITCH ON -
A new Arts and Craft market is setting up for this year's Christmas lights switch-on event in Chesterfield. More...
LAST DAY FOR 'COTTON FOR COTTON' AT CHESTERFIELD MARKET -
Look out any old items of clothing which you no longer want and take them along to the market to be swapped for a cotton bag to encourage recycling and shopping locally and raise funds for Ashgate Hospice. More...
COUNTDOWN TO ARTS AND MARKET FESTIVAL -
Chesterfield is preparing to stage its biggest and best ever Arts and Market Festival. More...
"IT'S THE HEART OF THE TOWN!" -
That's Markets Manager Andy Bond on the Market held in Chesterfield four days a week. More...
DAY OF DANCE -
A Day Of Dance descended on Chesterfield Market on Saturday 11th September, and we have some pictures for you. More...
FOOTBALL FEVER -
Chesterfield Market Traders donned their football boots for charity and raised £250 for CLIC Sargent Cancer Charity. More...
MARKET FACES, DON HOLLINGWORTH -
To all of us living in Chesterfield Donald Hollingwood is a familiar face and voice. Ayres fruit stall would simply not be the same place without him. More...
One of the more fun events the Mayor and Mayoress have taken part in recently was the Medieval Market. The weather was great and the Town was filled with not only... More...
The open air market is at the heart of Chesterfield town centre. Taking place every Monday, Thursday, Friday and Saturday, it's one of the biggest in the UK with over 200 stalls to fill. More...