Sunday 15th July 2012 - DAY 8 UPDATE - THEY'VE MADE IT!!!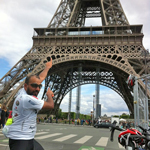 MASSIVE Congratulations to the 12 riders of the Kids n Cancer / Autoworld Tower to Tower to Tower Challenge team after reaching their goal on arriving at the 3rd and final Tower, the Eiffel Tower in Paris this afternoon.
A full 570 miles in 8 days, injuries, accidents, illness, pain, exhaustion - all forgotten (well, for now anyway) as the celebrations can start!

The Kids 'n' Cancer fundraising still carries on however - and you can show your appreciation of this incredible effort by donating towards the charity through the team or individual riders JustGiving pages (links below).

We will be adding the riders final days comments and images over the rest of this evening - and following up with the full story during this week when everyone has returned home - but for now - from the Chesterfield Post - a huge well done and thank you on behalf of Kids'n'Cancer and Autoworld!

PLEASE show your support and keep donating - just click on one of the riders links below to make a donation through JustGiving...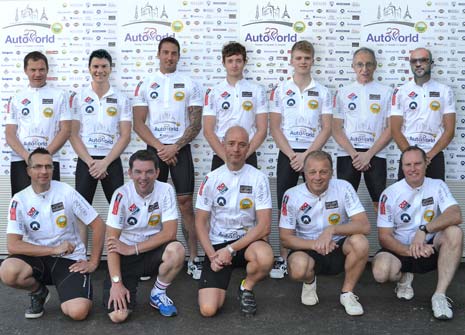 The Chesterfield Post will be keeping you up to date right here on this page - of the team's progress between Blackpool and Paris, with updates from the riders (if they're not too sore to email us!) along with their donation page links, and tracking links, so you can keep right up to date with their progress live, as they take on the 570 mile ride, until they arrive at the Eiffel Tower late afternoon, on the 15th July.

First, here are all 12 of the riders and their own JustGiving page links:
Stephen Priestnall
Director - Autoworld



Andrew New


Regional Manager - Santander Asset Finance

Nathan Lowe
Electrical Engineer -
Free Vaults



Luke Mantle
Student - Sheffield Hallam University



Mark Cordin


Student - Leeds University

Richard Purdey
Trade Disposal Dept - Autoworld



Manjit Sehmar


Management Training - Dominos Pizza Group

Philip Corker
Group Buyer -
John Holland Cars



Simon Priestnall
Director - Autoworld




Richard Delaney
Insurance Director (Commercial) -
DCJ Insurance


Tony Cordin
Director - Autoworld




Richard Lane
Kitchen, Bathroom Fitter / Joiner -
R A Lane Interiors
To visit the whole Team's JustGiving page, CLICK HERE.

To visit the Kids 'n' Cancer Charity Website, CLICK HERE and to visit Kids 'n' Cancer's permanent JustGiving Page, CLICK HERE.


THE CHALLENGE
The team's Tower to Tower to Tower challenge is a 570 mile trek from Blackpool Tower, to the Tower of London, to the Eiffel Tower in Paris.
DAY 1 - Sun, 8th July - Blackpool to Castleton - approx 80 miles
08:00 - Leave Blackpool Tower
12:30 - LUNCH - Just before Manchester
14:30 - VISIT - Christie Clinic, Manchester
18:00 - Arrive at Castleton
COMPLETED
08/07/12 - Richard Lane - "Had a great ride today. The group are really gelling. Considering we have never all ridden together before. 88 miles completed and feeling fresh, always a good sign. Weather could not have been better."

08/07/12 - Mark Cordin - "A very enjoyable, dry, first day....but it wouldn't be a bad thing if the bikes were nicked overnight! (Haha)"

08/07/12 - Andy New - "Great first days riding....even the 2 mile climb 78 miles in! Brilliant bunch of guys and a huge team spirit - can't wait for tomorrow!"

08/07/12 - Luke Mantle - "Great start, the dry weather really helped! Looking forward to tomorrows challenges!"

08/07/12 - Mike Hyman - "A great day. 90 miles. A bit disappointed the riders could not keep up. I had to keep stopping to wait for them!!
The ace driver."

08/07/12 - Nathan Lowe - "A great first day. 89 miles. Moral is high even tho' I've lost balance twice and hit the deck 'cos of the feet clips lol ! 7 more to go!"

08/07/12 - Tony Cordin - "Had a good day, 4 of the team fell off, mostly setting off, numerous traffic lights made progress difficult, only 1 item broken, needed emergency team to fix a new saddle, it would help if the Eiffel tower were to be moved closer."
DAY 2 - Mon, 9th July - Castleton to Melton Mowbray - approx 65 miles
08:45 - Leave Castleton
10:15 - VISIT - Autoworld, Chesterfield
13:30 - LUNCH - provided by South Normanton Rotary
15:00 - VISIT - Harley Davidson, Beeston
18:00 - Arrive at Melton Mowbray
COMPLETED
09/07/12 - Mark Cordin - "Today's ride was tough on the legs but very enjoyable! Finally feel like we are getting somewhere now. Tonight's meal cannot come quick enough!"

09/07/12 - Luke Mantle - "The rainy start didn't dampen the spirits. Another enjoyable day with a great reception at autoworld!"

09/07/12 - Tony Cordin - "Arrived in Melton, all I want to do is burn our guide's map, he has successfully found more hills today! I think he gets a kick out of them. Two of the team were not far away from climbing in the van, hope they don't, we all need to make it."

09/07/12 - Richard Lane - "Another great ride today. 72.14 miles clocked in 5 hours 20 minutes. Great turnout at Autoworld Chesterfield for us this morning, really gave us a fantastic boost!"

09/07/12 - Mannie Sehmar - "Everyone said day two was the easy day... Oh how they lied! 70 miles of hills, a few more hills and a few more. Plus side, we met two of the kids and presented them with cheques for £2,000 each."

09/07/12 - Richard Purdy - "Fought traffic in Nottingham and won, fought the hills and won. Made it to next stop!"

09/07/12 - Nathan Lowe - "Another great day. Sun was out after lunch which was nice after the morning rain. Bring on tomo :-) "
DAY 3 - Tue, 10th July - Melton Mowbray to Stevenage - approx 80 miles
08:45 - Leave Melton Mowbray
13:30 - LUNCH - Kettering
18:00 - Arrive Stevenage
COMPLETED
10/07/12 - Philip Corker - Daily update..bit sore tonight, 6 of us averaged nearly 16mph for 80 miles few more hills than anticipated, left a bit of skin on the road after a crash with Mannie, definitely his fault :-)

10/07/12 - Richard Lane - Today we had Mr P Corker guiding 6 of us by means of the 'Corker Nav' and 'Corker code of biking'. Like a white knuckle ride. 80 miles in 4 hour 50 off for a much needed massage. Result!!!!!

10/07/12 - Mark Cordin - Had a great day today, best day yet! After lunch we flew from Kettering to Stevenage! Looking forward to a massage later! London tomorrow and it's quite a short day too!

10/07/12 - Luke Mantle - Had the yellow jersey on today but unfortunately this was my rain coat. However I've powered through 80 miles in under 5 hours and currently enjoying a well deserved massage in Stevenage! Please keep giving.

10/07/12 - Mannie Sehmar - Great day of riding. Got knocked off the bike today but got up, wiped the blood and carried on. Weather has been kind to us.

10/07/12 - Andy New - Done....240 miles clocked up, legs getting stronger every day......tomorrow we take London!!!

10/07/12 - Richard Purdy - Feet hurt, legs hurt, but going better today. roll on next stage! we are screaming!

10/07/12 - Tony Cordin - Got blisters galore, really raw, last 5 miles today legs turning out of habit - rest of the body wanted to stop, the main roads made you concentrate, like driving up the M1, want my bed, but need food! Night night

10/07/12 - Nathan Lowe - Hi. Some right hills today. One in Rockingham a 12%er very steep, about killed me. Got told in kettering at 2.30pm if we got to hotel at 5pm (50 miles away) we had a massage arranged by Andrea Hooley, all sponcered by David Lloyd Gym, so 6 of us went for it and smashed 50 miles in 2.30hrs! Hope i dont regret it tomo as legs are now killing me, although massage has helped. fingers crossed.
DAY 4 - Wed, 11th July - Stevenage to London - approx 65 miles
07:45 - Leave Stevenage
12:30 - Lunch at Lee Valley Park
15:30 - Visit University College, London
17:30 - Arrive the Tower of London
COMPLETED
After the hardest day so far, the team are suffering for the cause, but have made it to the Tower of London and are just over the half way mark. Keep it up lads!

PLEASE show your support and keep donating - just click on one of the riders links above and make a donation...
11/07/12 - Richard Lane - "Had to ease off today calf muscle pulling a tad. Hope I make the ferry tomorrow ? I believe we have a hillish day ahead of us but the lads from Autoworld are a great bunch and I'm sure they will help me along. I hope !!!!!"

11/07/12 - Tony Cordin - "The pain I am experiencing Has just been put to the back of my mind after hearing the team brief tonight, the leaders words were, 'it's going to be the hardest day tommorrow lots of hills, traffic and we need to make the ferry, if you fall behind, your in the van!'. Meeting Sophie (Roberts) today and presenting the cheque for £10,000 filled me with mixed emotions, was this all we could do for this innocent little girl? However, we were glad to be there and helping in a little way, back at the Tower of London now having a tour and food, how we love food!"

11/07/12 - Luke Mantle - "Tough day today. The mileage was a lot shorter and the weather was the best it's been but the legs are really starting to feel it now! Arriving at the Tower of London gave us a lift, but tomorrows journey to Dover doesn't look a pleasant one and the deadline to catch the ferry is going to add the challenge!"

11/07/12 - Andy New - "Legs ache, back aches, just thinking about getting back on tomorrow is painful.....but today we met a beautiful 3 year old girl who we have helped, and that makes it all worthwhile. Please help us to help more children like Sophie. Next stop Calais!"

11/07/12 - Mark Cordin - "Tough day today, not many miles but was tediously slow. Came into London via a canal which was not designed for road bikes! Legs are getting heavier and to be told that tomorrow's trip to dover is the toughest day has not made them feel any better!"

11/07/12 - Mannie Sehmar - "Totally broken today! Blisters where they should not be, knees giving way and thighs swollen. Who said this was going to be easy must have read a different memo."

11/07/12 - Stephen Priestnall - "Today is going well, although I was desperate for this food stop as I felt my legs going. Really nervous about tomorrows ride, definitely the hardest day and a risk of getting scooped up in the van to make the ferry. That will not be happening!!!!"

11/07/12 - Nathan Lowe - "Nice ride today, really enjoyed it, although the legs are really stinging and riding in London is a little crazy. Can't wait to get back into countryside. Been told some huge hills and lots of them tomorrow so not looking forward to that! Hope I make it!!"

11/07/12 - Richard Purdy - "Nobody wanted to get up this morning! Could not get Mark Cordin out of bed, when he eventually woke, he noticed his dad putting his shorts on. Ha! Ha! Everyone set off with sore legs but rode themselves in. Got to the Cafe stop and all fell about laughing, Tony Cordin had put his shorts on back to front! Carried on the Lea Valley Cycle path which was very good, then we hit London - the home of a 1,000 traffic lights, Everyone being red. Scones and cream at the Cafe and another hike around London to the Hotel with another 200 traffic lights. 3,000 traffic lights and still counting. A good night at the Tower but they locked us in the Dungeon. HELP! Good day. We all made it I believe in one piece. Every one looking forward to tomorrow."
DAY 5 - Thu,12th July - London to Calais (via Ferry) - approx 75 miles
08:00 - Meet at Greenwich Royal Observatory.
Ride from Greenwich to Dover via Rochester and Canterbury
18:30 - Ferry to Calais - A chance for a rest and dinner on the ferry!
Ride to accommodation in Calais
COMPLETED
They thought yesterday was bad! A hard days graft through hills and bad weather, and 8 punctures (!!!) later, the team finally made it to Dover and a chance to relax on the Ferry crossing. They are now in Calais, ready for the home stretch...

12/07/12 - 2pm - Mike Hyman - "Doing great and I am proud of the effort they are putting in. Richard Lane is batting on with a torn calf and is determined to get there. Manjit has got stronger by the day and is looking good now. We had a good reception at the Little Coffee Pot in Rochester, they gave us cakes and buns and donated £25 to the charity. All in all looking good if we make the ferry!"

12/07/12 - Nathan Lowe - "A very hard ride today. I'm shattered! Made it to Dover. had some right hills - got here and got off bike shaking. My body was gagging for nutrients, luckily, Manny the pizza god had Dominos pizzas waiting for us at the docks. Amazin' man he is!"

12/07/12 - Mannie Sehmar - "The only good thing about today was the weather. Loads of hills, body wants to give up. Shattered. Need sleep (and new body parts)."

12/07/12 - Richard Lane - "All arrived at Dover safe and sound on ferry now, it was painfull getting here today. Loads of ice on calf muscle tonight. Just keep reminding myself what it is all for kids n cancer I will get there!!!!"

12/07/12 - Mark Cordin - "Currently on the ferry after a very long day! Up at half 6 was a killer! We must of had at least 8 punctures today as well after 4 days without a single one! Looking forward to an early night tonight!"

12/07/12 - Richard Purdy - "The day of the punctures !! What a start sun shining great! 5 miles later Tony Cordin fell into a crater at 25mph, Mannie followed him, 2 more followed. Luke had some tubes i think they saw him coming. 1st one had Hole in it, 2nd one must have been for a pennyfarthing, 3rd one was ok, meanwhile Mannie had punctured again, this was how it went all day. We nearly lost the will to live. We have got to Dover. They kept us waiting and it ****** it down, we nearly froze! Hells bells what a day!"

12/07/12 - Tony Cordin - "Coast to coast now completed, approx 380 miles so far, tiring day many punctures, I think 10 in total, Mannie and Domino's pizzas at Dover - amazing!"

12/07/12 - Luke Mantle - "Really struggled today with a bad stomach. The mental and physical strain is really starting to take its toll! We've had 10 punctures today which really slowed the pace. An early night is needed in order to be able to get up tomorrow!"

12/07/12 - Andy New - "We've landed in France.....a race against time that was nearly thwarted by a dozen punctures, a couple of spills and some slightly dodgy weather...but we made it! My right ankle is the size of a tennis ball and I've trashed my right arm in a bush related incident....but happy to have crossed the water in one piece! Let's see what tomorrow brings!"
DAY 6 - Fri, 13th July - Calais to Abbeville - approx 85 miles
08:00 - Leave Calais
Ride from Calais to Abbeville - half way!
18:00 - Arrive Abbeville
COMPLETED
PLEASE show your support and keep donating - just click on one of the riders faces above to make a donation through JustGiving...
13/07/12 - Mike Hyman - 05:30 - "Good morning it's 5:30 am! And after last nights disaster when four of the lads crashed out when they skidded on the rain lashed tram tracks, running repairs are needed this morning. Fortunately no major
injuries just cuts and bruises.

"Yesterday was a bit hard. Having made it to London relatively unscathed, we suffer 10 punctures on the hardest leg when we needed to make the ferry. True to form, the lads kept each others dwindling spirits up and helped each other with the repairs, frustration was the key word yesterday. Everyone's happiness was clear to see when we finally arrived at the port of Dover to complete the English leg of this epic charity bike ride.

"What a great bunch of lads - grit and determination in abundance. Loads of hugs and back slapping and well deserved. I am so proud to be part of this growing friendship, this group of guys are fantastic, no personality clashes, just plain old fashioned friendship."

13/07/12 - Mike Hyman - "What a long day today as we head towards our hotel in Abbeville looking forward to a nice beer. The guys have worked hard again as we head towards our goal at the Eiffel Tower on Sunday. The wind and the hills made today a cruel and gruelling challenge . As the week heads towards its conclusion, the enormity of this challenge is unfolding, the guys can feel very proud even though they are tired and weary. Just arrived 6:55pm. Two days to go - we are over three quarters there, WOW!"

13/07/12 - Richard Lane - "Today has been the hardest day. Hills all day long from 15 minutes after we started till 5 minutes before hotel - 80 miles of hills. Found the French drivers to be quite patient. Now I don't know what hurts more, my calf or my bottom. Had some running repairs done to bike. Was very close to eating gravel but me and the bike are OK. All the laughs we are having does help to ease the pains but no one said it would be easy!!!!!!"

13/07/12 - Nathan Lowe - "Well I've really enjoyed it up to now, been reaching speeds of 30mph on flat, but today was horrible. 30mph wind in your face is hard goin, average speed was 15mph, plus i hurt everywhere. I had to peddle down hills!!! wat the hell is that about? Roll on Wed."

13/07/12 - Mannie Sehmar - "80 miles today - felt like 130 against the wind, riding past the coast. How I got through today only god knows. Body is in pieces, my knees feel like they are being drilled, my ankles are just about holding up. Day 1 in France has taken its toll!"

13/07/12 - Andrew New - "Without a doubt, the hardest day so far. 80 miles, 45 of which were into a 30 mile an hour headwind; an ankle the size of a tennis ball; punctures on both tyres and ran out of water - I came very close to asking for the van......but battled on with my comrades and we made it into downtown Abbeville! Next stop is Beauvais..........already dreading the alarm call! We're giving everything our bodies have got, so please give anything you can x."

13/07/12 - Philip Corker - "Today's and yesterday's update together from me....hard dash to make the ferry after all the punctures, fell again! On wet tram lines in the dark with Richard Purdy, both Preistnall brothers, re-cut same arm, too exhausted to eat. Today fantastic scenery in northern France wish we had time to stop and appreciate, spend more time in the loo than on the bike, spent all morning just trying to catch the group, eventually came home first by about 1/2 hour in a race to make the loo back at the hotel!"

13/07/12 - Mark Cordin - "Today was the day of the wind! 30mph head winds throughout the day haulted our progress badly. However the roads in France are a dream to ride on which made the second half of the day a lot easier. I'm sure I can smell Paris now!"

13/07/12 - Simon Priestnall - "Up date for u all, never done anything so hard in my life, never been in so much pain, Ringo Starr is sore, please sponsor me if u haven't."

13/07/12 - Luke Mantle - "The strong winds produced a really difficult start to the day, but after a seat adjustment and some ibuprofen I made it to the hotel! Two challenging days to go."

13/07/12 - Tony Cordin - "The team have swapped jelly babies and jelly beans for pain killers, tough day. Today, one of the riders who joined us from London said I have nothing left, join the club!"
DAY 7 - Sat, 14th July - Abbeville to Beauvais - approx 65 miles
08:30 - Leave Abbeville
Ride from Abbeville to Beauvais
17:30 - Arrive Beauvais
COMPLETED
PLEASE show your support and keep donating - just click on one of the riders faces above to make a donation through their JustGiving page...
14/07/12 - Mike Hyman - "Halfway through the day just set off after lunch rain stopped sun beating down. Spirits are rising as we head towards the towards our final nights hotel before riding into Paris to conclude this epic three towers cycle marathon. It has tried to beat body and spirits and, whilst coming close on a number of occasions, has failed to dampen the hearts and souls. What a team! All fighting to get everyone home safe and sound."

14/07/12 - Mannie Sehmar - "The pain is excruciating. I could not sit on my saddle for 23 miles of the ride. Only one day left and we are in Paris. Not going to take the last day lightly. Getting in the van is not an option!"

14/07/12 - Richard Lane - "Just finished ride today. Started out with heavy rain which cleared as we set off. Then the hills started. Head wind must have been blowing at over 30 mph so today, it has been really tough on tired legs. 60 miles has felt like 100 miles. Looking forward to hitting Paris tomorrow. Got to say how well everyone has battled today and won!!!!!! Big up yourselves haha."

14/07/12 - Nathan Lowe - "Another rock hard day! The wind was out of this world, felt like i was goin backwards and the rain - jesus, when it comes, it comes! One day left thank god, then I think i'll hibernate for a month!"

14/07/12 - Philip Corker - "Last night me and Simon (Priestnall) went to the local town dance, Simon showed the locals his moves. Today another day of battling into the wind, everybody now is struggling, never been asked about the state of my bottom so many times by so many people!"

14/07/12 - Richard Purdy - "Friday was a tough day, late finish, everyone very tired. Woke up said "oh dear, it is lashing it down, it is not looking good. We have to keep going, another wet day and the wind is howling again. How many more punctures today, only 2 through illness, aches, pains, sore everything you can think of. But we made our next stop. Nearly there."

14/07/12 - Andy New - "Wind, wind and more wind.....oh, and a bit of rain to boot! But we've made it to Beauvais and Paris is looming - if I get through tomorrow without welling up at some point it'll be a miracle!!!!!"

14/07/12 - Luke Mantle - "Struggling with a fever and sun stroke, but still managing to battle through the days. Really looking forward to tomorrows celebrations in Paris!"

14/07/12 - Mark Cordin - "Today was the day I looked after my Dad! It wasn't a long day in terms of distance but the wind was still there and unfortunately so were the hills! I've kept a close eye on my dad all week and today I rode with him all day. He was great and it's now very satisfying to think we have 55 miles left to go! Can't wait to get there tomorrow and let the celebrations begin!"

14/07/12 - Tony Cordin - "We woke to rain this morning, the thought of 55 miles and getting soaked, dampened spirits further! We are all tired but can see the finish line, however we need one further push, everyone now talking about Paris and emotions."

14/07/12 - Mike Hyman - "We are having dinner in the Buffalo grill - steaks, ribs and burgers with pints of lager. Everyone is now unwinding knowing we are going down hill to Paris in the morning. Some are even planning to freewheel they feel that confident after seven days of HELL!

"The boys have done the charity proud, the best bunch of guys I have ever worked with twelve magnificent men and their flying machines."

PLEASE - IF YOU HAVEN'T ALREADY - DONATE TO THE TEAM OR INDIVIDUAL RIDER FOR KIDS'N'CANCER. THANK YOU.
DAY 8 - Sun, 15 July - Beauvais to Paris' Eiffel Tower - approx 55 miles
08:15 - Leave Beauvais
16:30 - Arrive at the Trocadero Esplanade and the Eiffel Tower
COMPLETED
THE FINAL DAY...
The team completes the Tower to Tower to Tower Challenge for Kids n Cancer with Autoworld this afternoon, and you can see all the pics and read all the comments here for this amazing week. Well done to all the lads.
15/07/12 - Richard Lane - "Made it to the Eiffel tower! Absolutely overwhelming feeling. The emotion of the whole week came to a head underneath the Eiffel tower. Champagne flowing. Amazing experience that will stay with me the rest of my life. Autoworld have done Chesterfield and Kids'n'Cancer proud, well done everyone. Would do it all again if I had too - but need at least a months rest in a comatose state haha."

15/07/12 - Mannie Sehmar - "What a journey! The human body is an extraordinary thing. After rain and head winds, we made Paris. Sun was out and we had friends and family to greet us. A sense of euphoria went through me. An epic journey with Memories and scars to prove it. Only one word can sum it up. WOW!"

15/07/12 - Andy New - "Pain in my calves, tears in my eyes.....but the biggest smile on my face as we reached the Eiffel Tower. Can't believe we made it, but we did, and all the blood, sweat and tears along the way are nothing compared to the challenges that the young people Kids'n'Cancer are helping face every day! Please help us to help them - www.justgiving.com/andrewnewtowertotower xx"

15/07/12 - Luke Mantle - "What an amazing week! Completed the challenge today with champagne flowing at the final tower. A great bunch of lads, who have seen me through my illness this week. Especially the team masseuse (Tony Cordin). A great life experience and all for a fantastic cause! Please keep sponsoring"

15/07/12 - Tony Cordin - "Looking forward to getting home, my body Needs r&r! The lads are talking about the next challenge... count me out!"

15/07/12 - Nathan Lowe - "Well where to start? May as well start with this morning - my legs and glutes hurt like nothing i've felt before. Didn't think i'd make today, but after first hour and a long hill under the belt, it got better. I'm broken, though its not sunk in yet. Getting here. The 11 guys i've done this with, i've fell in love with! Amazin guys. Down to each of 'em how i'm sat here now. Thank you each and everyone of you - you got me here. Thank you!"

15/07/12 - Richard Purdy - "12 hungry cyclists started the day and on cue, so did the rain - and along came the 1st puncture. Cafe stop and my 1st puncture, the rain came heavier. We went for it all out for lunch stop. We rode by the Seine - the end was in sight. We were at the finish. Off to visit Citroen and that's it - or so we thought - but no, the bikes don't all fit in the van. 3 of us have to ride to the hotel (wow) up the Champs Elysees, round the Arc de Triomphe - fantastic! We did it again and rode to the hotel - job done! Tough, hard! Would we all do it again? Give us a bit of time...."

15/07/12 - Mark Cordin - "A great final day. Got absolutely drenched 20 miles before Paris and thought the end was going to be a massive anti-climax. Fortunately, the sun soon came out and it was a glorious afternoon! The ride in Paris was long but worth it. I rode to the Eiffel tower arm in arm with my dad and emotions were high. Very happy to not only of made it myself but made it part of a team too. A superb achievement!"

15/07/12 - Mike Hyman has the final word -
"What a hoot! I am so proud of these guys. Autoworld and our sponsors have done us proud. These guys have given their all for Kids'n'Cancer and have put their bodies on the line for no reward.

"It has cost each rider a fortune to support us. These are the best bunch of guys that God ever put breath into - they are heroes - every one of them!

"Kids'n'Cancer are tonight better off financially and in a position to help another family to go forward to assist their child to beat their tumour.
Thanks guys and Chesterfield for your effort and support - I am proud of you!

"Please keep the donations coming help us to achieve £100,000 - and join us at the welcome home party next Sunday (22nd) at Brampton Manor, when Chesterfield can welcome twelve incredible men home from this fantastic adventure. Proud, proud, proud, proud!"

DAY 8 - Mannie shows he's beaten the Tower to Tower to Tower challenge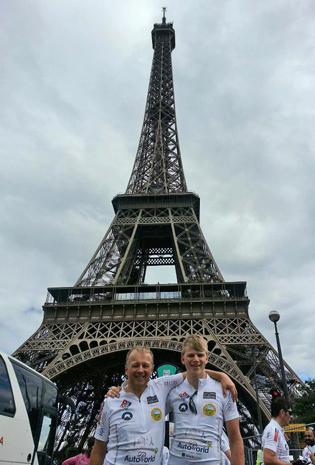 DAY 8 - Father and son, Tony and Mark Cordin, make it to the third Tower!
Total Mileage - approx 570 miles

Current Completed Mileage = 570 miles
Mileage Left To Complete = 0 miles
CONGRATULATIONS TO THE WHOLE TEAM.
WHAT A FANTASTIC ACHIEVEMENT!
You can also keep up to date with the riders progress directly via the Kids n Cancer WEBSITE and FACEBOOK PAGE and via the Facebook app - ENDOMONDO* - which tracks the progress as it happens and most of the riders use (just search and add them by name) or there's also the Find my Friend* app for iPhones/iPods/iPads.

NOTE: * The Chesterfield Post has no connection to any of these apps and you add/buy them at your own risk - we are only stating that the riders are using them if you wish to track them.
THE RIDER UPDATES...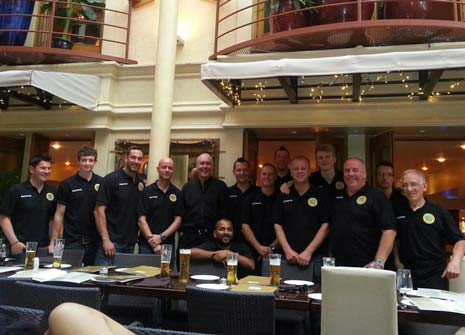 The team at their Italian Restaurant Carb-athon on Saturday night - met up with footballer Mark Hateley's dad (centre)!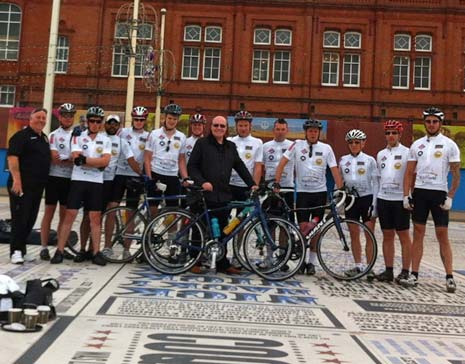 The team are given their send off on Sunday morning from Blackpool, by Comedian, Mick Miller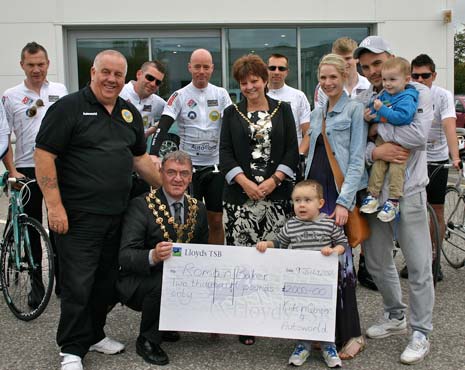 DAY 2 - Presenting a cheque at Autoworld, Chesterfield stop, to little Roman Baker who's off to US for Proton Therapy treatment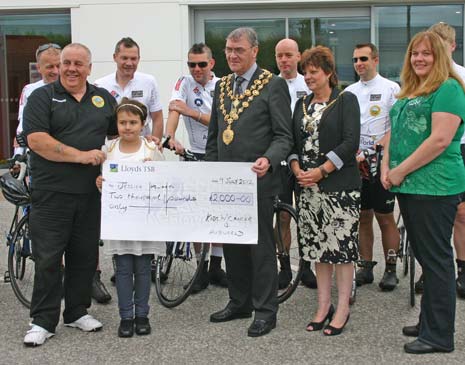 DAY 2 - Also presenting a cheque at Autoworld, Chesterfield stop, to 9 year old Jessica Howarth who is suffering from Leukaemia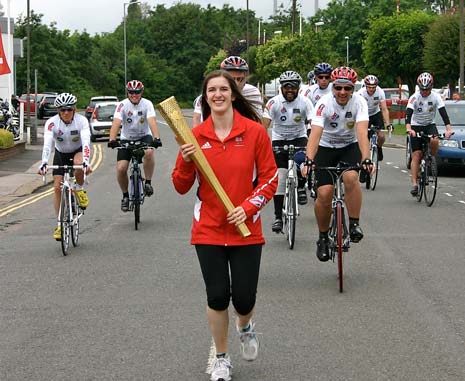 DAY 2 - Chesterfield Olympian Ellie Koyander, carrying her Olympic Torch, led the team off after their break
For the full story behind Day 2's stop at Chesterfield, and the presentations - CLICK HERE.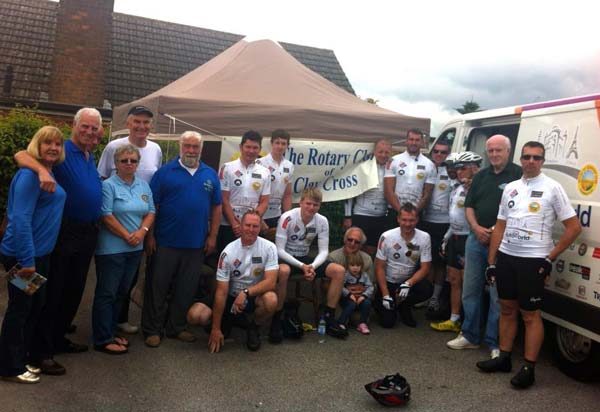 A stop at the Rotary Club of Clay Cross...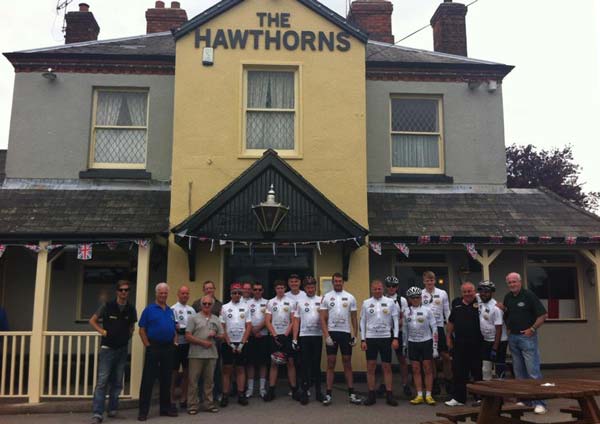 A stop at the Hawthorns Pub in South Normanton...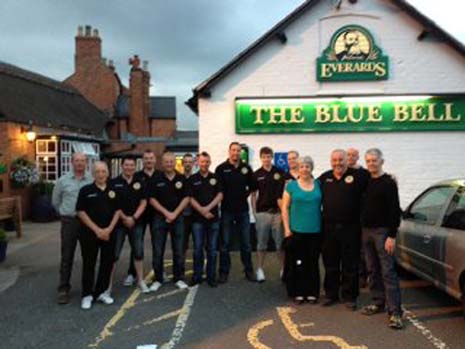 A stop at the Blue Bell Pub... (do you see a pattern developing...)

DAY 3 - Lunch on the Rotary Club of Kettering at the Naseby Hotel with Club President John Miles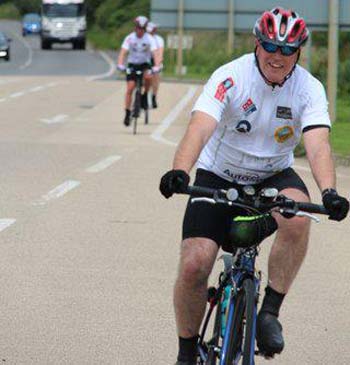 Day 3 - Richard Lane guns it after hearing about the massage...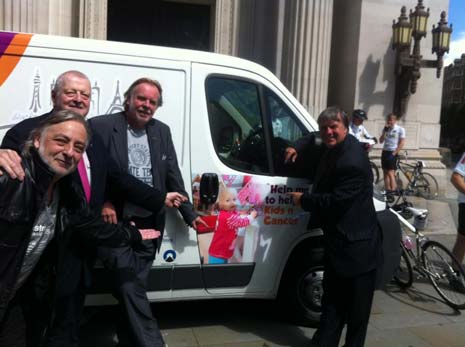 DAY 4 - Some of the Kids n Cancer Charity's Celebrity Patrons met the team outside the 'Spooks HQ' - or Freemasons Hall in London - (l-r) Elliot Randall (Steely Dan), Mick Abrahams (Jethro Tull), Rick Wakeman and Miki Travis.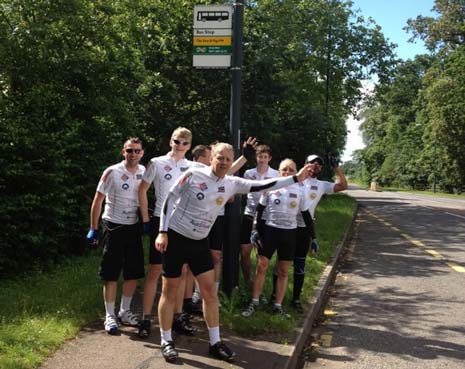 DAY 4 - You wait all day for one Charity Cyclist.....! The lads decide traffic in London would be too much...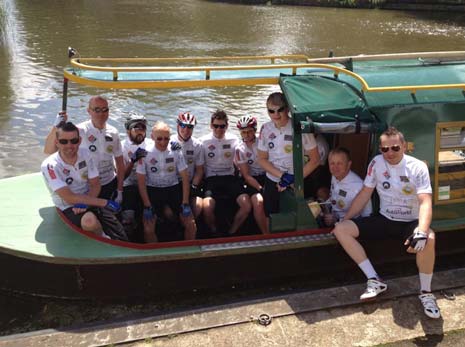 DAY 4 - A chance for a break on the river...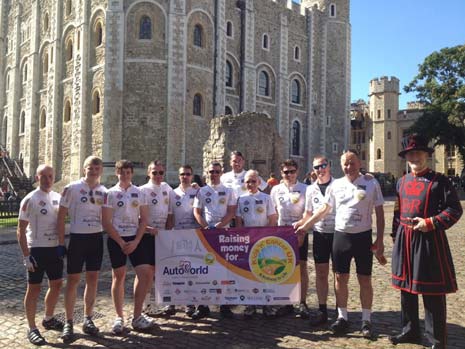 DAY 4 - The team make it to the half way point - the 2nd Tower - The Tower of London.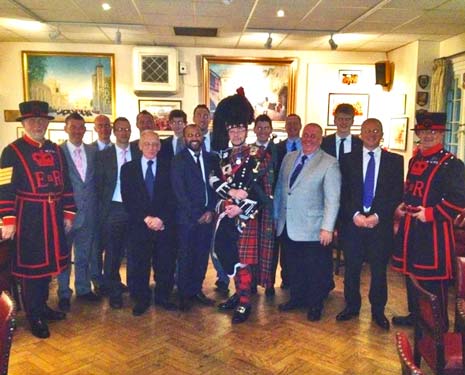 DAY 4 - The team reaches the 2nd Tower - the Tower of London - and are invited to have their dinner with the Yeoman Warders / Beefeaters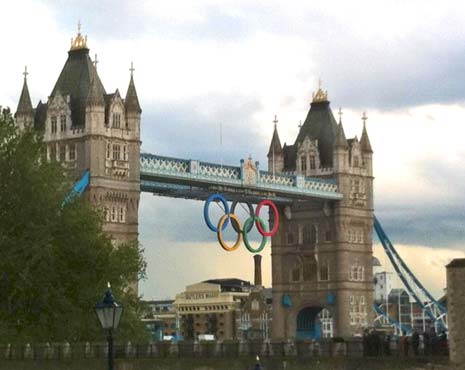 DAY 4 - Tower Bridge and it's Olympic Ring display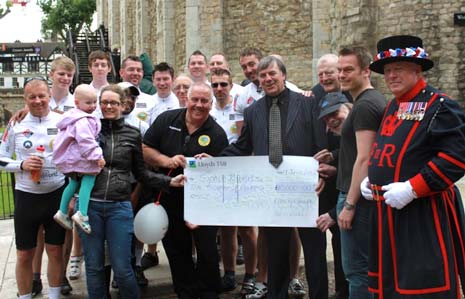 DAY 4 - Presenting a £10,000 cheque to Sophie Roberts. One of the reasons for the ride and what keeps the team going...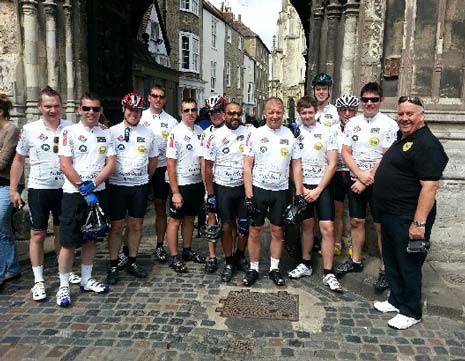 DAY 5 - The boys enjoy a short break in beautiful Canterbury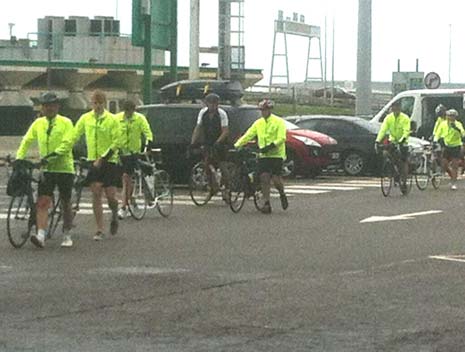 DAY 5 - they arrive at Dover Port in the freezing wet weather...

DAY 5 - Grab a quick kip on the Ferry....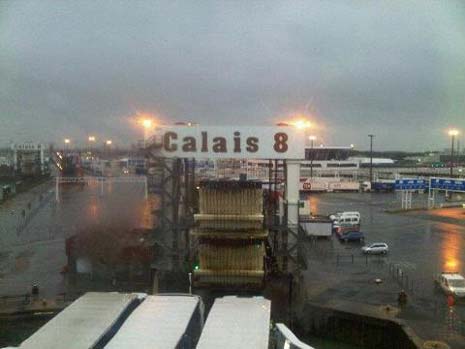 DAY 5 - And off and at it again in Calais... Nice weather!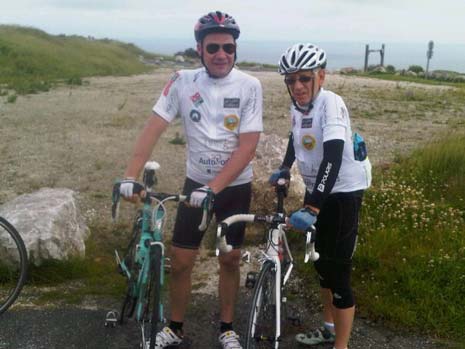 DAY 6 - First taste of Calais was a brutal hill climb with strong coastal winds. Nice (no, Calais).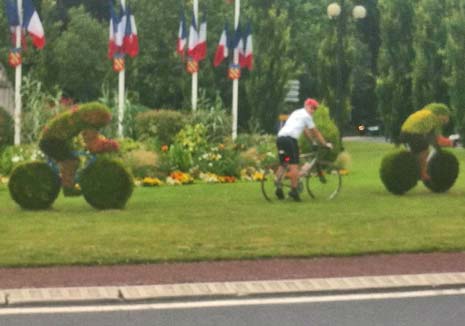 DAY 6 - Either the exhaustion is causing hallucinations or they have some very creative gardeners in France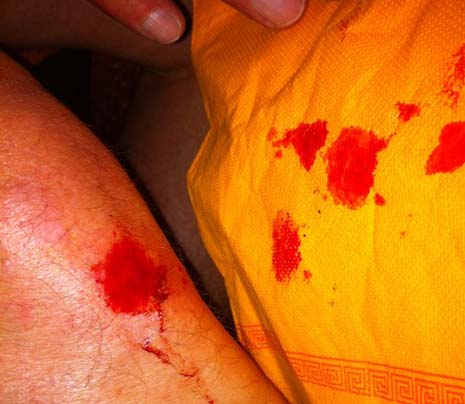 DAY 6 - Ouch - the bodies are starting to feel the hurt too...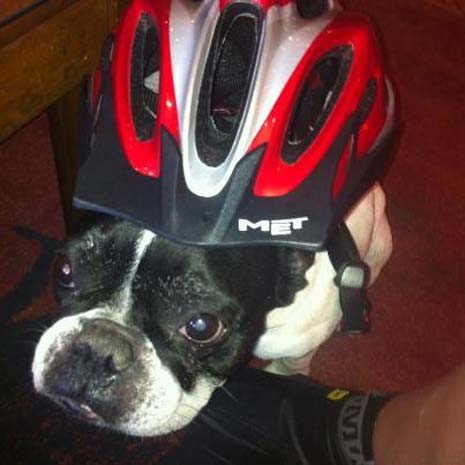 DAY 7 - Mannie's looking dog-tired at the end of the penultimate day!
RECENT STORIES
AUTO WINDSCREENS HELPS LOCAL CANCER CHARITY -
Derbyshire-based Auto Windscreens has rallied round to raise funds for Cancer Relief, after the local charity was conned out of £10,000 worth of stock. More...
RECYCLE CLOTHES, RAISE FUNDS, REWARD YOURSELF!! -
Our Chesterfield BHS store is marking the launch of their new Autumn collections and Back to School campaign, by inviting families across Chesterfield to clear-out their clothes to support the NSPCC. More...
CHARITY URGES TV VIEWERS TO TAKE SUBTITLING SURVEY -
Action for Hearing Loss urges TV viewers to take part in a major survey which aims to identify problems within the television network that may affect the quality of subtitling. More...
RECORD CROWDS FOR ASHOVER CLASSIC CAR AND BIKE SHOW -
Local charities are set to benefit to the tune of over £10,000 after a Classic Car and Bike show attracted thousands of visitors to see over 600 cars and bikes More...
LOCAL LADS COMPLETE 5 PEAK CHALLENGE IN AID OF HELP FOR HEROES -
Chesterfield born Jordan Passarelli, Ryan Lawty, Daljit Mehat and Oliver Pool have completed the intense 5 Peaks Challenge in aid of Help For Heroes More...
St MARY'S MARVELLOUS VINTAGE AND CRAFT MARKET -
St Mary's Community Centre is a charity operating in Sheffield - and each month, they put on a Vintage and Crafts Market as a fundraising event More...
THE NENNA KIND CENTRE OFFICIALLY OPENS -
A groundbreaking centre, which aims to help cancer sufferers and their families, has been officially opened by the Mayor of Chesterfield More...
"NO CHILD DESERVES THIS ILLNESS" - TOWER CHALLENGE DAY 2 UPDATE -
Tonight the Kids'n'Cancer charity cyclists are in Melton Mowbray - having completed Day 2 and 160 miles of their Tower to Tower to Tower challenge. More...
DRONFIELD MUM HITS HER PEAK -
Sporty mum Wendy Collins is preparing to climb the Lake District's highest mountains in 24 hours to support the hospital that helped her family through "tough times". More...
CYCLING FOR YOUNG LIVES -
Major car dealership, Autoworld Chesterfield is pedalling for Kids n Cancer and the lives of sick children throughout the UK. More...
GUIDE DOGS CHESTERFIELD NEW SAINSBURYS DRONFIELD CHARITY -
A local charity is set to benefit from another year's fundraising thanks to Sainsbury's Dronfield customers and colleagues. More...
DERWENT BRASS AND DENISE LEIGH, LIVE IN AID OF THE RNIB -
Derwent Brass, Derby's Premier Brass Band, are hosting and performing in a concert with Denise Leigh (winner of Channel 4's Operatunity), in aid of the RNIB More...
OLD WHITTINGTON GALA THIS WEEKEND -
Old Whittington Summer Gala takes place this weekend, with a bumper-load of entertainment to keep the whole family amused all afternoon long. More...
A HUGE HELP FOR OUR HEROES -
A national charity says it's overwhelmed by the generosity of people after £10,000 was raised in just one evening for the cause. More...
CLASSIC CAR & BIKE SHOW TODAY AT RENISHAW HALL -
Hundreds of classic cars and bikes are expected at Renishaw Hall, Eckington, later today for the annual rally More...
IT'S A KNOCKOUT IS BACK FOR ASHGATE HOSPICE -
It's a Knockout, where teams compete against each other in a number of fun and wacky games (including HUGE inflatables!) - is back for Ashgate Hospice. More...
BROCKWELL SCHOOL PREPARE FOR FUN RUN -
Local youngsters from Brockwell Primary School in Chesterfield are getting ready to take part in the Chesterfield Community Junior Fun Run on Sunday 17th June. More...
THANK YOU! -
One of the UK's biggest national children's charities, ChildLine, has contacted The Chesterfield Post to thank Chesterfield residents for its support. More...
JAMIE WALKER AND FRIENDS TAKE TO THE PITCH FOR CHARITY -
If you were at the b2net yesterday, you could have been forgiven for thinking that One Direction had turned up ahead of Elton More...
SOAPSTARS v LEGENDS TODAY AT THE B2NET -
Today, Sunday 27th May 2012, will see the 7th Annual Jamie Walker Charity game take place at the b2net stadium. More...
CHAIR'S APPEAL RAISES OVER £10K FOR RAINBOWS HOSPICE -
Generous residents helped raise thousands of pounds through a charity appeal in North East Derbyshire. More...
HOLD A BLOOMING GREAT TEA PARTY FOR MARIE CURIE -
Northern Tea Merchants on Chatsworth Road, agreed to hold it's very own Blooming Great Tea Party for Marie Curie Cancer Care. More...
ACTION ON HEARING LOSS ENCOURAGES FUND RAISING DURING JUBILEE PARTIES -
Action on Hearing Loss is urging organisers of any Diamond Jubilee parties in Chesterfield, to make a right royal effort to raise vital funds More...
WAX ON, WAX OFF! TONY SUFFERS GLADLY FOR EMILY ROSE -
Tony Bingham suffers a sponsored full body wax during fundraising day for Emily Rose Bell on June 9th at CMC Motorcycles, Clay Cross. More...
CRUSE BEREAVEMENT CELEBRATES 25 YEARS IN TOWN -
Cruse Bereavement Care celebrated 25 years of helping people in and around Chesterfield by holding a celebration tea party on Saturday, 12th May at Rose Hill United Reform Church. More...
TAKE THE NATIONAL 3 PEAKS CHALLENGE FOR THE NSPCC -
The NSPCC is calling on all challenge walkers in Derbyshire to grab their walking boots and kit bag and take part in a fantastic challenge to climb the National Three Peaks in July More...
TRAVEL AGENT GOES THE DISTANCE FOR CANCER CHARITY -
Travel consultants in Chesterfield have been saying 'get on yer bike' for a good cause. More...
FROM ONE TOWER TO ANOTHER FOR KIDS N CANCER CHARITY -
12 intrepid Chesterfield cyclists will be 'on their bikes' shortly as they climb into the saddle for a good cause. More...
MAKE THIS YEAR A RECORD BREAKER FOR CHILDLINE -
To celebrate its 25th birthday, ChildLine is encouraging schools in Chesterfield to get involved in the ChildLine Big Birthday week More...
GIVING EVERY CHILD WITH CANCER A CHANCE -
A new charity that aims to help sick children access revolutionary treatment for cancer has been launched in Chesterfield, at the B2net stadium. More...
NSPCC LAUNCHES DON'T WAIT UNTIL YOU'RE CERTAIN CAMPAIGN -
The NSPCC has now launched the 'Don't wait until you're certain' campaign as new figures show most people wait at least a month before picking up the phone. More...
FEATHERED FABIAN ENDS CHICKEN RUN -
Chicken runner Fabian Cruz has chosen The Children's Hospital Charity as the one to support in his last feathered fundraiser. More...
SUNDAY FROM HELL: 24 HOURS IN THE SADDLE -
Cycle-mad restaurateur Gian Bohan is gearing up for an Easter Sunday to remember, or should that be one he'll want to forget? More...
CIVIC SERVICE RAISES HUNDREDS FOR CHARITY -
Civic leaders gathered to help raise more than £800 for a charity appeal in North East Derbyshire.
More...
HOPE GETS THE HELP SHE NEEDS FROM NEWLIFE -
One young Chesterfield girl, recovering after major surgery, is looking forward to getting back to school with her friends in her new lightweight wheelchair. More...
SANDS BRINGS OUT THE 'BEST IN CHESTERFIELD' -
A cheque was proudly handed over to the Royal Hospital by The Mayor of Chesterfield on behalf of the SANDS charity More...
ASHOVER FAMILIES PRAISED BY AWARD WINNING ROTARIANS -
Ashover villagers have learned that their generosity has helped Peak District Rotarians win a top environmental award. More...
100 BANNERS FOR 2012 OLYMPIC TORCH RELAY -
Chesterfield will have some stunning new banners on display for the forthcoming 2012 Olympic Torch Relay. More...
NONNAS' GIAN KICKS OFF CHARITY CYCLE CHALLENGE -
Local restaurateur Gian Bohan will be saddling up with Sporting Legends Lawrence Dallaglio and Andrew "Freddie" Flintoff on a mammoth European charity bike ride More...
SPIREITES PITCH IN FOR CHARITY -
Chesterfield FC will be helping a group of brave soldiers get on their bikes this weekend - all in a good cause. More...
CHARITIES URGE MORE YOUNG PEOPLE TO REPORT SEX ASSAULTS -
Charities are encouraging more young people to speak out about sex assaults, as research shows 1000's of teenage girls in the UK who are sexually assaulted by boys suffer in silence. More...
SPIREITES' JAMIE LOWRY BACKS CANCER CHARITY -
Chesterfield FC footballer Jamie Lowry is backing an appeal by a leading cancer charity to help thousands of families affected by the disease to spend 'Extra' precious time together. More...
WOOFS AND WELLIES WALK FOR ASHGATE -
Get yer wellies on, 'cos Ashgate's going walkies! We are very pleased to inform you about their Woofs and Wellies event, especially made for man's best friend! More...
CHARITIES APPEAL TO LOCAL YOUTH NOT TO SUFFER SELF HARM IN SILENCE -
4 Children's Charities found that, among 1,398 young people surveyed, more than half admitted to hurting themselves on a daily basis or a few times a week.
More and Video...
LOCAL RESIDENTS INVITED TO JOIN HEARING LOSS CHARITY'S PANEL -
Action on Hearing Loss (formerly RNID) invites Chesterfield people who are deaf or have hearing loss or tinnitus to join the charity's new research panel More...
MATALAN SMASH NSPCC FUNDRAISING TARGET -
Matalan is celebrating raising almost £700,000 for the NSPCC in less than a year, thanks to the fundraising efforts of their staff and customers across the UK. More...
97 FA CUP LEGENDS IN CHARITY MATCH -
Spireite legends, from the '97 FA Cup Semi-Final side are turning out in a special charity match next month to raise funds for the Academy Africa project More...
CELEBRITIES v LEGENDS AT THE B2NET, A REMATCH -
It was hailed by the organisers as a huge success, and for those of us who attended a great family day out. More...
SKINS STAR LUKE SUPPORTING LOCAL LADS IN CHARITY CHALLENGE -
TV and film star, Luke Pasqualino is supporting 4 Chesterfield lads taking part in the '5 Peaks Challenge' in aid of 'Help for Heroes' More...
LOCAL TESCO STORE BOOSTS FUNDS FOR BO PEEP'S 'SHEEP' -
Chesterfield based organisation, Bo Peeps, has today been presented with a £600 Community Award from the Tesco Charity Trust. More...
ESTHER RANTZEN PAYS TRIBUTE TO CHILDINE SUPPORT -
On ChildLine's 25th Anniversary, founder Esther Rantzen CBE, paid a visit to the East Midlands ChildLine base in Nottingham to pay tribute More...
LIMBER UP - SPORT RELIEF IS BACK! -
The Sainsbury's Sport Relief Mile is back - and it's coming to Queen's Park in Chesterfield. More...
BISHOP'S THANKS FOR KENYAN TRAIL BIKES -
Ashover Church Appeal supporters funded the purchase of two off-road trail bikes for use by Christian Clergy in the wild and often lawless area of Marsabit, Kenya More...
LOSING THE FUR FOR OUR FURRY FRIENDS -
Companion Care Vets (inside Pets at Home) are having a fund raising event and open day on Sunday 8th January. More...
A "THANK YOU" FROM THE NSPCC -
In an open letter, people in Chesterfield are being thanked by the charity for their efforts this year More...
CHILDLINE OPEN OVER CHRISTMAS TO SUPPORT LOCAL CHILDREN -
As Christmas nears, ChildLine reminds those who may need someone to talk to that the phone and online service is open as usual. More...
DANCE THE NIGHT AWAY FOR ROBBIE -
Tomorrow night sees a major fundraising event take place, aimed at providing one young Chesterfield boy with the specialist facilities he needs in his own home. More...
CATWALK IN THE
CAFE -
Fashion was high on the shopping list when Sainsbury's held a Fashion Show to raise funds for its Charity of the Year, Ashgate Hospice. More...
ASHOVER APPEALS FOR VOLUNTEER
DRIVERS -
Volunteer drivers are now URGENTLY needed to help safeguard Ashover's highly-regarded and well-used social car scheme More...
COMBAT POVERTY THIS CHRISTMAS AT SAINSBURY'S DRONFIELD STORE -
While shoppers might normally be expected to take food away from a supermarket, customers at Sainsbury's Dronfield will soon be leaving food behind too. More...
BRASS AND VOICES IN ASHOVER CHURCH CONCERT -
Ashover Celebration Choir is to join forces with one of the best 4th section brass bands in the country for a concert in the village's All Saints Church. More...
'NOT THE OLYMPIC' TORCH RELAY RAISES THOUSANDS FOR ALZHEIMERS -
Local chartered accountants Mitchells have helped raise £28,000 for Alzheimer's sufferers by taking part in epic national Olympic-style challenge. More...
CHESTERFIELD WEARS IT'S POPPIES WITH PRIDE -
Crowds gathered to watch in town as the Mayor, Cllr Peter Barr, declared the Poppy 2011/12 campaign open and purchased the first poppy. More...
TEENS MAKE A 21 MILE SPLASH FOR ANIMAL CHARITIES -
Four fund-raising friends made a splash for charity when they took to the pool at Sharley Park Leisure Centre in Clay Cross for a mammoth 21-mile swim! More...
SPOOKY EVENTS PLANNED AT RSPCA CHESTERFIELD -
It's set to get a little spooky down at the RSPCA Chesterfield Animal Centre, when staff host a black cat Halloween event More...
HARVEST SUPPER MARKS CHURCH FUND RAISING FINALE -
Supporters have been praised by the Rector, the Revd. Ralph Lawrence, for their 'tremendous effort' raising funds for All Saints Church, Ashover More...
LAST CHANCE FOR CARERS DANCE -
Carers across Derbyshire with a passion to trip the light fantastic - are invited to a FREE Carers Ball this Friday 14th October courtesy of the local Carers Network. More...
MARK BANKS ON BOOK FOR CHARITY -
Chesterfield FC Coach Mark Crossley titled his autobiography, 'Looking After Number One' but in fact, the ethos behind the book sales is just the opposite. More...
SUPPORT SPORT RELIEF 2012 -
The countdown is on to next year's Sport Relief - and people can now sign up to take part in the fund-raising challenge in NE Derbyshire. More...
HELP OF UP TO £5000 AVAILABLE TO COMMUNITY GROUPS -
Community groups in Derbyshire are being actively encouraged to apply for Grants of up to £5000 as part of a scheme launched earlier this year. More...
LOCAL CHARITY GAINS RECOGNITION -
A local Carers charity is currently celebrating a series of successful milestones in its 23-year history. More...
SANDS GIRLS WALK TO GIVE 'PRICELESS' MOMENTS -
A new Chesterfield charity is fundraising hard in order to help parents of stillborn babies spend precious time with their child More...

SUCCESS FOR ASHOVER FLOWER FESTIVAL -
Ashover's four-day floral festival tribute to the world of music proved a spectacular success and raised more than £5,000 for the village's ancient parish church and Ashgate Hospice. More...
HELP CHESTERFIELDS SALVATION ARMY MEND BROKEN LIVES -
The Salvation Army in Chesterfield needs your help to raise vital funds for its Annual Appeal More...
COMMUNITY GROUPS BENEFIT FROM GALA FUNDRAISER -
Delighted gala organisers have handed out cheques totalling £1,500 to benefit good causes in the Chesterfield area. More...
COLLIERY BAND FUNDRAISER LOOMS -
Ireland Colliery Band from Chesterfield will be raising cash for charity this coming autumn as it prepares to perform Brass 'N' Sax. More...
CHARITIES BENEFIT AT B2NET -
The best part of 20,000 reasons to celebrate at the b2net as 3 charities received their share of monies raised at the Charity football match More...
DOG-GONE... -
North East Derbyshire District Council are asking for help with information on these two dogs. More...
SPIREITES RUN TO SUPPORT ASHGATE HOSPICE -
It's been revealed that a team from Chesterfield Football Club is hoping to net £2,000 for Ashgate Hospice by competing in the Spire10 mile race later this month. More...
EMBRACING LIFE -
On Saturday 6th August a fund raising event took place in aid of a brand new, local charity called Embracing Life. More...
HAIR TODAY, GONE TOMORROW... -
'Man pain' was definitely the order of the day in one Chesterfield coffee shop on Saturday morning. More...
NEW ACTIVITY PROGRAMME FOR THE DISABLED -
Sportability, the London based registered charity, is expanding its operation of sports programmes for people with paralysis across the nation. More...
EVERY STALL HELPS -
It was a bumper turnout as hundreds turned out to support the second Community Fair held by Tesco at their Lockoford Lane store. More...
CHARITY BEGINS AT ALL 92 FOOTBALL CLUBS!! -
Ian Butt and Steve Pye are currently covering 3,000 miles visiting all 92 football league grounds in just 7 days - all in aid of the McMillan Cancer Charity. More...
DIVISION CHAMPIONS RAISING FUNDS AND GOING DUTCH -
Local U12's Football Club, Somersall Rangers, have recently been involved with raising funds for the Thomas Fletcher Foundation. More...
"ONLY SPIREITES HAD ANYTHING TO CELEBRATE" -
Oliver is completing his Duke of Edinburgh Award and, as part of that, has to raise money for charity. This is where any Spireite fan may want to read on... More...
ASHOVER CLASSIC CAR RALLY WILL BENEFIT CHARITIES -
100's of classic cars and bikes will be at the Ashover Show Ground near Chesterfield this month for a new all-day rally, which could raise thousands for local charities. More...
JAMIE WALKER'S STARS SHINE BRIGHTLY -
This 6th Annual charity football match at the B2net Stadium between the Spireites Legends and the Celebrity Soapstars has so far raised a wonderful sum of £19,600.00 More...
CHESTERFIELD SQUASH STAR RECEIVES £1,000 'BRAMPTON BOOST' -
Chesterfield squash star Ashley Davies has received a £1,000 cash boost in his quest to reach the top thanks to Brampton Manor More..
2 DOGS WILL BE PUT TO SLEEP TODAY UNLESS YOU CAN HELP? -
Bert and Ernie are both being housed at the Dog Control Kennels and as is their policy, they will unfortunately be sadly put to sleep today More...
FERRETS HELP FUND ASHOVER FLOWER FESTIVAL -
This week ferret-racing fans from all over North Derbyshire have helped Ashover Church Flower Guild raise £1,700 for charity. More...
ASHGATE HOSPICE FOREIGN COIN COLLECTION -
Foreign currency can be used to raise money, however time is running out to receive the best rates but you can still help Ashgate Hospice More...
CHARITY MATCH OF THE DAY -
A bumper crowd at the b2net watched the much-anticipated charity match between a team of soap stars and Spireites Legends. More...
SUPPORT OUR ARMED FORCES -
Chesterfield has a proud connection with the Armed Forces past and present and supports current servicemen and veterans through fundraising events. More...
GIVE GENEROUSLY FOR KIAN -
"A lot of people don't know what will happen in future but we know our future will be dialysis 3 times a week and then a major operation for a kidney transplant".More...
LOCAL CHARITIES TO BENEFIT FROM CLASSIC CAR & BIKE SHOW -
Next month's event, organised by the Rotary Club of Chesterfield is set to benefit local organisations. More...
CHESTERFIELD CARERS DIARY FOR JUNE / JULY -
Chesterfield Carers Centre have a full diary of events coming up. Here's the full list and contact details. More...
YOUR LOSS IS THEIR GAIN -
A Charity 12 week Weight Loss Challenge from the 31st May 2011 in aid of Bluebell Wood Children's Hospice. More...
RSPCA WEEK - PLEASE GIVE GENEROUSLY -
We try and help every animal we come across, we try our best to help but that does come at a cost More...
ASHGATE HOSPICE INVITES YOU TO THE B2NET BALL -
Ashgate Hospice will once again be hosting the b2net Ball at the b2net Stadium on Friday 3rd June 2011. More...
CARING FOR CARERS IN CHESTERFIELD -
A new centre that aims to offer support, guidance and activities for carers has been officially opened in the town centre today. More...
ASHGATE'S FANCY DRAG RACE, MEN ONLY! -
The 3rd annual, men only, Ashgate Hospice 'Fancy Drag Race' is taking place on Sunday 15th May and they expect the event to be the biggest yet! More...
LADIES - ZUMBA FOR ASHGATE HOSPICE -
There will be a special Zumba Fitness session on Wednesday 6th April, 7.30pm at the Winding Wheel, Chesterfield. Tickets £5 in aid of Ashgate Hospice. More...
7 DOWN, 2 TO GO -
They say that cats have nine lives but little Kitty must be down to seven by now after being the victim of TWO RTC's in four months. More...
SPIREFEST GETS READY TO ROCK CHESTERFIELD -
The inaugural Spirefest day long rock festival and guitar show due to be held at the Winding Wheel is drawing ever closer... More...
NETTING FUNDS FOR CHARITY AT THE B2NET -
A massive charity football match is being organised to raise funds for a leading cancer charity that helped a former footballing apprentice beat the disease 4 years ago. More...
CATWALK CAPERS FOR CHARITY -
Models, from Fairplay, council staff and friends and family of the Mayor's staff and Chesterfield Post strutted their stuff raising over £750 for the Mayors Appeal. More...
HELP BEAM SCOTTY BACK HOME -
The RSPCA is asking for help in tracing the owners of a cat who survived with only burned paws after being found in the engine of a car that had travelled to Chesterfield from Nottingham. More...
EVERY PEDAL HELPS -
15 staff from Tesco, Chesterfield got on their bikes in order to raise cash for Clic Sargent, Tesco's Charity of the year. More...
CAN YOU SAVE THIS DOG? -
A Staffordshire Bull Cross, picked up as stray by the council's dog wardens, will be put to sleep tomorrow (Friday 4th March at 5pm) if a new home can't be found for him. More...
GREAVESY'S WILD ABOUT CHOCOLATE -
Jimmy Greaves is supporting a new brand of chocolates, made in Chesterfield, helping to do its bit to save tigers from extinction. More...
CHARITY BEGINS AT ... ALFRETON -
The first charity to benefit from the Alfreton Sunday League's Grand 40th Reunion has been announced. More...
COMING TO A POOL NEAR YOU -
Local residents are being invited to 'jump in' and swim to help raise cash for a leading cancer charity. More...
ASHGATE HOSPICE MIDNIGHT WALK FOR LADIES ONLY! -
Our 4th annual Midnight Walk is on Sat/Sun 25th/26th June 2011 and is expected to be one of the biggest events in our calendar this year! More...
HAIR OF THE DOG -
Bella is a year old Shar-pei and has been at the RSPCA kennels for a long time - 10 weeks in total. More...
NOW MAN'S BEST FRIEND CAN HELP TOO! -
Ashgate Hospice is very excited to bring you a new event this year, especially for man's best friend! You and your dog are invited for sponsored "walkies" in Linacre Woods to help raise vital funds. More...
B2NET BUCKETS BRING HELP TO CHILDREN'S HOSPICE -
Generous fans visiting the B2Net have donated £400 to a Children's Hospice through a bucket collection... More...
GUITAR HEROES -
A unique gig, hoping to become an annual event, is being organised in Chesterfield in order to raise money for a leading cancer charity. More..
LEFT OUTSIDE ALONE-
Animal Welfare Workers are investigating after two young cats were found abandoned outside the rescue centre in freezing temperatures. More...
EVERY LITTLE HELPS -
A Primary School in Chesterfield is celebrating after being awarded £800 by a Supermarket Charity Trust. More...
Brrrrr RABBIT! -
The RSPCA has issued an URGENT appeal for homes for 22 rabbits that have been brought to their kennels in Spital this week. More...
STAVELEY MWFC'S GENEROUS GESTURE FOR SCOUTS CANADA TRIP -
A local company has made a generous donation towards a local scout group's Canada trip after reading about the fundraising efforts in The Chesterfield Post. More...
ARE YOU UP FOR A CHALLENGE? -
Fairplay is a registered charity, dedicated to helping children with additional needs and their families. More...
LOVE LIGHTS UP HOSPICE -
Ashgate Hospice would like to say a huge THANK YOU to everyone who dedicated a light in this year's Lights of Love switch on More...
LOCAL CHILDREN AND B&Q MAKE XMAS SPARKLE FOR ASHGATE -
A Primary School in Chesterfield has helped to spread a little Christmas joy after a tree they decorated took pride of place at Ashgate Hospice. More...
RSPCA APPEAL -
The RSPCA is appealing for what it calls a 'special home for a very special pup' - a near-blind rottweiler called 'Mac' and his best friend - a kitten called 'Boyd'. More...
YOUR VOTE COUNTS -
The Football League would like your help to help them decide which charity The League should select to be its Official Charity Partner for Season 2010/11. More...
WILL YOU SHINE A LIGHT OF LOVE THIS CHRISTMAS THIS YEAR -
Will you be remembering someone special this Christmas? It was that time of year again, another summer had flown by and there was more than a nip in the air. More...
CAN YOU OFFER THESE HENS AN
EGG-CITING NEW
LIFE? -
The RSPCA in Chesterfield is urging people to consider buying Free range eggs after accepting 60 ex-battery hens into their kennels at Spital. More...
"BACK OF THE NET!" KICKING CASH FOR CHARITY -
Students from Chesterfield College gave a local charity a boost as they took part in a penalty shoot out to raise cash for Ashgate Hospice.More...
BEING CRUEL TO BE KIND? -
Chesterfield RSPCA are investigating the circumstances behind one of the most bizarre they've seen in 10 years at the Charity. More...
WIRKSWORTH ROTARY 5k SANTA FUN RUN -
The Rotary Club Of Wirksworth are staging a 5k 'Santa' fun-Run for the Rainbows and Ashgate Hospice Charities on Sunday 5th December 2010 at Carsington Water More...
A LONELY GOAT
HERD -
If you're an experienced goat owner (or a Military Regiment looking for your Regimental Mascot), with land to spare, then Chesterfield RSPCA is asking you to consider helping them. More...
PUPPY LOVE UPDATE -
The RSPCA in Chesterfield confirms that a woman claiming to be the owner of the pups has contacted them and after checks, they have been reunited. More...
PUPPY LOVE -
RSPCA bosses are appealing for help in tracing the people who dumped Barnaby and Benji last week in a Chesterfield field. More...
REMEMBER THEM -
The Chesterfield branch of the Royal British Legion is asking residents to do just that and buy a poppy as the town launched it's annual Poppy Appeal Saturday. More...
BARGAIN HUNT BONANZA -
There was everything to pay for as the Mayor and Mayoress took part in a charity Bargain Hunt on Chesterfield's very own flea market on Thursday, More...
WHY YOU REALLY SHOULD "GO TO SPECSAVERS" THIS WEEKEND -
Have you ever looked at the 'Mr Men' characters and thought, what about one called Mr ??? More...
ASHGATE WINTER BALL, 27/11/10 -
Ashgate Hospice are holding their 'WINTER BALL' on Saturday 27th November, 7pm for 7:30 until 1am at The Winding Wheel in Chesterfield. More...
MARIE CURIE CANCER CARE LOOKING FOR SUPPORTERS HELP -
Derbyshire Fundraiser, Laura Read is inviting anyone who is interested to come along to an informal meeting. More...
DROP IN CENTRE OPENS IT'S DOORS -
The Nenna Kind centre is situated in Room 5 on the 2nd floor of the Market Hall and offers support and advice in a welcoming environment for anyone affected by cancer. More...
HOPE FOR AFRICA -
As children in Chesterfield prepare to return to school this week one charity is promoting the message that 'In Africa, education is a privilege not a right'. More...