Thurday 28th November 2013



Bingham 1st XV 0 - 29 Chesterfield Panthers 1st XV
Midlands 4 East (North) League
Saturday 23rd November 2013

Panthers played away to Bingham last weekend who, despite their lowly position in the league, are no push-over, having played most of the top sides and not conceded many tries.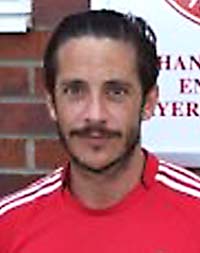 While celebrations for the official opening of the ground were taking place on home turf, the Panthers 1st XV were able to extend celebrations away, with yet another win in the bag and the return of Captain Steven Avenier (left), after three weeks' of injury.

Panthers started the game at a high tempo and, at times, it was their undoing. Often trying to force the game, they made a few errors.
The scrum and line out were not to the usual standard and the ball from the breakdown was slow, enabling the opposition to kill the ball - and the pressure on the opponent's ball was none existent.

Eventually, Panthers started to impose themselves on the opposition and increased their work rate. And the opening try of the game soon followed from Ty Rose with Glenn Grayson adding the conversion.

Panthers final score of the half came about after Carl Walker picked up a loose ball to touch down under the posts. Grayson converted again. Unfortunately, with only five minutes to go in the first half, Tom Rice was yellow carded for the team offence of holding on.

HT: 0 - 14

The interval saw a far-from-happy coach, Derek Sherlock, urge the team to show more commitment on the pitch, and they did in the face of a determined Bingham.

Great defence by the Panthers stopped the opposition dead and, unable to break the gain line, they resorted to a kicking game and booting the ball up field at every opportunity.

Panthers mounted wave after wave of attack and infringing at the breakdown was the home side's only viable tactic which, from the resulting scrum, saw Ben Bunting score.

By this time, the home side's frustration boiled over and their robust attempts to disrupt Panthers' open play came to the fore.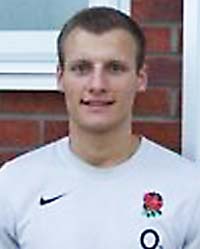 A driving maul by from five yards out, saw Terry Titley score as a result of an infringement, with Glenn Grayson (left), once again, adding the conversion.

Panthers' final score was a pleasure to behold!

Carl Walker collected the ball deep inside his own twenty-two, sprinted the full length of the pitch, leaving a bemused member of the opposition grasping at air, and touching down for a fantastic try.

With three consecutive yellow cards, the home side were in disarray, however Panthers, to their credit, refused to rise to the bait. The referee, to her great credit, controlled the game well preventing any altercations.
FT: 0 - 29
Panthers' captain, Steven Avenier, who was playing out of position after a lengthy lay-off, praised his team, saying: "With a re-shaped pack, I think the forwards were tremendous. Terry Titley had a fantastic game, and the backs equally so. Carl Walker was unstoppable and Glenn Grayson, at full back, was a pleasure to behold.

"If I could, it would be a three-way Man of the Match. It was impossible to make a distinction between them. It was fantastic day for the future of Chesterfield Panthers, home and away."
NEXT GAME:
Saturday 30th November
Chesterfield Panthers at home to Worksop
Kick-off: 2.15 pm

Man of the Match: Glenn Grayson
Tries: Carl Walker (2), Ty Rose (1), Ben Bunting (1), Terry Titley (1)
Conversions: Glenn Grayson (3)
PANTHERS:
T.Titley, R.Davison, C.Windle, A.Allen, S.Garner, L.Holt,
A.Hughes, T.Rice, J.Grayson, C.Walker, N.Fenton,
B.Bunting, G.Grayson, T.Rose, S.Widdowson
Subs: S.Avenier (captain), M.Coward, S.Warwick, R.Keeling, J.Blair
NEXT GAME:
Saturday 30th November
Chesterfield Panthers at home to Worksop
Kick-off: 2.15 pm
RECENT STORIES
PANTHERS ON TARGET TO BE CROWNED
CHAMPIONS -
Chesterfield travelled to Cleethorpes on a coach trip with their barmy army of fans - who outnumbered the home team's supporters - and created a great atmosphere for the Panthers. More...
PANTHERS SECURE PROMOTION WITH A WIN AT BELPER -
Chesterfield Panthers achieved what they promised to do when they moved to their new £1.8 million ground and facilities in Dunston - achieve promotion. More...
PANTHERS BACK ON VICTORY TRAIL AFTER FOUR WEEK BREAK. MATCH REPORT -
After four weeks without any action, Chesterfield Panthers were fired up ready to continue where they had left off and eager to strengthen their position at the top of the league away to Worksop. More...
DIFFICULT CONDITIONS SEE PANTHERS RETURN
TO WINNING WAYS -
Chesterfield returned to winning ways after being held to a draw at Amber Valley two weeks ago, even without several key players, including the majestic Tom Rice, Panthers still fielded a strong squad. More...
TOUGH LOCAL DERBY AND A 10th WIN ON THE BOUNCE KEEPS PANTHERS ON TOP -
Chesterfield Panthers were on the hunt for a double against their local rivals Tupton on Saturday, to further increase their lead at the top of the table. More...
CHESTERFIELD PANTHERS STAY TOP OF THE TABLE AFTER ANOTHER WIN -
Panthers travelled to league opposition Nottinghamians in high spirits following their recent run of form that's taken them to the top of the table for the first time in over 10 years. More...
CHESTERFIELD PANTHERS WIN AGAIN DESPITE AN INJURY DEPLETED PACK -
After last week's convincing 47-0 win over Cleethorpes at home, Panthers, with an injury depleted pack and carrying no recognised second row, travelled to Keyworth More...
PANTHERS WIDEN THE GAP TO THIRD WITH WIN OVER WORKSOP. MATCH REPORT -
Chesterfield Panthers 1st XV faced Worksop RUFC, who currently sit seventh in the league, behind Panthers' who are in second place. More...
PANTHERS RETURN TO WINNING WAYS AGAINST BELPER. MATCH REPORT -
This weekend's fixture against Belper, proved that Chesterfield Panthers 1st XV has returned to their winning form and are proving a formidable team to beat on their home turf. More...
PANTHERS' NEW GROUND TO BE USED FOR LEICS TIGERS TRAINING CAMP -
England and Lions centre Manu Tuilagi & England under-20s international Ryan Bower, have been confirmed as visitors at the Rugby Camp being held at Chesterfield Panthers' new ground during half term. More...
WASPS CHARLIE DAVIES VISITS PANTHERS FOR A TRAINING SESSION -
Rugby pro Charlie Davies, 23, returned to his former club, Chesterfield Panthers recently, to coach more than 30 of the club's seniors at its brand new home ground in Dunston. More...

NIBE PITCHES IN
WITH CHESTERFIELD PANTHERS SPONSORSHIP -
Chesterfield-based NIBE Energy Systems has announced it is a proud sponsor of local rugby club Chesterfield Panthers RUFC. More...
CHESTERFIELD PANTHERS RUFC APPOINTS PR
AGENCY -
Chesterfield Panthers RUFC has appointed local PR agency - In the Works PR - to raise awareness of the 93-year old Club, following its move to a brand new, purpose-built ground in Dunston. More...
PANTHERS SECURE £50K FROM GAMES LEGACY FUND -
Chesterfield Panthers, the town's only rugby union club, has secured Olympic legacy funding from Sport England's Inspired Facilities Fund. More...
END OF AN ERA FOR STONEGRAVELS -
After 85 years of rugby at the Stonegravels ground, this coming weekend will see the final games played at the Sheffield Rd home of Chesterfield Panthers RUFC More...

MATCH REPORTS 21st - 22nd APRIL 2012 -
The Panthers team made the long trip to the seaside for a game which was to establish the final league placing for both teams involved. More...
FORMER PANTHERS JUNIOR SIGNS WITH NORTHAMPTON SAINTS -
Ross McMillan, a former junior at Chesterfield Panthers, has signed a full contract at Aviva Premiership club Northampton Saints. More...
MATCH REPORTS 3rd - 4th MARCH 2012 -
A tight league encounter saw Panthers !st XV edge the game by the narrowest of margins to consolidate their mid table position with a last minute penalty. More...
PANTHERS KITTED OUT FOR WEATHER -
Chesterfield Panthers Under 11's have been kitted out with a set of waterproof training tops by local company FRANKE Sissons Ltd. More...
PANTHERS 3RD XV MATCH REPORT -
With this being the only Senior game to beat the frost, a bumper crowd saw what was a very tight and competitive game from start to finish. More...
MATCH REPORTS 10th- 11th DECEMBER 2011 -
A slow start saw Chesterfield Panthers 2nd XV gift five easy tries to the home team to trail
31-0 at the break. More...
MATCH REPORTS 3rd - 4th DECEMBER 2011 -
Still plagued by injuries Chesterfield travelled to East Retford with several replacements and came up against a strong home side. More...
PANTHERS FORM GUARD OF HONOUR FOR TIGERS -
Chesterfield Panthers U8's Rugby team had the honour last weekend of being invited to form the Guard of Honour at the Leicester Tigers v London Irish game More...
MATCH REPORTS 5th - 6th NOVEMBER 2011 -
An encouraging performance from the developing third team saw them push Belper close in a tight game. More...
MATCH REPORTS,
1st - 2nd OCTOBER 2011 -
In a close encounter, which could have been won by the Panthers, the Chesterfield team went down to a last minute try after competing throughout the game. More...
NIBE SUPPORT FOR CHESTERFIELD PANTHERS RUFC -
Panthers have recently benefited from a major sponsorship agreement with a leading local manufacturer NIBE Energy Systems Ltd More...
MATCH REPORTS,
9th - 10th APRIL 2011 -
With traffic delaying the Panthers arrival until 10 mins before ko, the game began with Nottinghamians taking the play to their visitors. More...
COUNCIL PRESENTS £750 CHEQUE TO PANTHERS -
The Panthers are delighted to have been the recipients of a grant of £750 from the DCC Leadership Fund More...
PANTHERS HOST ANNUAL TAG RUGBY FESTIVAL -
Chesterfield Panthers hosted the Annual Tag Rugby Festival for Junior schools from throughout the Borough at Stonegravels. More...
MATCH REPORTS,
26th - 27th MAR 2011 -
A strong first half performance and then some solid defensive work in the second period saw the Panthers win through More...
MATCH REPORTS,
12th - 13th MAR 2011 -
A decisive win by 6 tries to 1 over favourites Ashfield has put Chesterfield U14's into the Three Counties' Shield final. More...
MATCH REPORTS,
26th - 27th FEB 2011 -
Panthers 1st XV returned to winning ways with a comfortable league victory over Leesbrook. More...
MATCH REPORTS,
19th - 20th FEB 2011
AND OTHER NEWS -
The U13's earned a 3rd NLD Shield victory, topping their group and earning a semi final place, the 3rd squad from the Juniors to do so. More...
MATCH REPORTS,
5th - 6th FEB 2011 -
For the second week in a row, the Under 10's produced a feast of tries to beat a spirited Tupton team that never gave up trying. More...
MATCH REPORTS, 22nd - 23rd JAN 2011 -
Strong forward work through the 2nd half gradually broke Ilkeston's defence and on 70 mins, Fergus Wish scooped up a pass to crash over the line More...
MATCH REPORTS, 15th - 16th JAN 2011 -
After the long enforced break, the Panthers Ladies finally got back into action with this away trip to Oxford... More...
MATCH REPORTS, 20th - 21st NOV 2010 -
Panthers took arguably the youngest side in the league to third placed East Leake and pulled off a great win. More...
LAST MINUTE TRY SEALS CUP WIN -
After a six week lay off due to bad weather both teams were desperate to play rugby and on a morning ideal for rugby a cracking game ensued. More...
RUGBY STARS RETURN TO WHERE IT STARTED -
Chesterfield Panthers RUFC played host last week to a group of players, all local lads, who had started their careers at Stonegravels More...
MATCH REPORTS, 13th - 14th NOV 2010 -
The game began with both sides exchanging attacks and neither really getting the upper hand until Panthers managed to work some space... More...
MATCH REPORTS, 6th - 7th NOV 2010 -Chesterfield made the long journey to Grantham for their latest league encounter and put in a creditable performance, although the score-line doesn't reflect their dominance. More...
MATCH REPORT -
U14's v ASHBY
31st OCTOBER -
There were no Halloween horrors as an excellent team performance from the Panthers brought a well-deserved victory. More...
WORK BEGINS ON NEW RUGBY GROUND -
Work has begun on the Chesterfield Panthers RUFC's new ground at Dunston after a "First Sod Turning" ceremony was held last week More...
MATCH REPORTS, 16th - 17th OCT 2010 -
With the long journey to the West Midlands for this National Vase game, the Panthers team took to the field without time to warm up, reflecting in their first half performance. More...
MATCH REPORTS, 9th - 10th Oct 2010 -
Panthers played host to a good, well organized side from Boston and a high scoring game ensued. More...
MATCH REPORTS, 2nd - 3rd OCT 2010 -
Panthers lost to Belper in this away league game with the players and spectators wondering how? More...
MATCH REPORTS, 25th - 26th SEPT 2010 -
Panther's second team manager Mark Blair was delighted to have a squad of 26 players for this home game with Hope Valley. More...
A WHIZZ-BANG FRIDAY NIGHT PROMISED-
Friday evening (1st Oct) will see the Club putting on a firework display that will light up the sky in the neighbourhood... More...
MATCH REPORTS, 18th - 19th SEPT 2010 -
Panthers lost to their local rivals Tupton much to the obvious delight of the opposition supporters. More...
MATCH REPORTS, 11th - 12th SEPT 2010 -
Panthers travelled to the seaside for their first league game of the season and ran out comfortable winners in a high scoring game. More...
LAND BOUGHT FOR NEW FACILITIES -
Chesterfield Panthers Rugby Union Football Club is pleased to announce the acquisition of land at Dunston... More...